| | |
| --- | --- |
| | The Author is Former Director General of Information Systems and A Special Forces Veteran, Indian Army |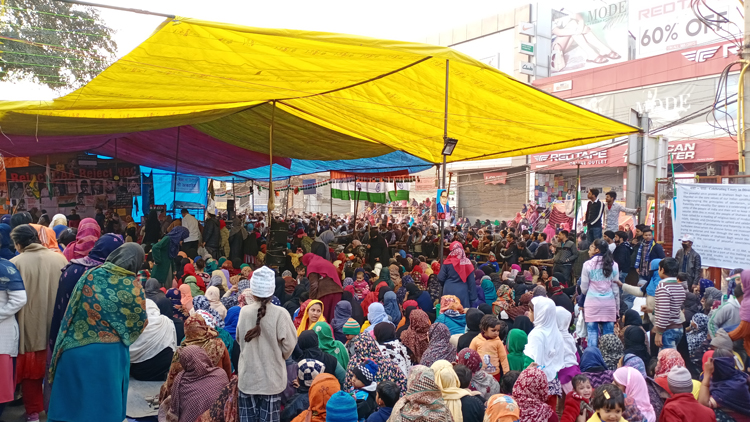 Anti-CAA protesters at Shaheen Bagh
The ugly face of the Popular Front of India (PFI) causing arson and deaths in the recent riots in Uttar Pradesh has been established, as also for anti-CAA protests in Delhi. Nine PFI cadres have been arrested and 10 more are on the radar after screening 108 over last few days. Not only have those arrested physically indulged in violent acts, a probe by the Enforcement Directorate (ED) has established that the PFI distributed money among protesters/rioters in UP indulging in anti-CAA protests. ED probe also points at Parvez Ahmed, PFI's Delhi head coordinating protests at Shaheen Bagh, Bhim Army and another agitation at Devli Pahadi. Ahmed was also in touch with a Rajya Sabha member and a Dalit politician, and has tracked 120 crore transactions of PFI whose national office is in Shaheen Bagh. NIA had registered a case for terror funding against the PFI in 2008.
In early 2000 media reports had indicated Al Qaeda, LeT and ISI footprints in Kerala, responsible for establishing the Kerala-headquartered Popular Front of India (PFI). In February 2008, a terrorist training camp with Pakistani flags was discovered in Karnataka woods surrounded by religious shrines, post interrogation of three Islamic radicals – Riyazuddin Nasir alias Mohammed Ghouse, Abu Baker and Mohammed Asif. Interrogation also revealed radicals were taken to this camp in the woods for "initial" terrorist training. In October 2008, four prospective PFI cadres recruited by LeT were killed in Kupwara (J&K) trying to cross into POK. Photographs of armed PFI cadres in combat dress undergoing arms training in the jungles of Kerala have mysteriously vanished from the internet.
In July 2010, Kerala Police seized country-made bombs, weapons, CDs and several documents containing Taliban and Al-Qaeda propaganda from PFI activists. In 2012, the Kerala Government informed the Kerala High Court that activities of PFI were inimical to the safety of India and it (PFI) is "nothing but a resurrection of the banned outfit Students Islamic Movement of India (SIMI) in another form", asking the Court to ban PFI's Independence Day programme 'Freedom Parade'. Same year (2012), Kerala Government also informed the Kerala High Court of PFI's active involvement in 27 murder cases, mostly of cadres of CPI-M and RSS. In April 2013, Kerala police raided PFI centres across North Kerala and recovered weapons, foreign currency, human targets for firing practice, bombs, explosives raw material, gun powder, swords etc. A training camp in Narath, Kannur was also raided and 21 PFI activists were arrested with terror material and also a document containing names of several leading personalities and organisations, which police suspected was a hit-list. In 2014, Kerala Government again informed the Kerala High Court that activists of the NDF/PFI were involved in 27 communally motivated murder cases, 86 attempts to murder cases and in 106 communal cases registered in the state.
An article titled 'India: Jihad's southern outpost' published in the Sri Lanka Guardian on July 15, 2010, revealed some startling facts, including: Kerala Islamists-Pakistan links date back to early 1990s; radicals from Kerala terror groups had been going to Pakistan since 1992; raids on houses PFI leaders revealed PFI links with ISI, Al Qaeda; instances ISI infiltration into Kerala exposed with arrest of Muhammad Fahd (30), Pakistani national with Kerala roots and an Al-Badr coordinator in October 2006 with an associate with weapons and IEDs; PFI working on monitoring preparedness of Indian Navy; raids recovered campaign material of Al-Qaeda-Taliban - CDs of terrorist executing sentences by Al Qaeda, decapitation of girls and women and repulsive mutilation of their bodies amidst cheering by terrorists. In 2012, the social media hate campaign launched in South India threatening people from northeast that triggered the Assam Riots in 2012 was traced to the HujI and PFI, along with PFI affiliates Manita Neeti Pasaraj and Karnataka Forum for Dignity. More than 60 million messages were sent on August 12, 2012 with about one third uploaded from Pakistan. This led to some 30,000 people of northeast rushing back home from Pune, Bengaluru, Chennai, Hyderabad, Delhi etc.
The 'National Political Conference' organised by the PFI in February 2019 saw the merger of social organisations in eight more states into the PFI. Along with the state presidents of NDF Kerala, MNP Tamil Nadu and KFD Karnataka which had already merged with Popular Front, heads of social organisations in Andhra Pradesh, Goa, Rajasthan, West Bengal and Manipur joined hands on the dais with the PFI chairman Abdul Rehman who was former national secretary of SIMI. PFI's state secretary Abdul Hameed too is former state secretary of SIMI. The danger PFI poses to the security of the nation can be gauged from the above including its top hierarchy having simply transited front the banned SIMI. South India is also facing influx of Rohingyas, many reportedly travelling by trains with families. Similar danger is also from sea. In November 2018, at least six boats with refugees were intercepted by enforcement agencies. Media reports of December 10, 2018 indicated intelligence wings suspect fishing trawlers from Indian coast are picking them up mid sea from the boats which carry them from Myanmar coast. According to them, the southeast coast, from Orissa to Karnataka, is highly vulnerable as boats from Myanmar have easy access to fishing boats operating from these states. In July 2019, media reported that PFI had joined hands with Maoist-linked groups in Jharkhand Government had banned PFI but surprisingly PFI is still not in the banned list of 42 organisations by the MHA though the UP Government has asked for the outfit to be banned. The Union Government needs to take a call on this.