| | |
| --- | --- |
| | The Author is Former Director General of Information Systems and A Special Forces Veteran, Indian Army |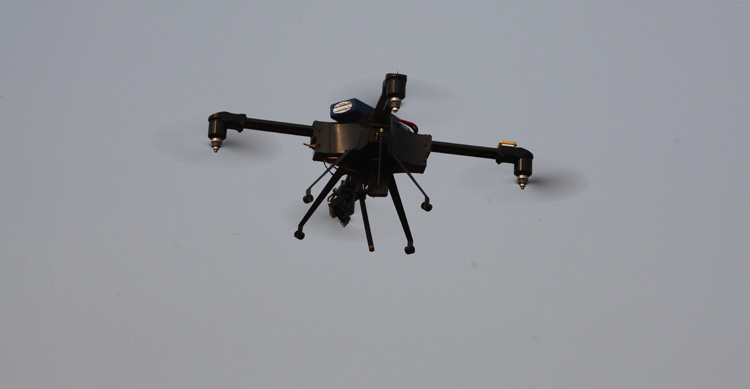 NETRA UAV
An indigenous Anti-Drone System developed by the Defence Research & Development Organisation (DRDO) was successfully tested on February 21, 2020 in destroying a drone. The DRDO system is equipped to instantaneously detect, identify and destroy hostile drones. The test was done ahead of the visit of US President Donald Trump's visit to India commencing February 24. The system was deployed during Trump's 22 km long road show accompanied by Prime Minister Narendra Modi from Ahmedabad airport to Motera stadium, to attend the 'Namaste Trump' event organised as a sequel to the 'Howdy Modi!' event at Houston last year attended by Modi and Trump with some 50,000 Indo-Americans in attendance. After arrival at the Airport, Trump Modi first visited Sabarmati Ashram before proceeding to the Motera stadium. While Trump arrived in India aboard Air Force One which is modified Boeing 747-200B built to withstand ground and aerial attacks, his ground movement within India was by 'The Beast' which is a GE-made Cadillac One limousine with armour-plated body, protective foam to cover the fuel tank, bullet-proof windows and tear gas grenade launchers.
The 'Marine One' helicopter also accompanies Trump on foreign visits - a VH-3D Sea King/VH-60N White Hawk equipped with communication systems and anti-missile defence systems. Deployment of the DRDO-made Anti-Drone System provided added security cover for Trump's visit. Post the Houthi drones attack on Saudi Arabia's Aramco oil facilities on September 14, 2019 and Pakistan using drones to supply arms and ammunition to terrorists across the Indo-Pak international border along Punjab, focus on anti-drone measures has increased in India. ISI-backed terrorist organisations like Lashkar-e-Taiba (LeT) and Jaish-e-Mohammad (JeM) could use drones, as also supply these or train banned organisations in India – including training them how to use commercial drones for terror acts.
Significantly, China has been in talks with Pakistan for export of machine gun fitted armed drone and may have already supplied some to the rogue country. Not only can drones be used by terror groups to attack installations and crowds, uploading of facial recognition software are being worked upon for targeted killings, which is a new serious threat. Concurrently, the Indian security sector has been looking at procuring requisite weaponry and instituting effective anti-drone measures. A blueprint to secure airports and prevent drone attacks is being advanced. Last year, an IIT Mumbai alumni company 'IdeaForge' was tasked by the Central Industrial Security Force (CISF) to come up with a solution by the year-end. IdeaForge, which designed the Netra drone alongwith the DRDO, was authorised after CISF was dissatisfied with field results carried out by western and domestic anti-drone makers. Several companies reportedly came in for the field test including Israel, German and Indian companies each promising state of the art technology. These companies were required to pass following criteria: one, attack hostile drone without harming own drone/aircraft, and; two, destroy hostile drone without hampering own communication system. Indian companies participating in the trials could reportedly not fully meet these requirements. IdeaForge had already provided over 700 drones to the CISF but this is the first time it is venturing into anti-drone technology systems. Significantly, the CEO of IdeaForge had stated in September 2019, "Currently there are no homegrown anti-drone solutions. Anti-drone (technology) is mostly indiscriminate jamming tech for GPS and communications. So we are customising work to deeply integrate and reduce system redundancies - something that does detections agnostic to the drone provider."
Reports of September 2019 also confirmed that IdeaForge was in an advanced stage with a western partner to sign a MoU. Considering this, the DRDO developed anti-drone system may not be fully indigenous as claimed by the DRDO. Its characteristics have not been revealed but it may have been developed by DRDO-IdeaForge in collaboration with a foreign original equipment manufacturer (OEM) perhaps of Israel. DRDO developing a completely indigenous system on its own between September 2019 and now is highly unlikely. Israel recently demonstrated its advanced anti-drone system – 'Drone Dome' that blasted drones using lasers. This notwithstanding, development of the indigenous anti-drone system is a welcome step. Providing anti-drone cover to India is a complex and gigantic task. Priorities will need to be laid taking into consideration likely terrorist attack areas, in addition to operational requirements to meet drone use by our adversaries. The production and procurement of anti-drone systems would also need to take into account assessment of drone swarm attacks and how many drones can be tackled by individual system simultaneously to ensure no hostile drone gets through.
Countries are also converting discarded aircraft to drones and these too may be deployed in multiples. There is also speculation that as the race to put more and more satellites in space is heating up, hackers could take control of these satellites, shut them down or deny access to services. This is not connected to drone attacks albeit satellites in such eventuality can also be brought cashing, but this is only to highlight the fast-paced developments in technology hitherto considered utopian. India must endeavor to institute effective anti-drone cover at the earliest and concurrently develop strategy for pro-active use of drones as part of an effective deterrent against drone attacks.