| | |
| --- | --- |
| | The Author is Former Director General of Information Systems and A Special Forces Veteran, Indian Army |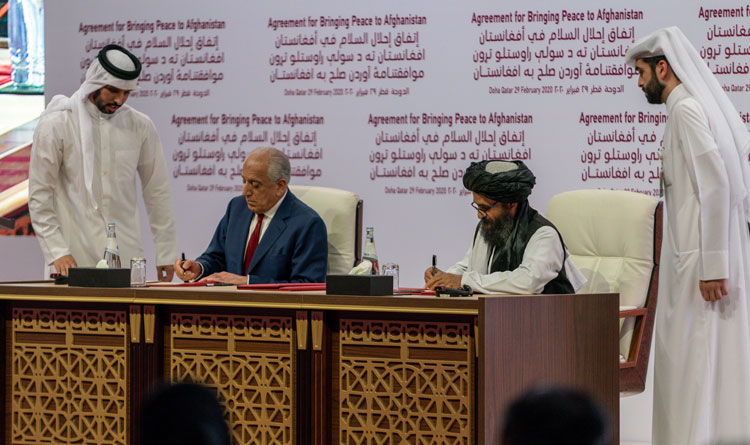 US representative Zalmay Khalilzad (left) and Taliban representative Abdul Ghani Baradar (right) sign the agreement in Doha, Qatar on February 29, 2020.
Signing of the US-Taliban deal by US Special Representative Zalmay Khalizad and Mullah Abdul Gani Baradar on behalf of Taliban at Doha, Qatar on February 29 had all the trappings of a mega show. The deal had been under discussion past 18 months. In September 2019 three former US envoys to Afghanistan (Ryan Crocker, James Cunningham and James Dobbins) warned that the US-Taliban agreement (then draft) on the withdrawal of all foreign troops from the country is a mistake that could unleash a more dangerous civil war. Crocker specifically said, "To negotiate a deal without the presence of the Afghan government, something the Taliban has long insisted on, is a concession that effectively means for the Taliban that the United States is done in Afghanistan."
The major flaw in the negotiations was non-inclusion of the Afghan Government which is the major stakeholder. Taliban never sought a peace deal. Ceasefire was President Trump's prerequisite for talks till recently. But with pressure on Trump with approaching elections and his pre-election promise to end America's longest war, Zalmay Khalizad pulled out a rabbit out of Islamabad's hat for a 7-day reduction in violence as the prerequisite, with Trump and Mike Pompeo applauding the magical feat. Under the US-Taliban deal, within the first 135 days US will reduce its forces in Afghanistan to 8,600, with allies also drawing down their forces proportionately. The US has committed to withdraw from Afghanistan all its military forces as also troops of its allies and coalition forces within 14 months of the agreement - which means by April 30, 2021. The pullout is contingent upon Taliban keeping their promises – prevent terror and not showing bad faith to talks. Pompeo urged Taliban to "keep your promises to cut ties with al-Qaeda". Baradar's emphasis was on withdrawal of all foreign forces enabling the Islamic regime embark on new prosperous life. The bit about Al Qaeda takes the charade further because western scholars have been pointing out that Haqqanis are Al Qaeda and Ayman al-Zawahiri, Al Qaeda chief declared support to Taliban years back. The deal also provides for a prisoner swap (5,000 Taliban prisoners to 1,000 Afghan security force prisoners) by March 10, when talks between the Taliban and the Afghan government were due to start. However, intra-Afghan talks are likely to get delayed. Afghan Government not being party to the decision of prisoner swap and its lopsided ratio, Afghan President Ashraf Ghani has refused to release 5000 Taliban fighters and Taliban is not for further talks without this. Moreover, after signing the US-Taliban deal on February 29, Taliban resumed multiple attacks against Afghan National Defense Security Forces (ANDSF).
On March 3 alone, the Taliban conducted 43 attacks on ANDSF checkpoints in Helmand Province. Some 25 Afghan soldiers were killed and 13 others were injured in three separate Taliban attacks overnight. Actual casualty figures may be much more. According to the spokesperson of Afghanistan's Interior Ministry, Taliban attacked in 16 provinces targeting civilians and security forces. Taliban perceived the deal would indirectly bind US forces to lie dormant and not support the ANDSF. Despite reports of Taliban's resuming hostilities, President Trump called up Mullah Abdul Ghani Baradar, chief Taliban negotiator on March 3 and later told reporters that he "had a very good talk with the leader of the Taliban" and that they "have agreed there is no violence, don't want violence. We will see what happens. They're dealing with Afghanistan but we will see what happens." However, guilt of sitting on the fence and letting the ANDSF be attacked probably caught up in US forces stationed in Afghanistan. So finally, the US conducted a drone attack (obviously sanctioned by Trump) against the Taliban on March 4.
In a series of tweets, Colonel Sonny Legget, spokesman of US Forces in Afghanistan said, "The US conducted an airstrike Wednesday against Taliban fighters in Nahr-e Saraj, Helmand, who were actively attacking an ANDSF checkpoint. This was a defensive strike to disrupt the attack. This was our 1st strike against the Taliban in 11 days." Calling the drone strike "defensive" and the apologetic tone must have amused the Taliban. Will the Taliban now resume 'defensive' strikes against US forces is a matter of conjecture but it does indicate how Washington has been caught in Taliban's web. Where Taliban would not talk to the Afghan government calling them "American stooges", their hatred towards America can hardly be fathomed. Taliban perhaps went along negotiating and eventually signing the deal because it promised release of hundreds of Taliban fighters from custody. But resumption of attacks on US troops later would cause major embarrassment for Trump and the US after all the publicity attached to signing the deal and troop pullout. What happens next is uncertain but Trump is in a bind because of his pre-election promise of "ending the long war and bringing the boys home". But if US troops do pull out, Afghanistan's return to Taliban rule as during 1996-2011 is very much on the cards. It is muscle power that will matter and China-Pakistan will support Taliban rule.
Many western scholars have written that without US support, the Afghan National Army will be weak to combat the Taliban. Finally, is the prophecy made by former Pakistani Major Agha H. Amin who wrote in his article 'India and Pakistan make Peace' on August 12, 2012 saying, "Utopians in India are jubilant that Pakistan has made peace with India. Nothing in reality can be farther from the truth. .....The real picture of true intentions of the Pakistani military will emerge when the US withdraws from Afghanistan. This will be the time when the Russians, Iranians and Indians will have no choice but to support the Northern Alliance against Pakistan sponsored Taliban who regard all Shias, Ismailis, non-Pashtuns, moderate Pashtuns as infidels who deserve to be massacred... There is no doubt that Pakistan will be a semi autonomous Chinese province by 2030 or so... Pakistani Baluchistan by 2030 would be a completely Chinese run show".