| | |
| --- | --- |
| | The Author is Former Director General of Information Systems and A Special Forces Veteran, Indian Army |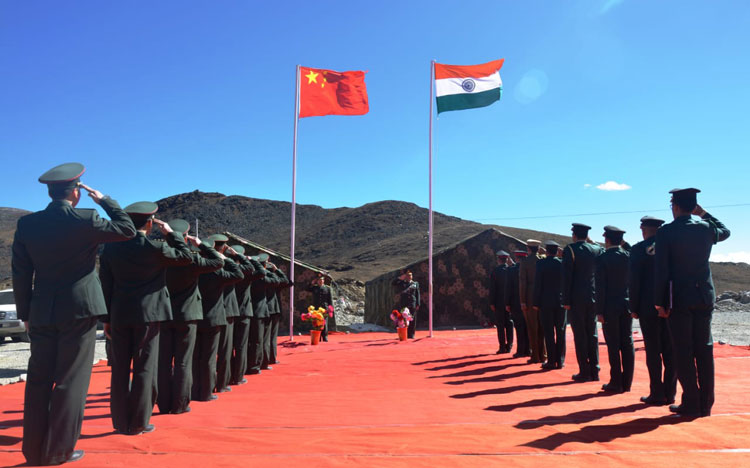 A Border Personnel Meeting (BPM) between Indian Army & Peoples' Liberation Army was hosted by Chinese side at Bumla Pass in Tawang. The meet took place in an atmosphere of warmth and friendship, with an aim of enhancing mutual trust and promoting border peace and tranquility
On May 5, PLA resorted to aggression indulging in physical fight with Indian troops in vicinity of Pangong Tso lake in Ladakh. It may be recalled that PLA had resorted to stone-pelting and attacking an Indian patrol with rods and sticks in same area on August 15, 2017. In the recent incident helicopters were also observed on the Chinese side. Concurrent to this PLA movement and build up in Galwan Valley was observed in response to which India had to rush additional troops in the area to take defensive positions. Another incident on May 9 witnessed PLA troops advancing into the area of Naku La in North Sikkim and engaging with Indian troops in physical fights. No bullets were fired in these incidents but there were injuries on both sides, more suffered by PLA.
China agreed to Sikkim being part of India under a India-China agreement signed on June 23, 2003 for opening border trading posts but PLA continues to take periodic aggressive actions. Immediate response from China's state-run media to these incidents was that "Chinese and Indian troops had been conducting increased border patrols thanks to improved road networks on both sides and quick resolution to the face-off showed that the communication mechanism established between the two sides was effective". However, China changed course within a week with its media accusing Indian troops of crossing the boundary line in the Galwan Valley region and entering Chinese territory, by saying, "The Indian side built defence fortifications and obstacles to disrupt Chinese border defence troops normal patrol activities, purposefully instigated conflicts and attempted to unilaterally change the current border control situation. The actions by the Indian side have seriously violated China and India's agreements on border issues, violated China's territorial sovereignty and harmed military relations between the two countries." Indian Army Chief M.M. Naravane stated on May 14, "Temporary and short duration face-offs between border guarding troops do occur along the LAC due to the differing perceptions of the alignment of boundaries, which are not resolved. There were two incidents at Eastern Ladakh and North Sikkim where aggressive behaviour by both sides resulted in minor injuries to troops, post which both sides disengaged after dialogue and interaction at local level."
Over the years India has downplayed such incidents terming them "transgressions" and differing perceptions since the LAC is not demarcated. In contrast, China always insists its troops are on the Chinese side, as they even did when PLA intruded 16 km deep in Indian Territory in area of RakiNala in Eastern Ladakh during 2013 when Chinese Premier Li Keqiang was visiting India. At times Beijing even said its troops had moved ahead to get some sunshine! China is also behind Nepal objecting to the road in Pithoragarh district of Uttrakhand to Lipulekh Pass inaugurated by Defence Minister Rajnath Singh on May 8, calling it violation of Nepalese sovereignty – fallaciously claiming the road is in Nepal's territory. Immediately thereafter, Nepal unveiled a new political map showing Indian areas of Limpiyadhura, Lipulekh and Kalapani in Nepal. Lipulekh Pass is on the LAC between India and China Occupied Tibet. Indian troops have been deployed at Limpiyadhura and Kalapani over past five decades. India responded by saying the new map amounts to "artificial enlargement of territorial claims" that are not acceptable. But Nepal's Prime Minister K.P. Sharma Oli told Nepalese Parliament that Constitution will be amended to formalise the map and diplomatic efforts will continue to bring back these territories. Nepal's new map follows China's patent of cartographic aggression and has obviously been issued on Chinese behest. To hide its complicity China gave a statement out of the blues that Kalapani is bilateral issue between Nepal and India that both sides should resolve peacefully. There was no reason for China to issue such statement since there neither was India-Nepal standoff at Kalapani nor any physical fights like the PLA is indulging in. Chinese media says Chinese border defence troops have made the "necessary moves" and "enhanced control measures" in the Galwan Valley in Eastern Ladakh. However, both sides continue to face each in Galwan Valley. Notably China has changed its traditional stance from terming its own intrusions as movement within Chinese territory to now accusing India as the aggressor. The standoff at Galwan Valley is continuing.
Post release of COVID-19 from Wuhan, the Chinese leadership appears to have gone berserk, either hoping to take advantage of capturing territories while the world battles the virus or to deflect attention of Chinese public from the dissent within China. Beijing has issued new Chinese names for 25 islands/reefs and 55 undersea entities in the South China Sea in a bid to 'reinforce its illegal claims in the region. Earlier China gave Chinese names to some places in the State of Arunachal Pradesh in India. China now claims Mount Everest and surrounding areas of Nepal and Chinese websites claim Kyrgyzstan, Kazakhstan part of China. China is vigorously exercising in South China Sea to practice capture of Taiwan and appears intent on testing America's redlines. Therefore India should expect more muscle flexing by China to test our resolve. Recent signing of Pakistan-China $50 billion contract for China to build the Diamer-Bhasha dam in Gilgit-Baltistan is another snub to India. Ironically, India never warned China it will establish diplomatic relations with Taiwan if China does not endorse 'One India' policy. In sharp contrast, Chinese maps are not showing Arunachal and POK part of India anymore. China government is drunk with military and economic power but needs to read up on history. Xi Jinping was secretary in China's Ministry of National Defense when China invaded Vietnam in 1979 to teach them a lesson, but received thorough beating. India responded to PLA intrusion in Sumdorong Chu during 1986-87 so massively that not only PLA troops scurried back, the Tibet Military District Commander and Chengdu Military Region Chief were sacked by China. India should be accordingly prepared this time too.