By Lt. General P.C. Katoch (Retd)


Former Director General of Information Systems, Indian Army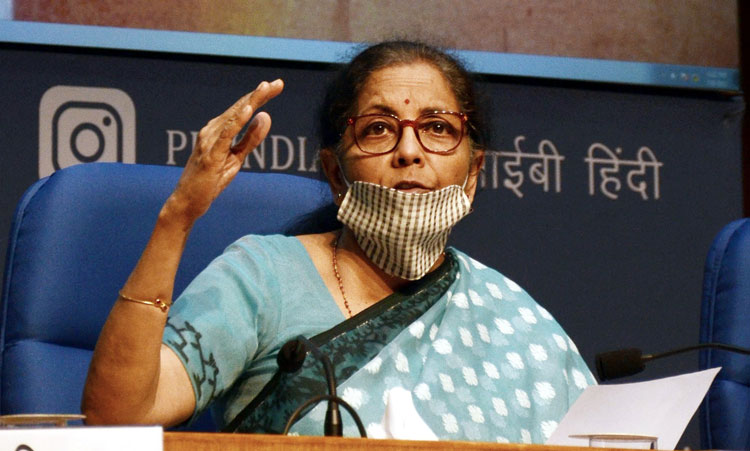 Union Minister for Finance and Corporate Affairs Nirmala Sitharaman holding a press conference to announce the details of special economic package, in New Delhi on May 13, 2020.
As India battles the scourge of COVID-19, the prospects of economic growth have begun to lookbleak. Among various forecasts, Moody is predicting a zero per cent growth. News reports of April 21, revealed details of a study by Ernst & Young according to which the lockdown because of COVID-19 could wipe out about 40 per cent of the defence sector's micro, small and medium enterprises (MSMEs) within three months unless a support package is put in place by the government. The Ernst & Young study says, "It is anticipated that due to complete halt of all activities, the problems of cash flow, raw material prices and logistics problems will arise after lockdown is over. It appears that complete revival of any MSME shall require at least 6-12 months." The study is reportedly based on discussions with Indian defence industry representatives. Complete revival of all MSMEs is expected to take a year and the cost of products could go up marginally when production is resumed.
Input costs of defence equipment may also likely rise by way of raw material supplies. Taking into account the spending curbs announced by the government, the study says, "As far as the issue of financial resources for procurement from industry is concerned, it is important to realise a way so that military modernisation does not take a hit. Capital defence budget consists not only of modernisation, but also land, construction work, etc. The 20 per cent cap should be enforced on the budget outlay for such segments without hampering military modernisation." The industry has suggested that with low movement of troops, a temporary ban on military exercises and international engagements, savings made on the revenue side could be utilised to ensure that there is no impact on modernisation and manufacturing orders. There is concern among manufacturers that defence modernisation may be impacted after the lockdown is lifted as budgets are stretched, and adds that there should be no reduction in capital procurement, even if training activities have to be tapered in the coming months. According to the study, the industry wants the government - which is the sole buyer of defence products to be proactive in the coming months by placing orders that are already in the pipeline and making necessary payments.
This appears to be the thinking already since Army Chief General Manoj Mukund Naravane recently gave a media interview saying that COVID-19 will not affect modernisation of the Army. However, if expenditure on combating COVID-19 mounts with warnings of second and third waves of the virus likely in coming months, it could impact defence allocations. A senior official from Ministry of Defence (MoD) stated on April 28 that military spending, minus payroll, would probably be cut by at least 20 per cent from the FY 2020-21 allocations and possibly by as much as 40 per cent. He also confirmed that government had ordered the military to limit its first quarter (April-June) spending to 15-20 per cent of the entire year's budget, and same cut would likely be extended to the next three quarters as well.
On May 2, Union MSME Minister Nitin Gadkari stated that the central government is likely to announce a relief package for the MSMEs that have been affected due to the COVID-19 lockdown. He said the financial package is expected to be announced in due course, adding, "We have sent recommendations for a relief package to the Finance Minister and Prime Minister, and I hope it will be announced soon." Urging industries to have a positive attitude and adopting an integrated approach to overcome the crisis while ensuring the lives and livelihood of people, he said it is a golden opportunity for industries and entrepreneurs to explore new businesses. He suggested adopting technological innovations and import substitution to attract investments from global businesses that look to exit China. Significantly, he expressed confidence that 25 lakh MSMEs will be restructured by the end of the year. Earlier interacting with representatives of Associated Chambers of Commerce of India (ASSOCHAM) on impact of COVID-19 on MSMEs, Gadkari had said that the government was working on a dedicated fund to address delayed payments of MSMEs, saying, "We have prepared a fund of Rs 1 lakh crore and government will pay for the insurance. We will fix a formula on how to coordinate between all three stakeholders - the one who has to receive money, the one who has to pay money and the bank". The fund will provide some relief to the MSME sector to tide over the negative impact of COVID-19 related disruption in their businesses and revenue losses. He said the corpus will be a mobile fund that will help increase liquidity in the market. All this is good news and the defence industry and MSMEs should emerge stronger from the virus-related economic crisis. At the same time, news about China having funded 30 Indian startups with a cumulative investment of about $4 billion should raise concerns especially if these startups or MSMEs are related to defence production or are ancillary to defence industry, given the ulterior motive including spying by China getting exposed world wide. Government needs to take a call on this.