By Lt. General P.C. Katoch (Retd)


Former Director General of Information Systems, Indian Army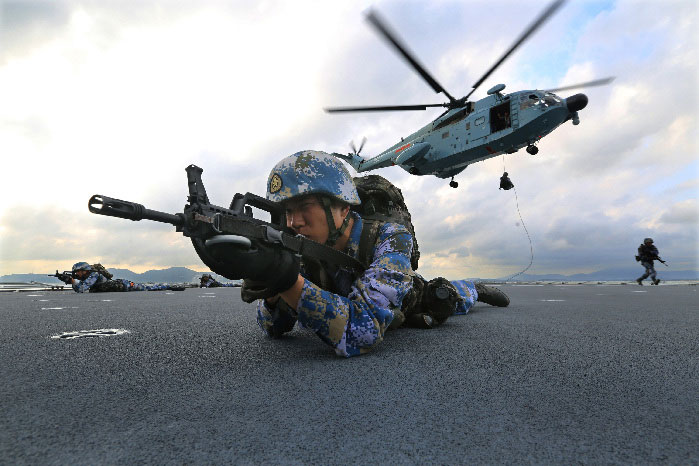 News reports of April 18 indicate that within five years Chinese marines will be operational in the Indian Ocean. In September 2019, China launched its largest amphibious ship—the Type 075, which is roughly like US Navy's 40,000-tonne amphibious ship USS 'Wasp', central to three ships carrying an American Marine Expeditionary Unit (MEU). China's Type 075 carries 900 Chinese Marines and their equipment and weapons, along with landing craft and amphibious assault vehicles to take them ashore. It houses 30 helicopters and room for adding fighter jets. Building the Type 075 took just six months compared to three years for America's Wasp. Two more Type 075 amphibious ships are under construction. America's Japan-based 31st MEU patrols the Pacific while other MEUs transiting the region en route to or from the Middle East cover the Indian Ocean. It is assumed that with the Type 075 already operational, China could launch its MEU even today using available Type 071 amphibious ships and older models. With construction of the two more Type 075 in next six months, China would be in a position to launch MEUs in the Indian Ocean well before the envisaged five years.
In March 2017, Chinese plans became known to increase the size of its marine corps from about 20,000 to 100,000 personnel to protect the nation's maritime lifelines and its growing interests overseas. Military insiders had told media that two brigades of special combat troops had been moved to the marines, nearly doubling its size to 20,000, and more brigades would be added, saying, "PLA marines will be increased to 1,00,000, consisting of six brigades in the coming future to fulfill new missions of our country." One source also said that the size of the navy would also grow 15 per cent from its then size of 2,35,000 personnel- taking the naval strength to 2,70,250. Liu Xiaojiang, a former navy political commissar, told reporters on the sidelines of the annual Chinese People's Political Consultative Conference in Beijing on March 5, 2017, "Besides its original missions of a possible war with Taiwan, maritime defence in the East and South China seas, it's also foreseeable that the PLA Navy's mission will expand overseas, including protection of China's national security in the Korean peninsula, the country's maritime lifelines, as well as offshore supply depots like in Djibouti and Gwadar port in Pakistan." Chinese development projects world over are either undertaken by the PLA or PLA-owned companies. All these projects have large presence of PLA in civil attire, which included project managers, advisors, technicians and workers.
China had initially asked Sri Lanka permission to place a PLA company strength at Hambantota Port, which was refused. Knowing the Chinese system they would have still placed the company-sized body of PLA there under garb of civilians. With the expanded strength of Chinese marines, they would already be placed at Gwadar, Hambantota and other ports being developed by China. Chinese marines have been jointly exercising with Pakistani marines – SSG (N). The Chinese base at Djibouti is fully manned and fortressed from where Chinese have been firing lasers at American pilots. Of the Chinese MEUs in the Indian Ocean Region, one would likely be positioned at Djibouti in the Horn of Africa and the second at Gwadar in Pakistan. A third MEU could be patrolling the ocean and anchor periodically at Hambantota or Bangladesh under pretext of rest and relief or repairs. Combining air, sea and ground capabilities, American MEUs are patrolling the seas, conducting exercises and joint training with partners, responding to natural disasters and ready to fight when required. Most significantly, these amphibious forces signify presence of quick response capability for power projection and influencing regions they operate in. It is obvious that joint training for amphibious operations would include culmination of assault on land. This may be the scene for future Chinese MEUs training with Pakistan, Sri Lanka and Bangladesh. The future commercial activity at Gwadar Port is perhaps the reason why China and Pakistan are developing the Jiwani Peninsula as a joint naval and air force base, which is west of Gwadar and even closer to the Straits of Hormuz. Jiwani Peninsula is well suited for joint amphibious training as well as basing a Chinese MEU as compared to Gwadar once developed. However, China will continue to deploy marines in Gwadar due to security problems. Having initiated World War III through China Virus, China is itching to decimate the US and achieve world domination. It has successfully established itself in South China Sea and East China Sea in defying territory of its neighbours. China wants to dominate the Indian Ocean similarly which is fast becoming the centre of gravity for conflict. Chinese MEUs in the India Ocean will increase threats in the region including to India; at sea, offshore installation, targets along the coastlines and island territories in particular.