By Lt. General P.C. Katoch (Retd)


Former Director General of Information Systems, Indian Army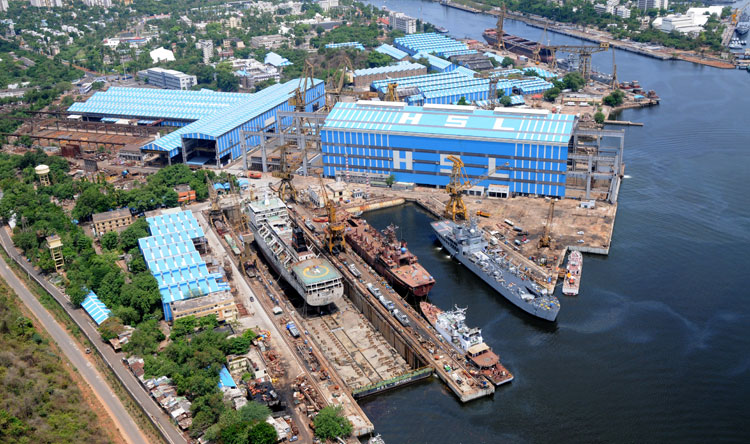 Aerial view of Hindustan Shipyard Limited
News reports of March 23, 2020 have confirmed that India is going ahead with a $2.3 billion (about 15,000 crore) deal to manufacture five fleet support vessels (FSVs) in collaboration with a Turkish shipyard. The formal contract was signed in February 2020 between Hindustan Shipyard Limited (HSL) and Turkey's Anadolu Shipyard (TAIS) for construction of the 45,000 tonnne FSV for the Indian Navy. Part of the TAIS industrial group, Anadolu Shipyard will provide the ship design, supply key machinery equipment (KME), and provide technical assistance. Construction of the first FSV is to begin in 2020 and is likely to take eight years for completion.
According to photos shared by the TAIS group, the tankers could be similar in design to the Pakistan Navy fleet tanker PNS Moawin, which was built by Pakistan's Karachi Shipyard under a design provided by Turkey's STM. A significant difference between Indian and Pakistani tankers is the size as PNS Moawin displaces 16,400 tonnes, compared to the 45,000 tonnes displaced by Indian FSV. Turkey's TAIS had emerged as the lowest bidder for a contract to manufacture five of the 45,000-tonne FSVs at the Vizag-based HSL in 2019, but the contract signing was put on hold in October last year following the repeated raising of Kashmir issue by Turkey's President Recep Erdogan at international forums. On sidelines of the 74th United Nations General Assembly (UNGA) in New York during September 2019, Malaysian Prime Minister Mahathir Mohamad, Turkish President Recep Tayyip Erdogan and Pakistan Premier Imran Khan decided to jointly launch a BBC-type Islamic channel to highlight the issues of Muslims and fight Islamophobia in the West. But India was naturally angered when Malaysian PM Mahathir Mohamad in his address to the United Nations said that India had "invaded and occupied" Jammu and Kashmir and asked New Delhi to work with Pakistan to resolve the issue. India, therefore, decided to curtail imports of palm oil and some other products from Malaysia. In the first nine months of 2019 India was the biggest buyer of Malaysian palm oil, taking 3.9 million tonnes, as per data compiled by the Malaysian Palm Oil Board. According to news reports of March 14, 2020, India's palm oil imports from Malaysia have turned negligible. India imported 5,40,470 tonnes of palm oil in February 2020, but only 5,890 tonnes were from Malaysia. Compare this with India having imported 136, 219 tonnes of palm oil from Malaysia in January 2019 and 1,10,562 tonnes in December 2019. Although there is no official restriction on buying Malaysian palm oil, this has resulted in sending a strong signal to Malaysia and perhaps contributed to Mahatir Mohammed resigning as Prime Minister of Malaysia.
Turkish President Erdogan also had been raising the issue of Kashmir in international forums, even comparing Kashmir with the Palestine issue. Turkish shipyards are a major supplier of warships to Pakistani Navy. Besides four new corvettes, Turkey has designed a fleet support vessel for Pakistan, supports its submarine fleet and has signed a deal to sell 30 T-129 attack helicopters that have been developed in collaboration with Italian company Finmeccanica (since renamed as Leonardo). In September 2019, Erdogan had used the ceremony to launch new corvettes for the Pakistani Navy. Hence concerns arose how access to HSL by their engineers and workers could result in security issues, especially since HSL is located close to the Ship Building Centre, where India's nuclear armed submarines are built, as well as the Eastern Naval Headquarters. In February 2020, Erdogan visited Pakistan, where he repeatedly raised the Kashmir issue and said that Turkey was on Pakistan's side over the conflict and that it would support it on the issue of being censored by the Financial Task Force (FATF) as well. The joint Pakistan-Turkey declaration during Erdogan's visit made motile references to Jammu and Kashmir. This led to India issuing a strong statement rejecting all references to Kashmir in the joint declaration and also on March 3 made a strong demarche with the Turkish envoy as well. Considering all this, signing of the HSL-TAIS deal invited surprise in many quarters. According to media reports, MoD gave the green signal to it after its vigilance department had reviewed the issue and MEA too had no objection to it.
The Indian FSV project was initially approved by MoD in 2016 after the Navy projected a requirement for ships that could carry fuel and other supplies for warships at sea. HSL was naturally pressing for the $2.3 billion deal deal since TAIS had emerged winner last year as the L1 bidder. Rejecting TAIS would have required the entire process of inviting bids to start all over again, entailing loss of many months.