| | |
| --- | --- |
| | The Author is Former Director General of Information Systems and A Special Forces Veteran, Indian Army |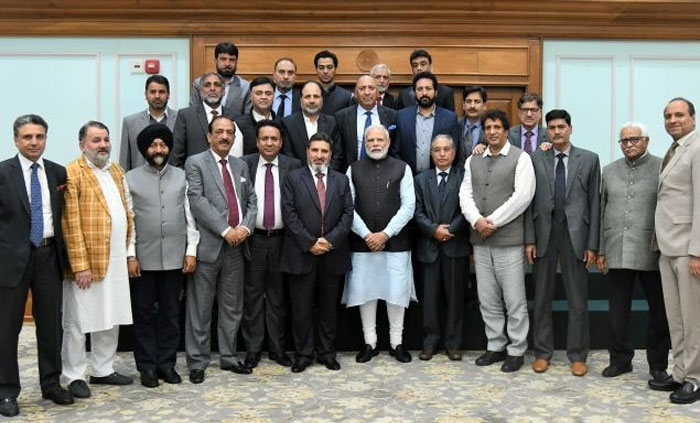 Prime Minister Narendra Modi interacted with a delegation led by Altaf Bukhari from Jammu and Kashmir's Apni Party.
On March 8, 2020, Altaf Bukhari, former MLA from the J&K Peoples Democratic Party, launched a new political party called 'J&K Apni Party' (JKAP). The new party has many members from PDP, NC and Congress, prominent ones being minister and PDP founding member Ghulam Hassan Mir, former minister and PDP general secretary Dilawar Mir and former ministers Chowdhary Zulfiqar Ahmad, Mohammad Ahsraf Mir, Abdul Majeed Paddar, Aijaz Ahmad Khan and Usman Majeed, besides former chief secretary and ex-NC leader Vijay Bakaya. Bukhari said he will not talk about Article 370 because the matter is sub-judice, adding, "We are not going to sell moons or unachievable dreams to the people but make attempts to solve their problems. Our party is of the commoners, by the commoners and for the commoners. I do not see elections happening anytime soon. It may take at least a year or so. Let us work for the people till then." he said.
On March 15, a 24-member JKAP delegation led by Altaf Bukhari met Prime Minister Narendra Modi and Home Minister Amit Shah. Modi allayed their fears about possible demographic changes in J&K following abrogation of Article 370 and assured them that the Centre would ensure interests of J&K in the delimitation exercise and grant of state domicile, and that the government will work with all sections of the population to realise the hopes of statehood for J&K at an early opportunity. Modi also gave assurance that the government is committed to economic development of the region through extensive focus on infrastructure development and creating new investment opportunities in sectors like tourism. He assured full support by the government to resolve all the issues being faced by Jammu & Kashmir. A statement from PMO said Bukhari had hailed abrogation of Article 370 and 35A as a watershed moment in the history of Kashmir and that the PM said, "democracy in the region could be strengthened through a fast-moving process of political integration". Ghulam Hassan Mir of JKAP later told reporters, "The Prime Minister was categorical that people should not think about demographic change. He called it propaganda. We sought statehood and domicile rights for the people of Jammu and Kashmir. It was a wonderful meeting." The delegation later met Home Minister Amit Shah. Shah assured the delegation that the Union Government will take all steps for the overall development of J&K and expressed confidence that visible changes will be seen on the ground in next three to four months, assuring them that government has no intention to bring a demographic change in J&K, which was assured by the Prime Minister during his speech in Lok Sabha. He said that J&K will have a better domicile policy than other states in the country, adding that a reasonable economic development policy will be drafted soon after wide consultation. He also said that an attractive industrial policy will be announced for the rapid economic development of the Union Territory soon.
Home Minister Amit Shah meeting a delegation from Jammu & Kashmir's Apni Party led by Altaf Bukhari, in New Delhi on March 15, 2020
Referring to steps like the release of individuals from preventive detention, restoration of internet, relaxation in curfew, Shah said all decisions on such relaxations are being taken by the Prime Minister and implemented by Home Ministry are based on the ground realities and not due to any pressure. An official press release read, "Home Minister (Amit) Shah after engaging with the delegation on about 40 odd issues raised by them emphasised that there is no intention of the government for demographic change in the region and all such talks have no basis at all. He said that the government will work with all sections of the society to realise the hopes of statehood for Jammu and Kashmir at an early opportunity." The emergence of JKAP is a breath of fresh air in the political arean of J&K. Besides other considerations, its members were obviously disenchanted by the dynastic style of functioning of the NC, PDP and Congress. This was indicative from the statement by Altaf Bukhari who told reporters that JKAP would be different from other parties as it was not floated by families. Altaf Bukhari has expressed happiness over his meeting with Prime Minister Modi by saying, "PM has Adopted Kashmir".
The next few months till elections are held and beyond will demonstrate sincerity of JKAP and its members. Funds from China and Pakistan have been pouring into J&K for terrorism and all types of anti-India activities, in which both the NC and PDP have been involved, as also having links with trans-border terrorist organisations and Pakistan's ISI. PDP's links with POK-based Hijbul Mujahedeen are well known. It may be recalled that when PDP had won elections in J&K, Mufti Mohammed Syed (Mehbooba Mufti's father) had publicly thanked Pakistan for the electoral win, even as Prime Minister Modi was sitting next to him. It is quite possible that some members of JKAP have joined the outfit on behest of the ISI-Chinese intelligence. Pakistan raising the issue of Kashmir during the video conference of SAARC members for cooperation against COVID-19 and the recent China-Pakistan statement on Kashmir during visit of Pakistani President to Beijing indicate that these two rogue countries are never going to give up on fomenting trouble in J&K.
In another significant development, former J&K Chief Minister Farooq Abdullah was released from detention on March 13, 2020. Farooq had been under detention since August 2019 under provisions of PSA after abrogation of Article 370. He is lucky not to be probed for his role in ethnic cleansing of Kashmir Pandits from the Valley in 1990. He was reportedly released after former R&AW officer A.S. Dulat met him on behalf of the Centre and extracted a promise, he would not incite masses against the Union Government post his release. His release may be due to rise of JKAP and considering him a 'spent' force. However, given his past chameleon-like performance, nationalistic behaviour from him can hardly be expected. On release, he has given a call for releasing all other detainees under PSA and bringing back all J&K detainees from outside J&K. Home Minister Shah has responded by saying that J&K political prisoners will be freed in 'times to come'.
Finally, while the Union Government appears in a hurry to start the political process in J&K, the Union Territory's economic development and industrialisation must be hastened to usher full complete normalcy and separate the public from terrorists and anti-national elements. To this end, J&K marking 15,000 hectares of land to woo industrialists is a welcome step, but just the beginning.