| | |
| --- | --- |
| | The Author is Former Director General of Information Systems and A Special Forces Veteran, Indian Army |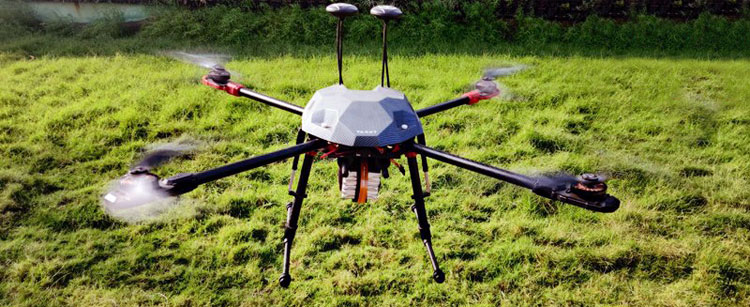 Counter-Drone Drone from IIT Madras
It has been covered in these columns that an indigenous Anti-Drone System developed by the Defence Research & Development Organisation (DRDO) was successfully tested on February 21, 2020 in destroying a drone and the same was deployed during US President Donald Trumpís recent visit to Gujarat on February 24. The system is equipped to instantaneously detect, identify and destroy hostile drones. The test was done ahead of the visit of US President Donald Trump's visit to India commencing February 24. Now there is news that IIT Madras has developed an Artificial Intelligence-powered drone that can counter 'rogue drones.' It can track down rogue drones visually, hack into their GPS navigation system and force the rogue drone to either land or change its course. A major advantage of this system is that it can be controlled over the Internet and can navigate autonomously as compared to most existing drones that operate on 'line of sight'; implying that the operator must keep the drone within their sight. Using the Internet to control the drones, also allows for deploying a swarm of drones that can intelligently detect and track people, drones, vehicles and other objects.
According to Dr. Ranjith Mohan of IIT Madras, the "current prototype is equipped to detect and track objects visually, precisely land and fly over InternetĒ. The next step will be to conduct exhaustive tests on the system and ensure its reliability for catering to a wide range of demanding missions that pose challenge to law enforcement and defence agencies. The programmable nature of the prototype drone also opens up the possibility of swarming multiple vehicles to act as a team and accomplish a common mission. According to Vasu Gupta, a final year B. Tech student, Department of Aerospace Engineering, who is part of the team that designed the drone, "The drone works by employing a software-defined radio and broadcasting spoofed GPS signals by making use of the ephemeris data of GNSS constellations. The target drone's GPS sensor locks onto our fake radio station transmitting at a much higher power than the available satellite's transmission power. Following this, the drone generates fake GPS packets by mathematically modeling the time differences at the receiver's end. Using four of such time differences, the GPS sensor calculates its 3D position and calibrates the rogue drones' time to our spoofed clock. This way, we alter the latitude, longitude, altitude and time of the rogue drones." Rishabh Vashistha, Project Associate adds, "Algorithmically altering the 3D position allows us to move the target drone locally. Moreover, when a large variance is given in the spoofed GPS position, a failsafe (if any) is invoked at the target side which results in a safe landing of the target drone."
This is excellent news with the drone threat, especially as possibility of these being used by terrorists, is looming large on the horizon. Focus on anti-drone measures has increased in India with Pakistan using drones to supply arms and ammunition to terrorists across the Indo-Pak international border along Punjab. With Pakistan hell bent to foam trouble in J&K and destabilise India, ISI-backed terrorist organizations like Lashkar-e-Taiba (LeT) and Jaish-e-Mohammad (JeM) could use drones, as also supply these to banned organisations in India. China has already been in talks with Pakistan for export of machine gun fitted armed drones and may have already supplied some to the rogue country. Not only can drones be used by terror groups to attack installations and crowds, uploading of facial recognition software are being worked upon for targeted killings, which is a new serious threat. IIT Madras has stated that the system (drone to counter rogue drones) can be of invaluable assistance to law enforcement agencies, security services and armed forces to secure air space over critical civilian and military installations from surveillance by rogue drones.
There is no doubt about this, especially the possibility of these being deployed in swarms to counter swarms of rogue drones, which has become the pattern since the ISIS deployed drones in Iraq-Syria and Yemen-based Houthis attacked the Aramco oil facilities in Saudi Arabia. Russian bases in Syria too have been subjected to swarm drone attacks from unknown sources. On March 11, 2020, General Kenneth McKenzie, head of US Central Command, said there had been attacks by drones dropping bombs on US troops in Syria. According to ground reports, it was unclear who was behind the attacks. In this context, the counter-drone drone of IIT Madras is an excellent innovation. The need now is to speed up the final product, which no doubt IIT Madras will be focused on. The challenge after that will be of obtaining government approval, trials, production and fielding the product which invariably gets bogged down with red tape and excruciatingly slow progress with inevitable intervention by the governmental defence-industrial set up.