| | |
| --- | --- |
| | The Author is Former Director General of Information Systems and A Special Forces Veteran, Indian Army |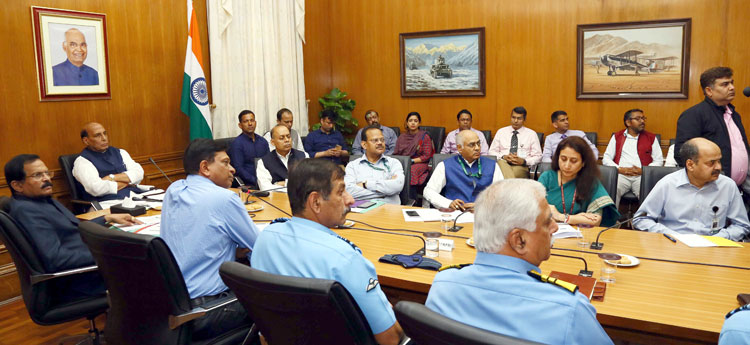 Defence Minister Rajnath Singh during the unveiling of draft Defence Procurement Procedure (DPP) 2020 in New Delhi on March 20, 2020. Minister of State for AYUSH (Independent Charge) and Defence Shripad Yesso Naik, the Defence Secretary Dr. Ajay Kumar, the Secretary (Defence Production) Raj Kumar and the Director General (Acquisition) Apurva Chandra are also seen.
Releasing the Draft Defence Procurement Procedure (DPP) 2020, on March 20 Defence Minister Rajnath Singh said, "Our aim is to make India self-reliant and a global manufacturing hub. The government is constantly striving to formulate policies to empower the private industry including MSMEs in order to develop the eco-system for indigenous defence production. The defence industry of India is a strategically important sector having huge potential for growth. It needs to be the catalyst for India's economic growth and realisation of our global ambitions. With the experience gained by the industry and the Ministry of Defence (MoD), it is now time to take further steps to strengthen 'Make in India' initiative, refine Life Cycle Support of procured equipment & platforms and hasten the defence acquisition process by further simplifying the procedures & reducing the overall procurement timelines."
The darft DPP 2020, to be effective from April 1, 2020, has been uploaded on MoD's website inviting further suggestions from stakeholders by April 17. Chapters of the draft DPP include: Acquisition Categories, Acquisition Planning and Indigenous Content; Acquisition Procedure for Categories under 'Buy', and 'Buy and Make' schemes; Procedure for Procurement under 'Make' and 'Innovation' Categories; Procedure for Acquisition of Systems Designed and Developed by DRDO/DPSU/OFB; Procedure for Defence Ship Building; Fast Track Procedure; Standard Contract Document, and; Post Contract Management. The overall aim is to further boost indigenous manufacturing and reducing timelines for procurement of defence equipment.
The draft DPP boosts indigenous content (IC) under 'Make in India', in addition to incentives for local material and software, as follows:
10 per cent increase over DPP 2016 under Buy (Indian-IDDM) bringing it to minimum 50 per cent.
Minimum 60 per cent where design not indigenous under Buy (Indian).
Minimum 50 per cent under Buy and Make.
Minimum 50 per cent under Buy (Global – manufacture in India).
Minimum 30 per cent for Indian vendors under Buy (Global).
Buy (Global – Manufacture in India) category has been introduced for the first time. This would be preferred over 'Buy Global' category, enabling more manufacturing in India to reduce unemployment. Other first-time introductions include: chapter on procurement of software and systems related projects whose obsolescence is very fast due to technological advancements; chapter on Post Contract Management to provide guidelines for issues arising during the contract period; chapter for 'Make' to cover procurement from manufacturers in India including start-ups, innovators and DRDO; leasing of defence equipment to substitute huge initial capital outlays and rental payments – for military equipment like transport fleets, trainers, simulators that are not used in actual combat.
Other salient features of draft DPP 2020 include: after sales support made part of capital acquisition contract; emphasis on product export under offsets - incentive under offsets for units in defence corridors; assured procurement on single-vendor basis from indigenous aero engine manufacturing units and chips from FAB manufacturing units; telescoped procurement time by reducing process for accord of acceptance of necessity with trial methodology and quality assurance plan made part of RFP; field evaluation to be conducted by specialised trial wings; scope and options for product support widened to include contemporary concepts in vogue.
Modified offset guidelines have been proposed to give emphasis on export of products rather than components. Higher multipliers are proposed for procurement from MSMEs and units established in Defence Industrial Corridors. In addition higher multipliers are proposed for transfer of technology to private Companies / DPSUs / OFB and DRDO. According to PTI, DPP 2020 has been prepared by a Review Committee headed by Director General (Acquisition) based on the recommendations of all stakeholders, including private industry. Eight sub-committees headed by Lt Gen/equivalent officers were constituted to assist the review committee.
The draft DPP 2020 is a big improvement over its predecessors but where every DPP was heralded as the ultimate, eventually it boils down to how its execution is handled and how much red-tape is reduced. For example, would the chapter on Post Contract Management obviate situations like when most 'Akash' missile squadrons went unserviceable for lack of spares and after sales support, as reported in these columns in December 2019 under the title 'Akash Missile System – Dismal Saga'.
The inside news in formulating DPP 2020 is that the response from stakeholders was tepid, at best; when given a chance, about everyone seemed to have more important things to do rather than contribute to drafting a proper document. Apparently, this was the case in previous DPPs also – lack of ownership/contributing towards preparation of the draft and later complaining about its inadequacy. But perhaps this also depends on how much interaction with stakeholders was done in what timeframe? In this context, shouldn't organisations like FICCI, ASSOCHAM, SIDM etc compile such inputs on regular bases and keep feeding these to the government?
There is also an observation that good innovators may not necessarily be good in English. The country's engineering/innovation strength lies in large population who do not speak English – so why is the DPP not available in the national and regional languages? MoD should examine this issue. Next, there is no dearth of brains in the country with reports of new innovations in media periodically. However, many of these are not heard of thereafter. The woes of start-up don't really get addressed, even for those who came through IDEX – infrastructure, funds, clearances and the like. Start-ups with new innovations are running around meeting policy makers but things somehow do not move. Perhaps government could nominate a single-window contact for meeting innovators and make their innovations digitally transparent like lodging an FIR, where progress can be tracked by everyone.
There is no doubt that the Modi Government has taken extraordinary steps to boost defence procurement. DPP 2020 is another step in the same vein. Defence exports are looking up with India bagging $40 million exports of Swathi radars, Pentagon awarding India's L&T $11.5 million contract to build a specialised supply vessel for Chilean Navy, and OFB exporting two barrels of Bofors gun to the Swedish OEM. However, enormous emphasis towards streamlining defence procurement is a constant need. In this context, reorganising the governmental defence-industrial set up is an absolute must. Past efforts to privatise them not having succeeded, government must adopt the Government Owned Contractor Operated (GOCCO) model to improve efficiency and enable greater participation of private industry.