| | |
| --- | --- |
| | The Author is Former Director General of Information Systems and A Special Forces Veteran, Indian Army |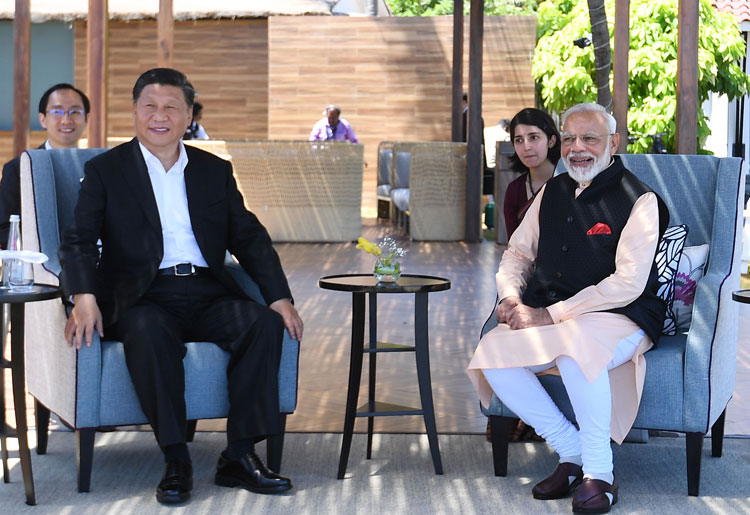 Prime Minister Narendra Modi at the tete-a-tete with the President of the People's Republic of China Xi Jinping in Mamallapuram, Tamil Nadu on October 12, 2019.
While the PLA is continuing serious monkey tricks in Eastern Ladakh, the Indian Capital witnessed an interesting webinar titled "Revisiting 'One China' Policy" to explore possible options that India can pursue to send strong messages to Beijing. Recommendations of the panelists can be summarised as under:
Holistic India-China reciprocity.
Support Tibet, more visibility and higher position to Dalai Lama.
More visibility to Central Tibetan Administration and Tibetan Government in Exile.
Economic-technological engagement and political support to Taiwan.
Recognise Taiwan, provide nukes and strategic support.
More students, government officials and technocrats training by Taiwan – divert students to Taiwan instead of China – government to examine funding scholarships
Reject Regional Comprehensive Economic Partnership unless Hong Kong and Taiwan are made members.
Make Buddhist diplomacy integral to India's China policy.
Buddhist Alliance in South Asia and South East Asia - develop Buddhist sites and link Buddhist Circuit at home and abroad.
Tibetan protests during visit of Chinese leaders.
Do NOT barter 'One India' and 'One China' policies because China uses 'One China Principal' subterfuge under which it has usurped Xinjiang, Tibet, Outer Mongolia etc.
Covert support to Uighurs, Mongolia and Manchuria.
Assist Vietnam with Western technologies.
Doctrinal US-India-Japan relationship.
The above webinar was prominently covered in Indian media with titles that India "may" reconsider the 'One China' policy. The Chinese media, especially Global Times went ballistic almost instantly with questions like "Do these Indian experts think they have explored some policy leverage that New Delhi can use to counter China? Do you think they have found an Achilles Heel of the mainland?" It went on to say that India recognised the one-China principal as early as 1950 when the two countries established diplomatic relations. Challenging the one-China principle to provoke China will not serve any purpose but will only be detrimental to India's interests. The Indian government is expected not to let such negative sentiment sabotage China-India relations and intensify the two countries disputes.
The mere fact that the webinar has set the tail of Global Times afire is that it is a good idea. It is important to note that while the webinar refers to revisiting 'One-China Policy', Global Times has referred to 'One-China Principal'. The difference between the two has very succinctly been explained by one of the panelist. The Chinese trick has been to talk of one-China policy but get countries to endorse one-China principle, latter including all territories annexed by China and all its illegal claims. Stands to reason we should neither barter 'One China for One India' nor agree to one-China principle. A country like China which is ruled by unprincipled and unethical louts is no one to preach principles. Besides what 'One India' can you discuss with rogues whose maps don't show Arunachal Pradesh and J&K as part of India? We should substitute One-China principal with No-China principle.
His Holiness the Dalai Lama speaking at the Thank You India celebration at the Main Tibetan Temple in Dharamsala, HP, India on March 31, 2018.
Follow up to the recommendations made in the webinar require short-term and medium-term road maps. But before this, in-principle confirmation of political will to do so must be established, as also assurance of consistency. Kneejerk actions and reactions often convey the wrong signals. For example take the importance given to Dalai Lama and Tibetan Government in Exile during inauguration of Prime Minister Modi's government in 2014 and overlooking them in recent years. They must be given primacy including in making Buddhist diplomacy integral to India's China policy and in developing Buddhist alliances and Buddhist circuits.
Upgrading relations with Taiwan are far overdue, which must go beyond economic and cultural ties. Defence and technological ties must be enhanced on priority. We must open a defence wing in Taipei and consider recognising Taiwan. When China is already attacking us blatantly and is in nexus with Pakistan to balkanise India, what is our hesitation? Joint India-Taiwan Special Forces training would be good. Knowledge of Taiwanese enables learning and understanding both Mandarin and Japanese. In addition to sending students to Taiwan instead of China, Taiwan should be encouraged to open Taiwanese language training centres in India which would be good for intelligence agencies also. US should permit Taiwan to go nuclear and we can export BrahMos missiles to them. We should reduce technology and communications dependence on China and tie up with countries like Taiwan, Japan and South Korea.
Hong Kong democracy leaders have been asking for our support. Why do we hesitate when China is using Pakistani proxies and its own proxies in Myanmar to attack us?
The Quad is assuming strategic dimensions but like minded countries also need to get together to undermine China's economy and work towards balkanising China through sustained covert means, the approach for which could be individual, regional and global. This is essential since the Chinese regime has become a threat to humanity and without this, China may doom the planet.
The biggest hindrance in India taking a stand against China will be our own politicians, corporate and bureaucracy. The way major contracts are given to Chinese companies even during the standoff with PLA in Eastern Ladakh where China has created a Kargil like situation. This does not bode well at all. Apparently where money is involved national security gets sacrificed. How then can we stand up to China?
Finally, as and when the plan is made, complete secrecy would be prudent so that each step comes to the notice of China only at the last minute a surprise.