| | |
| --- | --- |
| | The Author is Former Director General of Information Systems and A Special Forces Veteran, Indian Army |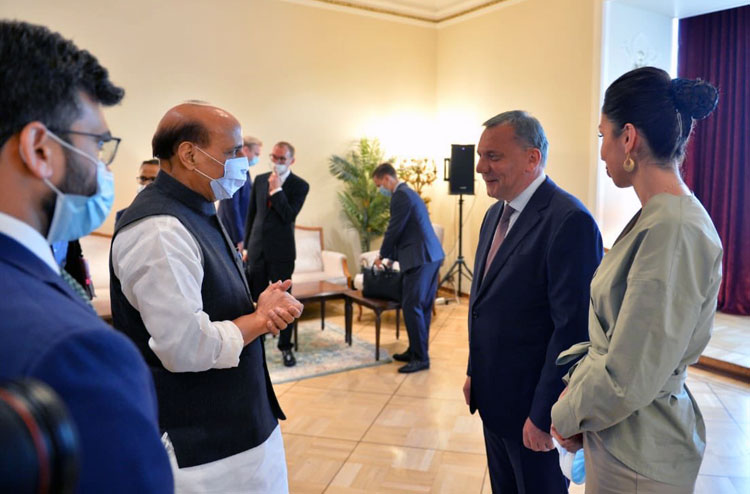 India's Defence Minister Rajnath Singh met Yury Borisov, Deputy Prime Minister of Russian Federation
Defence Minister Rajnath Singh left for a three-day visit to Russia on June 22 for holding discussions with top Russian military brass and to attend Russia's Victory Parade at the Red Square on June 24 to commemorate 75th Anniversary of the Victory in the Great Patriotic War 1941-1945. A 75-member tri-service Indian contingent participated in the parade along with contingents from another 11 foreign countries.
Russian President Vladimir Putin addressed the parade, which included, "This year, the traditional Victory Day celebrations are being held in Russia on June 24. Exactly 75 years ago, the legendary victors paraded right here, along the Kremlin wall, to commemorate the end of the Great Patriotic War…..Representatives of Azerbaijan, Armenia, Belarus, India, Kazakhstan, China, Moldova, Mongolia, Serbia, Tajikistan, Turkmenistan and Uzbekistan will march in this parade along with Russian soldiers. …. We are happy to welcome our friends, guests from various countries who came to Moscow to pay tributes... We will never forget our allies' contribution to the common victory." Defence Minister Rajnath Singh tweeted, "Attending the Victory Day Parade at Red Square in Moscow today to commemorate the 75th Anniversary of Victory of the Soviet People in the great Patriotic War of 1941-1945. I am proud that a Tri-Service contingent of the Indian Armed Forces is also participating in this parade."
During World War II some 2.5 million Indians were part of British Indian Armed Forces fighting in the North and East African Campaigns, Western Desert Campaign and the European Theatre against the Axis powers in which over 87,000 Indian servicemen laid down their lives. Indian soldiers won over 4000 decorations including 18 x Victoria and George Crosses. On May 23, 1944, Subedar N.R. Nikkam and Havaldar Gajender Singh Chand were awarded the Order of the Red Star for gallantry by the USSR – both find mention in Russia's Military Museum today.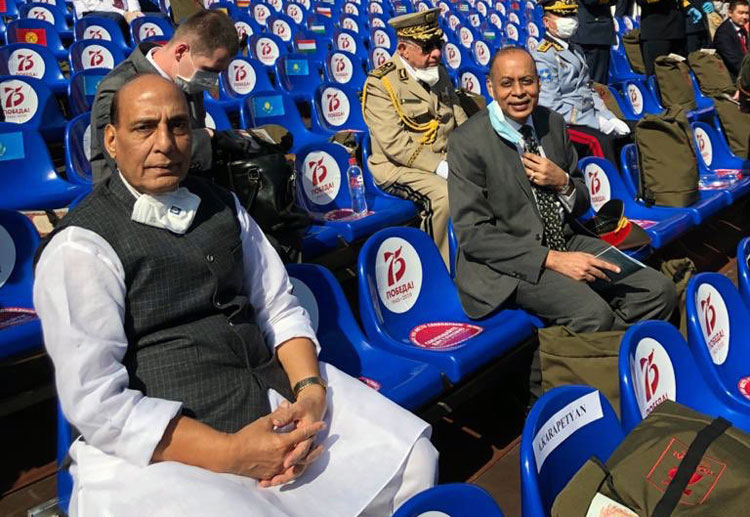 Indian Defence Minister Rajnath Singh and Defence Secretary Ajay Kumar at the Victory Day Parade
Before Rajnath Singh's visit to Russia, there was speculation in Indian media that he would ask Russia to expedite delivery of the S-400 Triumf anti-missile system, the urgency coming amid heightened tensions along the India-China border. Reliability of supplies was the other key issue; speeding up availability of spares for existing Sukhoi and MiG fleets and gain an assurance that Indian supplies will not be impacted in the changing political environment. China has already procured the S-400 from Russia. Moscow is believed to have delayed delivery of the $5.4-billion system to December 2021 due to Covid-19 constraints though India had completed large payments for the system in 2019. Beijing has been pushing Moscow to deepen defence cooperation and obtain access to high-end Russian technology, especially in making jet engines. China, in fact, has been quite keen to develop its defence industry on the back of Russian capabilities while simultaneously stealing defence technology from the US through spying and cyber hacks.

India's decision to urgently order 33 fighter jets of the Su-30 MKI and MiG-29 UPG class from Russia (12 x Su-30 MKI and 21 x MiG-29 UPG)
During his current visit to Moscow for discussions with the Russian military brass, Defence Minister Rajnath Singh called on Deputy Prime Minister Yury Borisov, who also deals with military and aerospace affairs on June 23. Later he had a separate bilateral meeting with his Russian counterpart Sergei Shoigu to discuss all the issues at length including hastening deliveries of weapon systems and spares. It was amusing to see Chinese media and Beijing's propaganda machinery on social media going berserk to caution Russia not to supply weapon systems and armament to India at a time when China has intruded in multiple places in Eastern Ladakh and is facing Indian troops. Citing the strategic partnership of the two Asian powers (Russia and China) Beijing pleaded that "it is better not to deliver arms to India at such a sensitive moment." China was cunningly trying to play on the plank of India's closeness to the US but her real concern was India's decision to urgently order 33 fighter jets of the Su-30 MKI and MiG-29 UPG class from Russia (12 x Su-30 MKI and 21 x MiG-29 UPG) as well as arms and ammunition from Russia, and in addition Delhi earmarking Rs 500 crore to strengthen India's military capabilities. No doubt Russia is supplying arms to Both India and China but the bilateral relations between India and Russia have stood the test of time, remaining rock solid over the years. Both the countries are close allies despite India's proximity to the US amidst continuing Russia-US friction. The dodos in Beijing forget that Russia fought a war with China and that the Russia-China relationship is a victim of circumstances, which can never be as strong as India-Russia relationship. Besides Russia is also a victim of the China Virus released from Wuhan by default or design, same as India. Russian alignment with China has come about because of continuing US sanctions which have severely dented Russian economy. These sanctions prevent Russia from exporting arms to most nations since US has labeled Russia an "adversary" under the Countering America's Adversaries Through Sanctions Act (CAATSA), which has also been applied on countries like North Korea and Iran and effectively means that any major trade with these countries is problematic for countries that value their relationship with US. The US has been periodically warning India also to not buy the S-400 system from Russia due to the specter of CAATSA, which India has ignored – a fact not missed by Russia that indicates strong India-Russia bonds. At the same time Russia is wary of increased Chinese presence in Russia's Far East.

S-400 Triumf Anti-Missile System and T-14 Armata tanks
Getting back to Defence Minister Rajnath's visit, though no details of the discussions held and the outcomes, have been made public, Russia has assured an early delivery of the weapon systems. After meeting Russia's Deputy Prime Minister Yury Borisov, Defence Minister Rajnath Singh stated, "My discussions were very positive and productive. I have been assured that ongoing contracts will not just be maintained, but in a number of cases will be taken forward in a shorter time." Rajnath later added, "All our proposals have received positive response from the Russian side. I am fully satisfied with my discussions."
India had first participated in Russia's Victory Parade in year 2015. Indian participation this year and attended by Defence Minster Rajnath Singh was of special significance in light of the 75th Anniversary of the Victory in the Great Patriotic War 1941-1945, and China's aggression in Ladakh. Because of the China Virus, the Indian contingent underwent quarantine on arrival at Moscow and was tested before participating in the Russian parade. According to some inside sources, Russia had possibly bunched the delivery of India's S-400 with a couple of other countries, whereas India wanted this to be de-linked and expedite delivery of this system. Given the backdrop of historical India-Russia relationship, Defence Minster Rajnath Singh should have pulled this off even as Russian defence industry too is slowed down, fighting the China Virus. Star News, quoting a source in the Ministry of Defence (MoD), recently said that India can become the first foreign market for the next generation Russian T-14 Armata tanks. India had expressed interest in buying the T-14 Armata tanks as a replacement for the ageing T-72 tanks.