| | |
| --- | --- |
| | The Author is Former Director General of Information Systems and A Special Forces Veteran, Indian Army |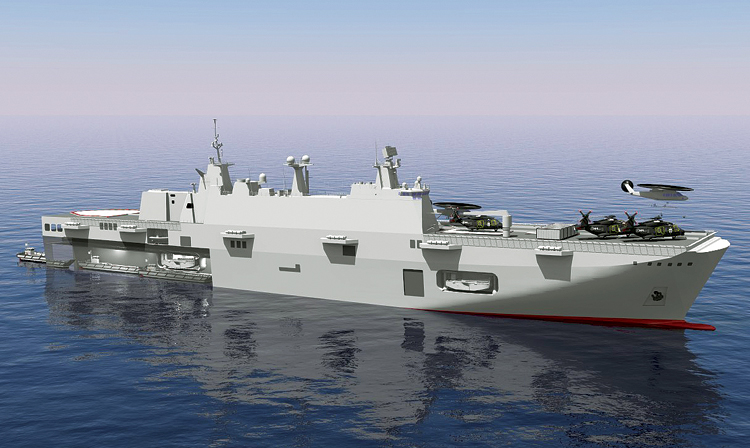 MODEL OF THE LPD ON OFFER TO THE INDIAN NAVY BY L&T AND NAVANTIA
With increased Chinese footprints in the IOR, amphibious capability assumes importance for India. India Navy's amphibious capability consists of nine older tank landing ships (LST) of various sizes and capabilities. The Shardul class ships are latest ones which are hybrids of LST and Landing Platform Dock (LSD) design that can carry 10 armored vehicles, 11 armored personnel carriers and more than 500 troops. Post Navy's experience in the 2004 Tsunami, Navy inducted the INS 'Jalashwa' (former USS Trenton - Austin-Class LPD), following which the DAC approved construction of four such vessels in India.
In July 2018, L&T in conjunction Navantia had offered an LPD to the Indian Navy as follow up to the Request for Information (RFI) sent out in 2011 under 'Buy and Make (Indian)'. The L&T-Navantia offer is under 'Make in India' with ToT. Initially, three Indian firms (L&T, ABG and Reliance Defence) were selected but ABG was dropped due financial issues, after which MoD accorded in-principle approval for developing the programme in December 2017. The ship offered by L&T-Navantia is designed to launch six medium sized helicopters or four heavy lift helicopters (like CH-47 Chinook) simultaneously and has 12 degree ski-jump ramp to launch short take-off and vertical launch (STOVL) aircraft. It can carry 12 helicopters and 12 STOVL aircraft and can operate at sea without replenishment for 50 days. However, there are two contenders for the programme and when the construction will begin at the Indian shipyard and in what time-frame the four ships will be built and made available to the Navy is anybody's guess.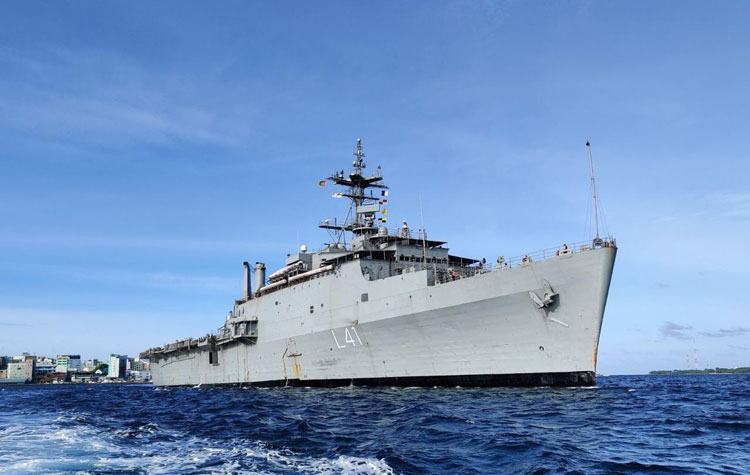 INS JALASHWA
China's indigenous amphibious aircraft AG600 'Kunlong' has an operational range of 4,500 km and is reportedly designed to take off and land in two-metre high waves. Chinese companies and government departments have already placed 17 orders for the aircraft, which are expected to be delivered by 2022. The fact that each AG600 can carry 50 passengers and China is importing four Russian Beriev Be-200 Altair with each capable of carrying 72 passengers provides considerable flexibility at sea. China's first 20,000-tonne Yuzhao-class (Type 071) landing platform dock (LPD) vessel entered service with the People's Liberation Army Navy (PLAN) in late 2007. The Type 071 can hold up to four Landing Craft Air Cushion (LCAC) and four or more helicopters, in addition to armoured vehicles and troops. Two more Type 071 were added in 2011 and 2012; all three based at China's South Sea Fleet base in Zhanjiang. On January 20, 2018, China launched its sixth Type 071 vessel at the Hudong-Zhonghua shipyard in Shanghai. It is the sixth ship of the class and joins the previous vessel, which was launched in June 2017, fitting out alongside. PLAN has 56 amphibious ships including the Type 071. China is now building its largest amphibious ship, the Type 075, designed to carry 900 Marines with some 12 amphibious assault vehicles, 20-30 transport aircraft and short take off and landing (STOVL) aircraft, with ability to launch six helicopters simultaneously. China announced in 2017 that it would deploy 1,00,000 marines overseas. China has expanded its Marine Corps and developed amphibious assault ships and vehicles. Chinese marines are already deployed in ports like Djibouti and Gwadar.
INS SHARDUL
Indian Navy's case for a Marine Brigade has been gathering dust in the Ministry of Defence (MoD) past two decades. Now fresh media reports have emerged that that Indian Navy's tender issued in December 2013 for building four amphibious warships at a cost of Rs 20,000 crore ($2.65 billion) has been languishing for the past seven years since Reliance Naval and Engineering Limited (RNEWL) has gone into bankruptcy proceedings and Larsen & Toubro is left as the lone bidder – implying single vendor situation. The news report adds that government is monitoring possible revival of RNEWL even as at least three of India's private sector shipyards have gone bust in the last decade due to bad management or being short of orders that did not match their production capabilities. Another option being considered is to go for fresh tender to avoid single vendor situation. How can we be so stupid where national security is involved – compared to Rs 20,000 crore being spent on the Central Vista Project? As it is with years wasted, the Rs 20,000 crore planned for the four amphibious ships will shoot up by the time the contract is signed. Besides, it is not the money alone but the time delay in boosting the combat potential of the Indian Navy that is vital. Since the Navy's tender in 2013, the project had been given a green signal from the Defence Acquisition Council (DAC) headed by then Defence Minister Arun Jaitley in May 2017. Following that approval, the two competing shipbuilders had submitted revised commercial bids to build all the four LPDs, though the 2013 tender had envisaged construction of only two of the warships at a private shipyard and the other two at the state-run Hindustan Shipyard Limited (HSL). Logically, the government should take the decision to sign the contract with L&T-Navantia under 'Make in India' with Transfer of Technology (ToT). When ways are found to accommodate single vendor situation for state-run entities, this should also be applicable for private sector where operational priority is vital for national security. Surely we shouldn't wait for an incident at sea and then make a mad rush for boosting combat potential, as has happened after the standoff with China in Eastern Ladakh. Issue of fresh tender implies more bidders and that much additional delay. Finally, whatever decision the government must take it fast in the interest of national security.