| | |
| --- | --- |
| | The Author is Former Chief of Staff (COS), Central Command, Indian Army. He is an expert on Siachen and Ladakh with experience in counter insurgency operations in J&K and North East and is also an expert on Information Warfare. |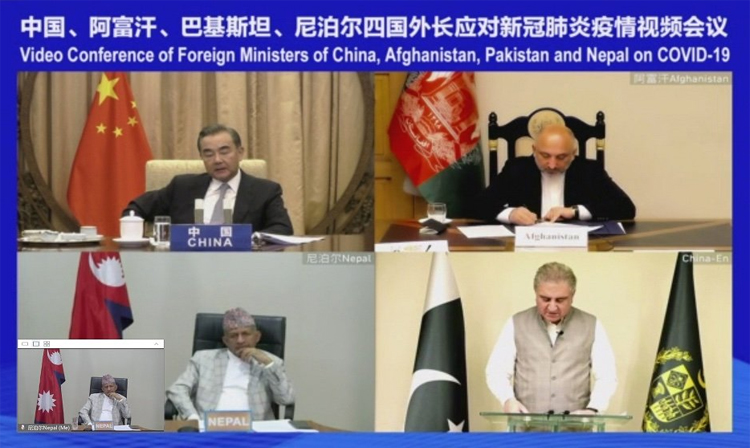 CLOCKWISE FROM TOP LEFT: WANG YI, FOREIGN MINISTER OF CHINA, MOHAMMED HANEEF ATMAR, ACTING MINISTER-DESIGNATE OF FOREIGN AFFAIRS OF AFGHANISTAN, SHAH MEHMOOD QURESHI, MINISTER OF FOREIGN AFFAIRS OF PAKISTAN AND PRADEEP KUMAR GYAWALI, MINISTER FOR FOREIGN AFFAIRS OF NEPAL.
In it's desperate attempt, a frustrated and isolated China, under the guise of "Cooperation to Overcome the COVID-19 Crisis" tried to forge a poor Quad and urged Afghanistan, Nepal and Pakistan for a "four party cooperation". On July 27, China's Foreign Minister, Wang Yi, while presiding over the first ever joint virtual meet with his counterparts from these three other countries exploited this opportunity to also impress upon them to work on Belt and Road Initiative (BRI) and China Pakistan Economic Corridor (CPEC). In an attempt to cobble up this Quad, he emphasised that the four states including China "should give full play to the geographic advantages, strengthen exchanges and connection between the four countries and Central Asia and maintain regional peace and stability". China already have a long and endearing relationship with Pakistan and Nepal is in its lap ever since the communists have come to power in that country. The only exception is Afghanistan, where it has been looking to make deeper, already existing inroads at India's cost.
CHINESE FOREIGN MINISTER ADDRESSING HIS COUNTERPARTS IN AFGHANISTAN, PAKISTAN AND NEPAL
As it comes at the backdrop of crisis in India – China relations and the other Quad, "Australia, India Japan and United States of America" growing from strength to strength, China is desperate to stitch and/or reinforce any alliances to show regional hegemony and keep India isolated in South Asia. It rather becomes more important due to the troubles in South China Sea and East China Sea with USA and the littoral states, especially Vietnam, Japan and South Korea. The statement that "we should learn and follow the Sino-Pak model of iron brotherhood" is clearly an endeavour to wean away Afghanistan and Nepal, who in the recent past under Chinese influence have exhibited enough belligerence and animosity towards India. With string of Pearls already in place, China find that it has not had the kind of impact that was envisaged to strangulate India and especially when the littoral states realise the debt trap in which they are being pushed in to. As more and more countries are coming together to rise against China's aggressive economic and psychological drive backed by telecom companies deeply involved in information warfare and cyber crimes at the behest of CCP, it is desperate to get anyone on board by doling out to them. The meeting of July 27 is an attempt towards the same.
The statement that 'we should learn and follow the Sino-Pak model of iron brotherhood' is clearly an endeavour to wean away Afghanistan and Nepal from India
Xi Jinping's design comes from the leaf of Mao's approach to pre-emption, which was distinct in the extraordinary attention that he paid to psychological elements. His motivating force in all his interactions was to change the psychological balance and not so much to defeat the enemy. Both Mao and Deng practiced the strategy of increasing their commitment to enforce courage and psychological pressure against the enemy. The belief is in deterrence in the form of pre-emption. When Chinese planners perceive that their opponent is gaining unacceptable advantage and that the strategic trend is turning against them, they respond by seeking to undermine the enemy's confidence and allow themselves to reclaim the psychological if not military/material or tactical upper hand.
With USA, Japan and Australia standing behind India and other European and South East Asian Nations showing enough antagonism towards Chinese ways and means of conducting business and diplomacy, and the ongoing hostilities between India and China, where India has stood up to every possible pressure and is not ready to accept anything less than the status quo ante of April 2020 on the Line of Actual Control, China's desperation is palpable. Historically there has been an underlying sinew of contempt towards India in the Chinese attitude. It has always considered India as its rival despite India always bending backward to maintain good working relationship with China in all domains.
India must exploit the prevailing international environment against China to restore its legitimate space in South Asia, Asia and the World. To ensure that, amongst the wide range of options being suggested, from time to time, ever since Galwan crisis by various experts, analysts and think tanks, a few standout.
With India standing up to every possible pressure and not ready to accept anything less than the status quo ante of April 2020 on the Line of Actual Control, China's desperation is palpable.
First and foremost is to ensure the security of the neighbourhood. While Pakistan has always remained hostile to India and Iron-brother to China, Nepal has gone out of India's fold by its poor execution of diplomacy and foreign policy towards a land locked small neighbour, with whom India has standing Peace and Friendship Treaty since 1950, with few aberrations from time to time and a huge capital in India. The present political crisis in Nepal may lead to implosion. But India has not enunciated any strategy to tackle this situation when it happens.
India has infused huge soft and hard power in Afghanistan. There is a large constituency in India's favour and which shall remain so for times to come. It can not be allowed to get swayed. Hence the approach that has been enunciated in our Veda's and Kautaliya Niti, to exercise Sam, Dand, Bhed must be done and immediately.
The real Quad has grown from strength to strength with Malabar Exercises and other engagements both at strategic, diplomatic, economic and military level. There should be no wavering and prevarication on this anymore and the relations should be taken to the next high. Now is the time to correct the happenings of decade of fifties of the last century, when China started viewing India with contempt and animosity and bring the Sino-India engagement to that of equals and make China deal with India with the respect that it deserves. The Status Quo Ante on the LAC must be restored and border disputes resolved as equals.