| | |
| --- | --- |
| | The Author is Former Director General of Information Systems and A Special Forces Veteran, Indian Army |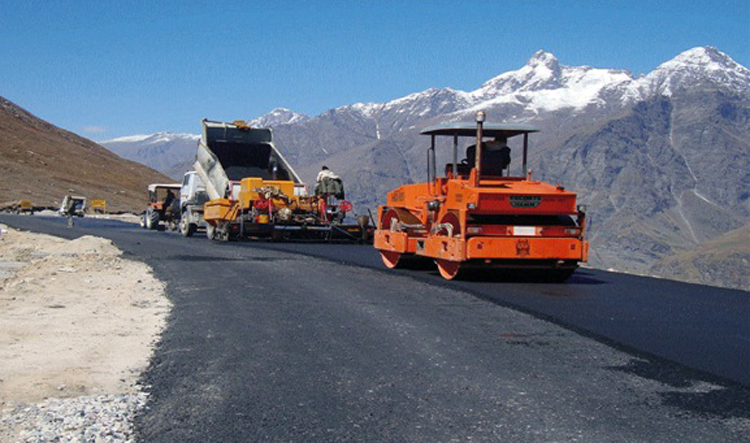 WORK IS NEAR COMPLETION ON THE DSDBO ROAD IN EAST LADAKH
China appeared uncomfortable with completion of India's Darbuk-Shyok-Daulat Beg Oldi (DSDBO) Road in Eastern Ladakh. But it has no compunctions about blatantly undertaking projects in Pakistan Occupied Kashmir (POK) which is Indian Territory. None of the UN resolutions mention that POK is part of Pakistan. Hence Chinese projects in POK are in gross violation of India's sovereignty as also resolutions of the United Nations on Jammu and Kashmir (J&K). Pakistan and China have signed agreements on POK land that does not belong to either China or Pakistan. In 1963, Pakistan had illegally transferred the Shaksgam Valley to China in return for nuclear and military assistance. In 2012, Pakistan was reportedly planning to lease Gilgit-Baltistan to China for 50 years. China launched the China-Pakistan-Economic Corridor (CPEC) without any reference whatsoever to India. In conjunction with Pakistan, China has already built the Azad Pattan and Kohala Dams on the Jhelum River in POK, both funded by China. The other three dams on Jhelum River in POK being developed by China are at Mahl, Karot and Chakothi Hattian. But now concurrent to the India-China standoff in Eastern Ladakh, Pakistan signed a deal with China on May 13 for construction of the Daimler Bhasha Dam on the Indus River in POK between Kohistan district in Khyber Pakhtunkhwa and Diamer district in Gilgit Baltistan, which again is fully funded by China and whose foundation stone was laid in 1998. The contract for 442 billion Pakistani rupees was signed between China's state-run firm China Power and Pakistan's Frontier Works Organization (FWO) which is the commercial arm of Pakistan's military, with China Power holding 70 per cent shares.
India responded by saying that the Gilgit-Baltistan region is part of the erstwhile state of J&K that was illegally occupied by Pakistan. The spokesperson from the Ministry of External Affairs said, "Our position is consistent and clear that the entire territory of the Union Territories of Jammu and Kashmir and Ladakh have been, are, and will continue to be an integral and inalienable part of India. We have consistently conveyed our protest and shared concerns with both China and Pakistan on all such projects in the Indian territories under Pakistan's illegal occupation". In the past also India has opposed projects jointly taken up by Pakistan and China in POK as part of the CPEC. But China believes in might is right and Pakistan sitting in China's lap knows that China will defend Pakistan in its own strategic interests. Pakistan sees Chinese presence in POK as a shield for any Indian effort to take back POK because of which more and more Chinese projects are sought.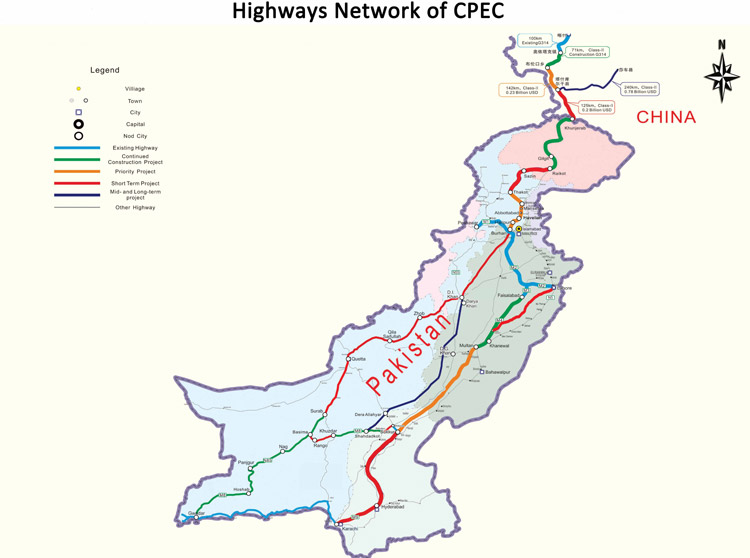 CPEC PASSES THROUGH AREAS OF J&K OCCUPIED BY PAKISTAN AND BY CHINA
Shortly after the 1965 Indo-Pak War, Z.A. Bhutto at a press conference had declared, "Even if we have to eat grass, we will make nuclear bomb. We have no other choice." The nuke was meant against India which Pakistan has been sabre rattling ever since. After Pakistan lost East Pakistan and Bangladesh was born, pathological hatred of the Pakistani military shot up manifold despite India treating the 93,000 Pakistani prisoners of war (POWs) very humanely in accordance with the relevant Geneva Convention. Governments in Pakistan have always been the puppet of the Pakistani military which holds the real power and dictates the foreign and defence policies of Pakistan. Pakistani Generals have no compunctions about sovereignty of Pakistan being sold or sacrificed to China as long as it adversely affects India's strategic interests. Chinese projects in POK therefore are no problem since that territory is not Pakistan's in the first place. Past few years there have been reports of a brigade-sized PLA force located some 14 kilometers from Skardu. There were also reports that PLA troops in civilian garb and vehicles were guarding the CPEC. Recent news reports indicate that China is likely to announce a military base in Pakistan. This could well be in Gilgit-Baltistan.
In the past, reports indicated China helping Pakistan in building defence fortifications while PLA troops were also sighted on Pakistani posts along the Line of Control (LOC) which may be part of forward area tour or familiarisation for joint operations. Chinese literature and flags too have been recovered by our security forces in J&K during counter terrorist operations in J&K on occasions. Presently, Pakistan has mobilized two divisions on the LAC on behest of Beijing while the India-China standoff is continuing. Indian lawmakers have been making proclamations in the Parliament and individually for recovering POK but have never gone beyond diplomacy and planning use of conventional forces. Despite being on the receiving end of Pakistan's proxy war past decades, our policy makers never thought of or dared to exploit Pakistan's fault lines in POK through sub-conventional operations: dissent by original POK residents against Pakistani rule; genocide against Shia population, and; anger over Chinese presence and behaviour of Chinese bosses in development projects and PLA presence. That is why we are viewed as a 'soft' nation with a reactive defensive outlook.
It is well known that the 'surgical strikes' were a reaction to extreme provocation to terror strikes. Therefore there was nothing proactive about them. Balakot was a one-time action which was never repeated despite periodic reports of terrorist launch pads in POK full of terrorists. We appear to be destined to continue in this state. Whether the Chinese aggression in Easteran Ladakh can change our national outlook towards defence remains a question mark.