| | |
| --- | --- |
| | The Author is Former Director General of Information Systems and A Special Forces Veteran, Indian Army |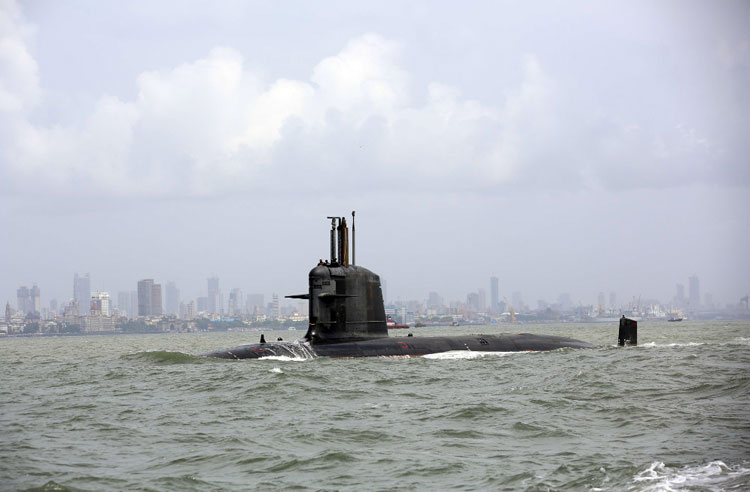 INS KALVARI
The Chinese aggression in Eastern Ladakh appears to have egged the government in giving impetus to the Indian Navy's Project 75(I) (P75(I)). Project 75(I)-class submarine is follow-on of the Project 75 Kalvari-class submarine for the Indian Navy. Under this project, the Indian Navy is to acquire six diesel-electric submarines costing 42,000 crore, which will also feature advanced Air-Independent Propulsion (AIP) systems to enable them to stay submerged for longer duration and substantially increase their operational range.
The Navy presently has only two new Scorpene and 13 over 20 years old diesel-electric conventional submarines, apart from two nuclear powered submarines though four more of the French-origin Scorpene submarines are to be delivered by 2022 under the ongoing over 23,000 crore Project 75 at Mazagon Dock Limited (MDL). According to MDL, the technology being used for construction of the Scorpene class submarines under Project 75 ensure superior stealth features such as advanced acoustic silencing techniques, low radiated noise levels and hydro-dynamically optimised shape. These submarines are equipped both with torpedoes and tube launched anti-ship missiles that can fire underwater and on the surface. But compare this to China's current fleet of 66 submarines which include conventional and nuclear submarines. Pakistan already has five submarines and is in the process of receiving eight new Chinese Yuan-class submarines with AIP systems for greater underwater endurance. The irony in India is that the P75(I) project was first granted acceptance of necessity (AoN) way back in November 2007 but is still not finalised 13 years down the line. It would have perhaps remained shelved had the PLA not effected theatre-level intrusions in Ladakh.
Grappling with an ageing and fast-depleting underwater submarine combat arm, the Navy hopes to induct the first new submarine "seven years after" the P75(I) contract is finally inked by 2021-2022. News reports of August 10 have now quoted Ministry of Defence (MoD) sources saying that the tender or request for proposal (RFP) to make six new-generation stealth submarines in India with foreign collaboration under the P75(I) Project "should be issued by next month" to MDL and private ship-builder L&T. Significantly, this will be the first project to be launched under the strategic partnership (SP) policy promulgated by the NDA government in May 2017 to boost indigenous production under the overall `Make in India' platform. The two Indian shipyards or SPs will have to submit their technical and commercial bids in response to the RFP after they tie up with their preferred Original Equipment Manufacturer (OEM) from the five short-listed by the MoD; Rubin Design Bureau (Russia), Naval Group DCNS (France), ThyssenKrupp Marine Systems (Germany), Navantia (Spain) and Daewoo (South Korea). According to the MoD, the P75(I) project, which can be finalised by December 2021 "at the earliest", will bring in key technologies to ensure the next submarine-building project (P76) is completely indigenous in design and technology.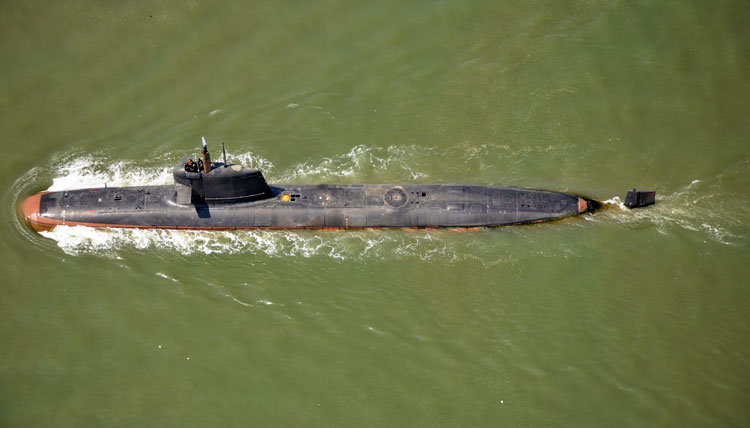 INS KALVARI
Under the approved plans, the Navy should get 18 conventional submarines as well as six nuclear-powered attack submarines (called SSNs) and four nuclear-powered submarines with long-range nuclear-tipped missiles (SSBNs) for effective deterrence against China and Pakistan. But the question is when will the dreams of Project 76 be actually realised considering that Project 75(I) was lying frozen for 13 years and even now will have a long gestation period – first submarine probably in 2028-2029? The fact is that none of the major six to seven 'Make in India' defence projects, collectively worth over 3.5 lakh crore have actually taken off in the last six to seven years, as has been reported in the media. One can only wonder what would have been the cost of P75(I) a decade back compared to the 42,000 crore of today? We have also suffered successive defence budgets lower than 1962?
In a recent study, US Naval Intelligence expects China's submarine fleet to grow from around 66 today to 76 by 2030. This will include 6 additional nuclear-powered attack submarines to existing 10. However, James E. Fanell former Director of Intelligence and Information Operations of US Navy's Pacific Fleet estimates China having 110 submarines by 2030. Of interest should be how Chinese feel Japan is conceptualising dealing with China's submarine threat. Japan does not plan to expand its fleet of 20 diesel-electric submarines but these are among the most modern and sophisticated in the world albeit without doubt they will be outnumbered by Chinese submarines. So Japan has optimised its entire fleet of submarines, ships and planes for anti-submarine warfare (ASW). According to Hua Dan of China's Army Engineering University, Japanese and allied forces would pursue a comprehensive strategy during war to dismantle the Chinese submarine fleet by undertaking a campaign of "active offense" involving direct air and missile attacks against Chinese submarine bases, shipyards and torpedo manufacturing facilities. Meanwhile Japanese vessels would mine the waters outside Chinese ports followed by Japanese ships and planes enforcing a blockade zone around Okinawa in order to catch Chinese submarines that succeed in leaving port. Finally, Japan and its allied will undertake "encirclement and annihilation combat" on the high seas to hunt down and destroy Chinese submarines that slip past the Okinawa blockade zone. Whether Hua has accurately visualised the scenario or not, especially since he has not talked of the American presence and strength, only actual conflict will show. He has also made no mention of the possible threat to the economic centres of China proximate to its eastern coast. But discussion of such scenarios in the Indo-Pacific has become essential for responding to rogue China. Finally, the Indian Government must break their shackles of 'defensive defence' and start thinking of 'active offense' as the Japanese do.