| | |
| --- | --- |
| | The Author is Former Director General of Information Systems and A Special Forces Veteran, Indian Army |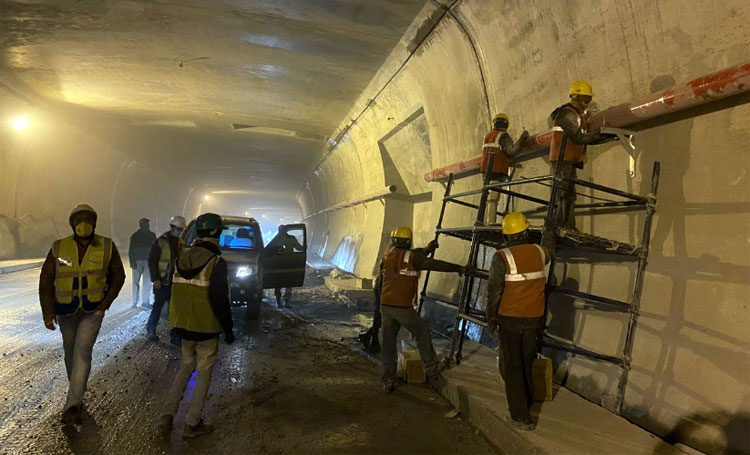 BRO perseveres with Atal Tunnel work through the lockdown, to complete it by September 2020
Over the next few weeks, Prime Minister Narendra Modi is scheduled to inaugurate the nine kilometer long Atal Tunnel. Named after former Prime Minister Atal Bihari Vajpayee in a tribute to him on his 95th birth anniversary, the tunnel will be the world's longest above an altitude of 3,000 metres and will reduce the distance between Manali and Leh by 46 kilometres. A feasibility study of the project Rohtang Tunnel (renamed Atal Tunnel) was carried out in May 1990 following which the geological report was submitted in June 2004. This was followed by a design and specification report which was prepared and finalised in December 2006. Following approval by Cabinet Committee on Security (CCS) in 2005, tenders were floated in 2007 and the foundation stone was laid in July 2010 by UPA Chairperson Sonia Gandhi. The project was scheduled to be completed by February 2015 but it was delayed due to fast flowing water from Seri Nullah, which flowed on top of the tunnel route and impeded construction efforts plus impediments due to rock structures. The sheer volume of water prevented construction for several months while project engineers grappled with a way to tackle the problem. It was originally designed to be 8.8 km long but GPS readings taken on completion show it to be 9 km long.
Cutting through the Pir Panjal range, the tunnel will reduce the distance between Manali and Leh by 46 km. The Rohtang Pass, to which the tunnel provides an alternate, is located at a height of 13,050 feet, and a journey from Manali Valley to Lahaul and Spiti Valley, which normally takes around five hours to negotiate, would now be completed in little over ten minutes. The tunnel will provide all weather connectivity to population of Lahaul and Spiti Valley that remain cut off in winters for nearly six months. It will also provide better connectivity to the troops stationed in Ladakh. However, for full all-weather connectivity, additional tunnels will have to be built on the Manali-Leh route so that the high passes on the axis do not impede movement due to snowfall: 13.2 km long tunnel to negotiate the 16,040 feet high Baralacha Pass; another 14.78 km long tunnel at Lachung La pass at 16,800 feet, and; third 7.32 km long tunnel will be required at Tanglang La Pass at 17,480 feet. Could we have not developed these three additional tunnels simultaneous to the Atal Tunnel augmenting BRO resources with civil resources? By not doing so, we have once again displayed complete lack of strategic sense. At least now government should take these up simultaneously on war footing since the evil eye of China necessitates the Manali-Leh road should remain open throughout the year. Till these tunnels are constructed keeping the Manali-Leh open throughout the year will need herculean effort by the BRO to keep the road clear of snows at Baralacha Pass, Lachung La Pass and Tanglang La Pass.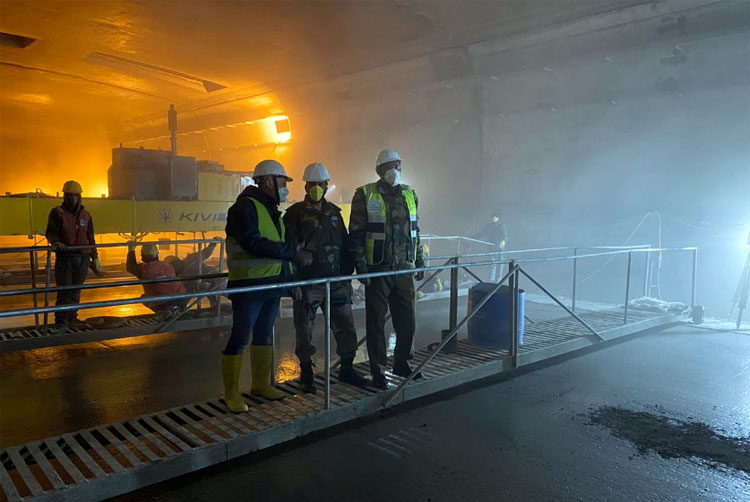 BORDER ROADS CONTINUED TO WORK ON ATAL TUNNEL THROUGHOUT THE LOCKDOWN
As for the Atal Tunnel, bridges in rivers on the approach to the Atal Tunnel from both the portals have also been completed and are now being painted. Snow galleries have also been built at the approach road to the tunnel from Manali side ensuring all-weather connectivity. Other unique features include an emergency escape tunnel under the main tunnel. This would provide an emergency exit in case of any untoward incident which may render the main tunnel unusable. The tunnel also provides a telephone every 150 metres, fire hydrant every 60 metres, emergency exit every 500 metres, turning cavern every 2.2 km, air quality monitoring every one km, broadcasting system and automatic incident detection system with CCTV cameras every 250 metres. According to BRO officials vehicles can travel at a maximum speed of 80 km per hour through the tunnel. Up to 1,500 trucks and 3,000 cars are expected to use it per day when the situation gets to normal post Covid-19 restrictions.
According to recent reports, the Defence Minister has given the go ahead to NHDCL, a company owned by the Ministry of Highways to prepare the detailed project report (DPR) for a 12.7 km tunnel at the Shinkhun La Pass on the border between Ladakh and Himachal Pradesh. The tunnel is to provide all weather connectivity between Himachal and Leh, which is being developed as an alternative route to Ladakh for strategic reasons. The tunnel at Shinkhun La will link NH-3 from Himachal side with Darcha-Padam-Nimu road to Leh. Apparently, the Chinese aggression has activated the urgency. Along the Srinagar-Leh Road, the government invited fresh bids on June 10, 2020 for building the Zojila Tunnel in Jammu and Kashmir and a road from the under-construction Z-Morh Tunnel to the Zojila Tunnel in Ladakh for providing round-the-year connectivity to Ladakh. According to the bid document, both these projects are to be funded in the EPC (engineering, procurement and construction) mode at an estimated cost of Rs 4,430 crore exclusive of GST. Media has quoted an unnamed government official saying, "We aim to complete these projects in time with close supervision as they have been delayed for long. The EPC mode will ensure the cost is kept in check." The government aims to complete the 18.47 km connecting road between the two tunnels in two-and-a-half years - by 2023. A six-year-deadline has been fixed to complete the 14.15 km long bi-directional tunnel across the Zojila Pass on the Sonamarg-Kargil section of NH-1 from Srinagar to Leh. The connecting road will also see the construction of two twin-tube unidirectional tunnels at Nilghar totaling nearly 2.4 km between Sonamarg and Baltal. This road will connect the Zojila Tunnel with the crucial Z-Morh Tunnel, whose work was awarded to APCO Amarnathji Tunnelway in January at a cost of Rs 2,379 crore to be completed by 2024. The tunnel will cut down the long drive through the Zojila Pass to just 15-20 minutes and ensure all-year-connectivity as the Srinagar-Leh NH-1 remains closed during winter due to heavy snowfall, cutting off Ladakh region from Kashmir. Similar pace is also required for improving strategic connectivity improving border infrastructure in the central and eastern sectors also.