| | |
| --- | --- |
| | The Author is Former Director General of Information Systems and A Special Forces Veteran, Indian Army |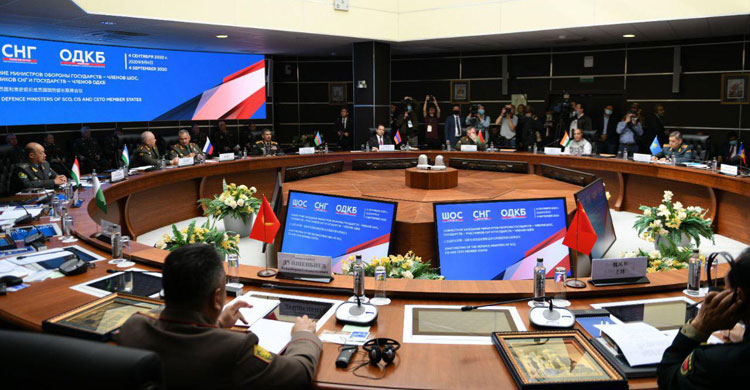 INDIAN DEFENCE MINISTER RAJNATH SINGH attends the Joint Meeting of the Heads of Defence Ministers of Shanghai Cooperation Organisation (SCO), Commonwealth of Independent States (CIS) and Collective Security Treaty Organisation (CSTO) members, in Moscow, Russia on September 4, 2020.
Defence Minister Rajnath Singh left for a three-day visit to Russia on September 2 for attending the defence ministers meeting of the Shanghai Cooperation Organisation (SCO). This was his second visit to Moscow since June when he represented India at the Victory Day Parade in Moscow on June 24 to commemorate the 75th anniversary of the Soviet victory over Nazi Germany in the World War II. The eight SCO member countries are Russia, India, Kazakhstan, Kyrgyzstan, China, Pakistan, Tajikistan, and Uzbekistan. Four countries that have observer status are Afghanistan, Belarus, Iran and Mongolia, while six countries that are SCO dialogue partners comprise Azerbaijan, Armenia, Cambodia, Nepal, Turkey and Sri Lanka.
Earlier, India had informed Russia it will not send its contingent (around 200-strong) to southern Russia in September for the multinational military exercise Kavkaz-2020 in response to an invitation by Russia. A spokesperson of Ministry of Defence (MoD) said, "Russia and India are privileged strategic partners. At Russia's invitation, India has been participating in many international events. However, due to COVID-19 and consequent difficulties in exercise, India has decided not to send a contingent this year to Kavkaz-2020." Prior to attending the SCO Defence Ministers meet, Rajnath Singh along with other officials met his Russian counterpart General Sergey Shoigu in Moscow on September 3. The bilateral meeting expectedly reiterated the common understanding of regional global issues. According to sources, Rajnath Singh also discussed the situation at the Line of Actual Control (LAC) with Sergey Shoigu. He thanked Russia for their timely response to the requests for procurement of weapon systems. The Defence Minister briefed his Russian counterpart on the 'Make in India' defence programme. Both sides welcomed the advance stage of the Indo-Russian Joint Venture for manufacturing AK-47 203 rifles in India (according to another report, production of the assault rifles has commenced). Shoigu reiterated Russia's policy of not supplying arms to Pakistan in response to a request from India and assured Rajnath that Russia stood by India's "security intersts" while also extending Russian support to the 'Make in India' campaign. The meeting covered a broad range of issues including areas of defence and strategic cooperation between the two countries. The two sides, according to an official statement, spoke about the joint India-Russia 'Indra Naval Exercise' scheduled to be held on September 4-5 off the Straits of Malacca and emphasised the "common interests of both countries in maritime security in the Indian Ocean Region". After the discussions, Defence Minister Rajnath Singh tweeted: "excellent meeting with Russian Defence Minister General Sergey Shoigu in Moscow today. We talked about a vide range of issues, particularly hoe to deepen defence and strategic cooperation between both the countries".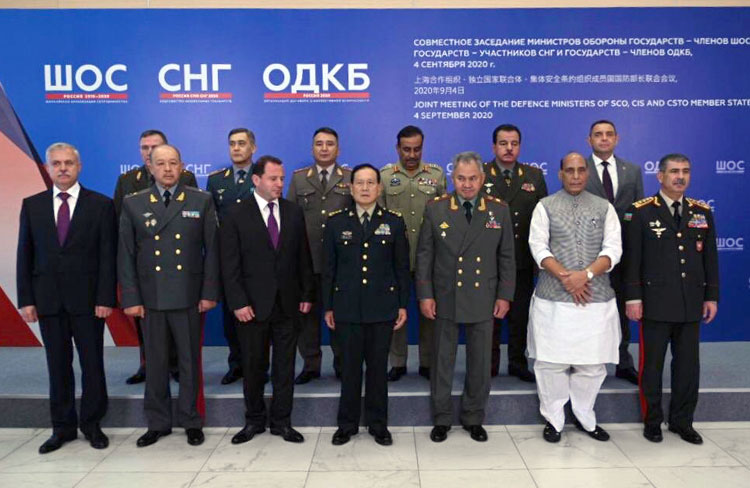 GROUP PHOTO AT THE COMBINED MEETING OF DEFENCE MINISTERS OF SHANGHAI COOPERATION ORGANISATION (SCO), COLLECTIVE SECURITY TREATY ORGANISATION (CSTO) & CIS MEMBER STATES IN MOSCOW, ORGANISED IN COMMEMORATION OF THE 75TH ANNIVERSARY OF VICTORY IN THE WORLD WAR II.
In his address at the SCO ministerial meet, Defence Minister Rajnath Singh said peace and security in the region demands a climate of trust, non-aggression, peaceful resolution of differences and respect for international rules. His comments to the eight-nation SCO grouping in presence of the Chinese defence minister was seen as a veiled message to China over the border row in Eastern Ladakh. Later the Defence Minister met his Chinese counterpart General Wei Fenghe for a bilateral meet on request from the Chinese side. This was the first meeting between the two since the Chinese aggression in Ladakh in May 2020. According to sources, the focus of the talks between the two defence ministers was on ways to resolve the prolonged border standoff. A PTI release from Moscow said at the meeting the Indian side strongly objected to Chinese army's fresh attempts to change the status quo in the southern bank of Pangong lake and insisted on the resolution of the standoff through talks. However, Wei said that the "cause and truth" of the current tension on the China-India border are very clear, and the responsibility lies entirely with the Indian side, adding, "Not an inch of China's territory should be lost. The Chinese military has the resolve, capability and confidence to safeguard national sovereignty and territorial integrity."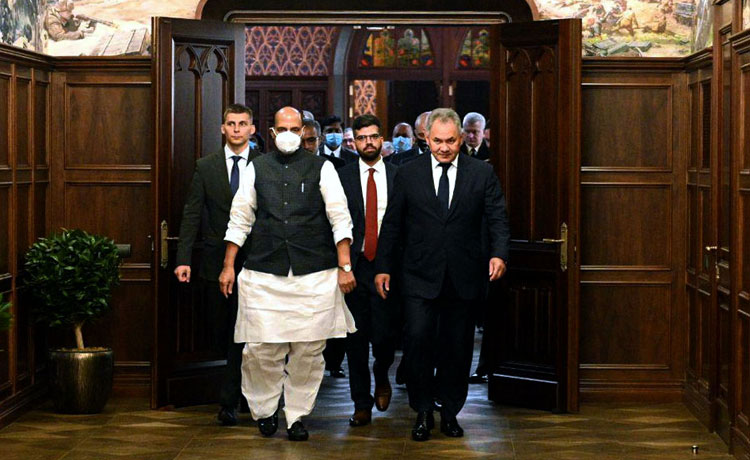 INDIAN DEFENCE MINISTER RAJNATH SINGH and Defence Minister of Russian Federation General Shergei Shoigu during the bilateral meeting in Moscow, Russia on September 3, 2020.
Should Defence Minister Rajnath Singh have agreed to meet Wei Fenghe in the first place knowing what the outcome would be in advance is a matter of conjecture. Wei is a small fry in the decision making process of the Chinese Government with total power accumulated in President Xi Jinping who is also the Commander-in-Chief of the People's Liberation Army (PLA). External Affairs Minister S Jaishankar and NSA Ajit Doval have already been talking to Chinese Foreign Minister Wang Yi who is far more powerful that Wei on the border standoff without any change in Beijing's aggressive stance. Jaishankar recently participated in the BRICS dialogue through video-conferencing along with Wang Yi. Besides, Jaishankar will physically meet Wang Yi during the SCO Foreign Ministers Meet on September 10 and is expected to have a bilateral meet on sidelines of the SCO meet. Ninong Ering, MLA from Arunachal Pradesh recently stated that PLA abducted five boys from Nacho, Upper Subansiri in Arunachal Pradesh at a time when Rajnath Singh is meeting defence ministers of Russia and China, which has sent a very wrong message, as reported by ANI.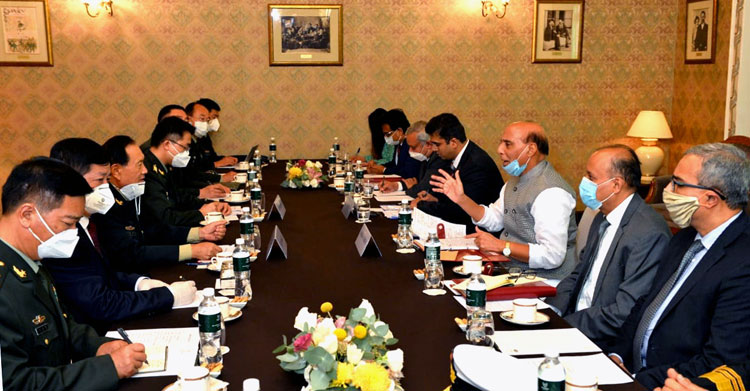 INDIAN DEFENCE MINISTER RAJNATH SINGH in a meeting with his Chinese counterpart General Wei Fenghe on the sidelines of the Joint Meeting of the Heads of Defence Ministers of Shanghai Cooperation Organisation (SCO), Commonwealth of Independent States (CIS) and Collective Security Treaty Organisation (CSTO) members countries, in Moscow on September 4, 2020.
When China has gone rogue why are we sending so-called "veiled" messages to China at the level of ministers? Our tri-service contingent participated in Russia's Victory Day Parade on June 24 while we were battling the China Virus. So why quote pandemic as an excuse for not sending a contingent to participate in Kavkaz-2020? Why could we not say that we will not participate because of the Chinese aggression? Similarly, even if bilateral issues are not discussed at SCO meets, the defence minister could have named China in passing during his address at SCO when talking of peace and security in the region demands non-aggression among other requirements. Haven't China-Pakistan been raising the Kashmir issue at international forums, even trying to log it at the United Nations? Our MEA spokesman recently did state, "It is clear that the situation we witness over the past four months is a direct result of the actions taken by the Chinese side that sought to effect unilateral change of status quo." But a minister saying so directly to his counterpart is very different from a ministry release. Did Wei not bluntly put all blame on India during his bilateral meet with Rajnath Singh? Finally, the aims of SCO include strengthening mutual trust and neighbourliness, as also making joint efforts to maintain and ensure peace, security and stability in the region. How have China-Pakistan been contributing to these aims with continued proxy-asymmetric war on India and now the Chinese aggression? Can China-Pakistan be considered only a bilateral issue with India? What about China's recent territorial claim in Tajikistan (SCO member) which has even riled Russia? Can we at least ask for an SCO discussion to what extent its organisational aims are being met?