| | |
| --- | --- |
| | The Author is Former Director General of Information Systems and A Special Forces Veteran, Indian Army |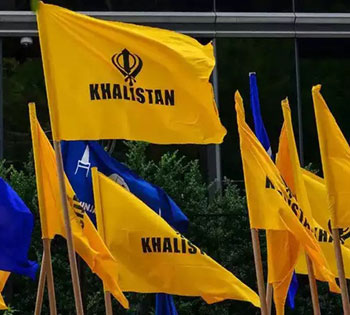 Pakistan continues to fund and fuel the 'Khalistan' movement
The reason why China and Pakistan are bed fellows is because both share the DNA of Satan. China has incarcerated a million Uighur Muslims in Auschwitz-like concentration camps, demolished hundreds of mosques building toilets on some of the same spots and subjected Uighur women to forced sterilisation but has managed support of many fundamentalist Muslim countries including radical Pakistan, as also hardcore Muslim organisations like Taliban. Pakistan has been stoking the Khalistan issue for the past several years and smuggling drugs and weapons into Punjab. Pakistani army chief General Q.J. Bajwa had personally suggested to Navjot Singh Sidhu (who was attending the swearing in ceremony of Imran Khan as Prime Minister of Pakistan) opening of the Kartarpur Corridor with the same aim – to promote terrorism in Punjab. It is only that India was aware of Bajwa's motives and the Corridor could not be exploited by him for such purpose. But while Pakistan sympathises and supports Sikh separatists, Sikhs are being systematically killed and purged in Pakistan. But this is not all. The Taliban, Haqqani network, Islamic State of Khorasan Province (ISKP) as well as other Pakistan-based terrorists, all linked to Pakistan's ISI, are indulging in systematic killings of Sikhs in Afghanistan. The ethnic cleansing of minorities in Af-Pak region is being coordinated by Islamabad. Pakistan has been eliminating its Sikh population past several decades through killings, rapes, abductions and forced marriages but continues to fund and fuel Khalistani terrorism and separatists movements globally to achieve its aim to balkanise India.
Gurdwara Darbar Sahib Kartarpur
In his project report titled 'Khalistan: A Project of Pakistan' dated September 9, 2020 published by Canada's Macdonald-Laurier Institute, Canadian scholar Terry Milewski stated that Khalistani terrorists have sworn their allegiance to Pakistan, who in turn is pledged to play the tune of China. Milewski says his report has exposed the Khalistan extremists and Pakistan where real Sikhs continue to suffer from forcible conversion to Islam, attack on Gurudwara, abductions and killings, adding. "It is like the India-Pakistan partition days are not yet over. This is why the Sikh population is rapidly declining in Pakistan." According to Milewski the proposed Khalistan map under the 'Referendum 2020' campaign shows several part of India including Punjab, Himachal Pradesh, Haryana, Delhi and Rajasthan. Significantly, the same map used by 'Sikhs for Justice' for enlisting supporters in Canada does not include any territory of Pakistan, not even Lahore from where Maharaja Ranjit Singh ruled, Guru Nanak Dev's birthplace in Nankana Sahib and holy religious places like Kartarpur, all of which are dear to real Sikhs. This clearly shows that these Khalistani terrorists are nothing more than Pakistani stooges and in fact an insult to Sikhs.
Speaking at a webinar recently, Milewski criticised liberal nations like Canada for waiting for the Khalistani terrorists to strike and kill its citizens rather than to act preemptively despite past tell-tale signs of their plot against an Air India flight. Sukhi Chahal, Founder of 'The Khalsa Today' said, "Recently, one Granthi's (Sikh religious preacher's) daughter was kidnapped in Pakistan, forcibly converted, and married to a Muslim. None of the Khalistanis spoke against it. That is because Pakistan is where the support for Khalistan is coming from. The common Sikh community in the West should rise up against the Khalistani elements. Else, their silence will inflict a bigger damage to the community and Sikhism". It is well known that the ISKP was configured by Pakistan into a brigade-level force in area of Peshawar by combining cadres of both the Afghan and Pakistan Taliban, Lashkar-e-Taiba and ISI, which was then pushed west into Nangarhar Province of Afghanistan. In Afghanistan, the community of Sikhs and Hindus once numbering 2,50,000 has come down to less than 700 because of the terrorist threat. Many are choosing to leave the country of their birth to escape the insecurity. One member of the Sikh community who lost his seven relatives including his sister, nephews, and son-in-law in a terrorist attack on the community's Gurudwara in Kabul during March 2020 which killed 25, said on conditions of anonymity, "We are no longer able to stay here."
In 2010, the Afghan government decided to dedicate a chair in the national assembly to religious minorities, and there have since been two Sikh representatives. But the Sikhs are angry over failure to provide security to their places of worship. In August, a group of 176 Afghan Sikhs and Hindus came to India on special visas. They were the second batch since March, with the first 11 members arriving in India in July. At a press conference in August, President Ashraf Ghani's spokesman, Sediq Sediqqi, said that members of the Afghan Sikh and Hindu community will return once peace is restored. Interior Ministry spokesman Tariq Arian said, "We will use all our facilities to provide security to the people. We are committed and responsible for their (Sikhs and Hindus) mental and personal security." But the fact is that the Afghan government itself is under severe terrorist threat from the Taliban with terrorist attacks every second day despite ongoing inter-governmental peace talks in Doha. Concurrent to Pakistani army chief Q.J. Bajwa's proposing opening of the Karatrpur Corridor, Pakistan allowed 'Sikhs For Justice' (SFJ) office in Karachi. Deliberate vandalising of Maharaja Ranjit Singh's statue in Lahore indicates Pakistan has no respect for the real Khalsas or Sikhs and their religion.
Pakistan recently formally aligned the SFJ with Chinese intelligence. Pakistan has connived with China in latter's aggression in Ladakh. On April 8, 2009 an article posted on Chinese website iiss.cn (International Institute of Strategic Studies) called for splitting India into 20-30 pieces with China bringing into its fold counties like Pakistan, Nepal and Bhutan, supporting United Liberation Front of Assam (ULFA), back aspiration of Tamils and Nagas, encourage Bangladesh push for independence of West Bengal and recover 90,000 square kilometers of South Tibet (read Arunachal Pradesh). India had protested against this article but this along with the SFJ map (on behest and supported by Pakistan) claiming India's Punjab, Himachal Pradesh, Haryana, Delhi and Rajasthan should make it clear to policy makers what the strategic sinister designs are. Taking these lightly and adopting purely defensive measure will be serious mistakes. Pakistan is a pivot in the Khalistan movement which has moved from Punjab to Canada, the US, Europe and India obfuscating the extremism behind it and the move to balkanise India.