| | |
| --- | --- |
| | The Author is Former Director General of Information Systems and A Special Forces Veteran, Indian Army |
Kalashnikov AK-203
Equipping Army's infantry soldiers with modern small arms has always been a problem. The usual reference is to 70 years of neglect but it is conveniently forgotten that the common factor is the bureaucracy which continues to play its own games irrespective of which government is in power. That is the reason why our indigenous development of small arms has been pathetic despite 41 ordnance factories directly under government control. The bureaucracy is also squarely responsible for the stalled 'Make in India' project to manufacture over seven lakh Kalashnikov AK-203 rifles project at Korwa ordnance factory with Russian collaboration, which should have begun production months back. The reason being given is costing issues with the Russians but then who was supposed to sort this out but the bureaucracy and why was this issue not cleared when setting up the factory when joint secretary level officers are on the boards of DRDO-OFB-DPSUs.
It also goes unnoticed that imports of small arms is mired in red tape and procurement processes prolonged for years simply because the cost involved is small and so are the consequential 'cuts' as compared to big ticket procurements like tanks, artillery, missiles, drones, aircraft, helicopters, ship etc. As a result, the infantry soldier remains neglected. Mercifully in insurgency areas there is special provision for purchases through respective Army Commander's Special Financial Powers but this only covers part of the requirement at the cutting edge, not all. With the ongoing Chinese aggression in Ladakh, the infantry soldier appears to be finally coming into focus.

SIG 716 ASSAULT RIFLE
The Army has over 380 infantry and 63 Rashtriya Rifles battalions, for which the Army requires around 9.5 lakh assault rifles, 4.6 lakh Close Quarter Battle (CQB) carbines and over 57,000 light machine guns (LMGs). In backdrop of the ongoing India-China standoff, contract for the second lot of 72,000 SiG Sauer assault rifles from the US is likely to be signed by December 2020. First lot of 72,400 SiG Sauer rifles have already been inducted by the Army for frontline troops. The SiG Sauer along with the AK-203 will meet the operational requirements of the Army. Deliveries of 16,479 Israeli Negev 7.62X51mm LMGs will begin from January 2021 under the 880 crore deal signed in March 2020. For the subsequent LMG project under 'Make in India' five foreign companies have already been shortlisted, and the trials are expected to be held sometime next year.
As for the CQB carbines, procurement of which has been delayed for over a decade and a half, FTP procurement to buy 93,895 such carbines from UAE firm Caracal was scrapped recently. Now a request for proposal (RFP) to manufacture 4.6 lakh CQB carbines under 'Make in India' is to be issued next year – how many months it would take and why not the same RFP under which the carbines were being procured from UAE's Caracal can be used is anybody's guess. Media quoting a government official says that four to five foreign companies, including Caracal have expressed interest in the CQB carbine project and they can tie-up with OFB or private companies in India. But one wonders if private companies would get a chance. Kalashiknov very much wanted to co-produce the AK-203 assault rifles in conjunction with the Adani Group but was forced to tie up with the OFB after a two-year delay.

NEGEV NG7 Light Machine Gun is an advanced compact and lightweight machine gun in caliber 7.62X51mm
UAE's Caracal has made a bid for the CQB carbine project with 49 percent joint venture with a domestic manufacturer with full technology transfer. Caracal's Chief Executive Officer Hamad Salem Al Ameri said in an interview on October 15, "A joint venture in India will be the best option to provide full technology transfer and to protect its Intellectual Property. The option we have and prefer is the 49 per cent that we can own and 51 per cent from the Indian side. It will depend on the partners. We would have preferred 50:50 share but 49 per cent (Foreign Direct Investment) seems to be the best option, and will depend on what each partner brings to the table such as land and machinery, and from our side, the technology". Al Ameri said the company has huge expansion plans for India, including setting up of sales offices, doing recruitment and investments. "The expansion plans will be rolled out after the carbine contract signing."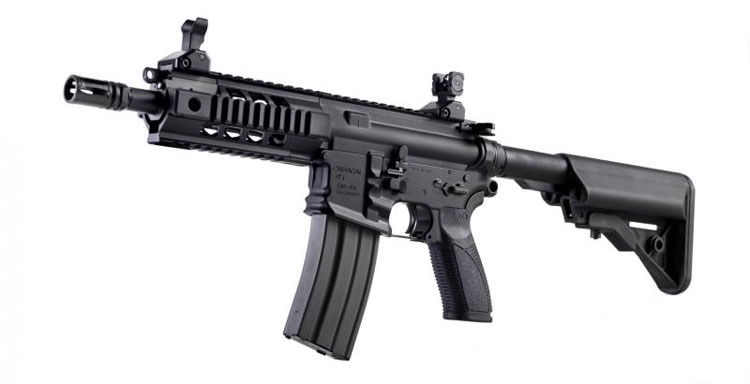 CAR 816 is a center-fire, gas-operated tactical rifle, chambered in 5.56x45 mm NATO
Ultimately, who will get to make the CQB carbines and when can hardly be forecast because too many political considerations are involved in such deals in addition to the lackadaisical bureaucratic approach and the unending red tape. India's shaky defence procurement processes are now quite notorious globally. As for 'Make in India' in defence, it is under the Department of Defence Production (DoPD), not under the Department of Military Affairs (DMA) headed by the Chief of Defence Staff (CDS). Therefore, the Army has little say in such matter. The Army had first asked for new assault rifles and CQB carbines way back in 2005, while the case for LMGs was initiated in 2009. But the long-drawn procurement projects were repeatedly scrapped under various pretexts including anonymous graft allegations and lack of indigenous options.
With enemy at our gates, hopefully the focus will now remain on arming the infantry soldier with modern small arms in early timeframe. It is high time we should also be looking at indigenous production of long-range sniper rifles, 'suppressed' long range rifles like the Russian MTs-118M, laser rifle like the Chinese ZKZM-500, and the Russian 'Zombie Gun' based on psychotropic principle for use against enemies - part of Russian arms procurement program 2011-2020 announced by Anatoly Serdyukov, Russian Defence Minister few years back.