| | |
| --- | --- |
| | The Author is Former Director General of Information Systems and A Special Forces Veteran, Indian Army |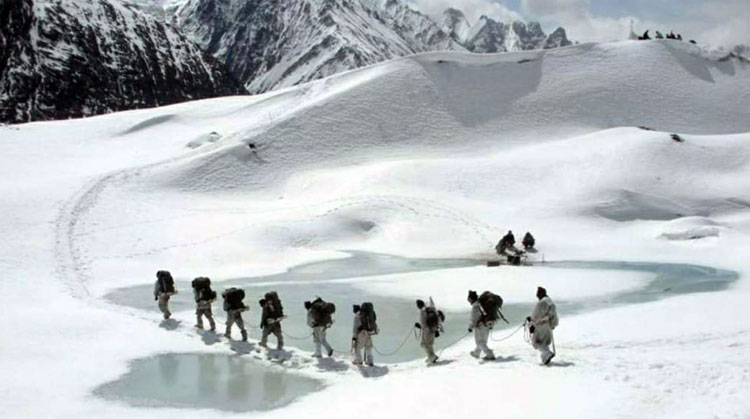 While talks with China are continuing to ease the standoff in Eastern Ladakh, the Peoples Liberation Army (PLA) is consolidating along the entire length of the Line of Actual Control (LAC). PLA is constructing new structures and relocating troops and equipment to occupied Aksai Chin in Tibet as well as Xinjiang. Construction of a huge structure spread across 3 lakh square feet has been noticed some 10 km from the LAC in occupied Aksai Chin across Gogra-Hot Springs area. Movement of a large number of PLA vehicles in the Tibet region across Ladakh's Demchok has been noticed. PLA is building a new road between Hotan and Kanxiwar in Xinjiang (some 166 km from the India-China border) to provide alternative route to Aksai Chin for the troops and equipment. Hotan air base is receiving supplies for forward troops. Opposite Arunachal Pradesh, China has deployed counter-space jammers to mask PLA activities 60 km across the LAC and deployed S-400 missile systems in depth areas to counter air threats. All this proves that Chinese proclamation of being committed to disengagement is another big lie.
The US is gifting India 11,000 sets of extreme cold clothing for troops deployed along the LAC as it had done in 1962, some of which may be used. The first such consignment has already arrived in India. China is concurrently looking at procuring "smart warm clothing made of graphene" for PLA deployed in Ladakh, as well as advanced logistics support equipment. Graphene is a revolutionary form of carbon. Such moves indicate that China has every intention of continuing with its intrusions in Eastern Ladakh.
For disengagement in Eastern Ladakh, China has reportedly suggested that tanks and artillery from both sides should withdraw to peace time locations, deployments at Finger 4 north of Pangong Tso be frozen and India 'first' withdraws from the heights it occupied south of Pangong Tso – ridgeline south of the lake, heights around Chushul and Kailash Range covering the Spanggur Gap. India has rejected these but China can be expected to reiterate these suggestions in future bilateral dialogues. The eighth senior military commander level meeting was obviously inconclusive as earlier, as indicated by the CDS General Bipin Rawat simultaneously telling the National Defence College that flare up at the border with China cannot be discounted. Rawat also said change in the LAC cannot be accepted though China has successfully altered the LAC yet once again in May-June 2020.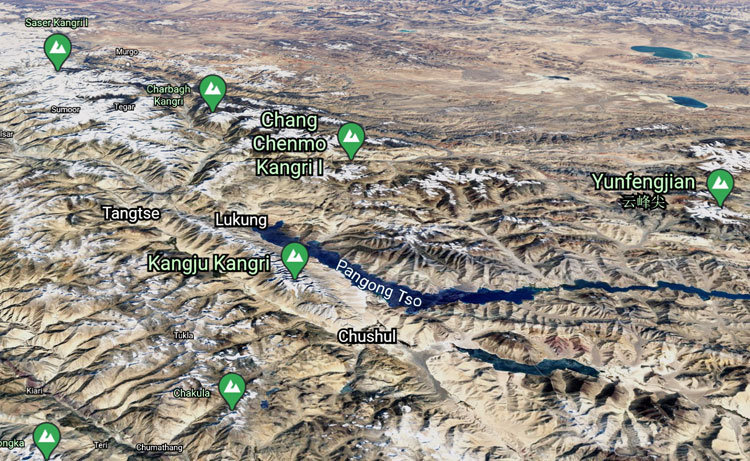 REPRESENTATIVE IMAGE OF EAST LADAKH INCLUDING PANGONG TSO LAKE
Withdrawing tanks and artillery to peacetime locations implies India de-inducts part of these from Ladakh whereas PLA will withdraw theirs at best to in Aksai Chin. Freezing deployments at Finger 4 north of Pangong Tso implies India loses all territory between Finger 4 and Finger 8, distance of about four km. Vacating the heights south of Pangong Tso would be open invitation to PLA for backstabbing us by occupying these heights, claiming these were always Chinese territories – similar to what it did in Doklam (Bhutan).
Few weeks after the India–China Doklam standoff was peacefully resolved in 2017, satellite imagery of August 28, 2017 showed continued PLA build up close to the contested point on Doklam Plateau; fresh PLA units with heavy equipment poised for quick escalation. Subsequent imagery of September 6 showed some 3000 PLA troops well camouflaged deployed north of Yadong town (two hours striking distance from Doklam) with a headquarters, air defence artillery, a mechanised unit and a logistics unit. But fresh satellite imagery of January 17, 2018 showed PLA deployments 'adjacent' to the standoff in Doklam. Google Earth imagery showed concrete posts, seven helipads of 25m diameter, dozens of armoured vehicles, one-two mechanised regiments, two regiment worth tank transporters, 100 plus B-vehicles, two-storey high observation tower that can observe Indian troop movements beyond Kupup, large number of fighting posts on almost every hillock on North Doklam plateau with new roads and communication trenches running along then, four large bulldozers and tippers indicating intent to develop the road(s) beyond the contested point.
It may be recalled that in constructing a road in the Doklam area towards the Bhutanese Army camp at Zomphiri which led to the India-China standoff, China blatantly violated the Bhutan-China written agreement, which states that pending the final boundary settlement, peace and tranquility be maintained along the boundary, and both sides refrain from unilaterally altering the status quo. China has no sense of territory. It has recently laid fresh illegal claims to Sakteng Wildlife Sanctuary in Bhutan, claimed territory in Tajikistan and blatantly occupied Nepal's territory in Humla region, building structures on it. Believing China on any issue implies living in a fool's paradise.
As part of its suggestions for disengagement in Eastern Ladakh, China has recommends India 'first' withdraws from the heights it occupied south of Pangong Tso – ridgeline south of the lake, heights around Chushul and Kailash Range covering the Spanggur Gap. China could use India not agreeing to this as excuse to continue the status quo. But at the same time, it is a bait or rather a googly dealt by China. If media reports are to be believed, India appears amenable to do so in "last" phase of the disengagement process. Hopefully this is not true because if it is indeed so then this would be an opportunity for China to execute Doklam 2.0 south of Pangong Tso. It is simply a question of who takes the initiative and reaches these heights first using a combination of faster mobility, bad weather and visibility, jamming opponent's surveillance systems and communications. We should never fall into such a trap.
Ironically, there is little mention of Depsang where PLA has intruded in area of Y-Junction 20 km inside our territory and consolidated there with some 12,000 troops. What would China offer for disengagement there? Would it agree to withdraw its forces back to Aksai Chin or want a buffer zone wanting us to withdraw in our own territory towards Daulat Beg Oldi (DBO)? Given China's antecedents and antics, complete disengagement certainly looks a chimera.