| | |
| --- | --- |
| | The Author is Former Director General of Information Systems and A Special Forces Veteran, Indian Army |
The 11-party Pakistan Democratic Movement (PDM) opposition alliance has demanded Prime Minister Imran Khan-led government to quit by January 31.
The recent killing of 11 Hazara Shiite miners in Balochistan for which the Islamic State has claimed responsibility is just one of the hundreds of incidents of ethnic strife in Pakistan. Much more violence has become almost daily occurrences due to independence movements in Balochistan, Sindh and Pashtunistan. The Baloch independence fighters have killed over 350 Pakistani security personnel in addition to some Chinese nationals in Pakistan during 2020. The Tehrik-i-Taliban Pakistan (TTP) has also extracted similar tally of Pakistani army personnel last year. Security of the China-Pakistan Economic Corridor (CPEC) has become a major headache for which China is pressuring Pakistan. On instructions from China, Pakistan is turning Gwadar into a walled city by constructing a fence around it with just one entry and exit points. Few villages have also come inside the fencing. Gwadar Port with presence of Chinese marines will likely be turned into a fortress like the Chinese base in Djibouti.
Debt trapped by China, Pakistan's economy is in poor state. In December 2020, Pakistan returned $1 billion to Saudi Arabia as the second installment of a $3 billion soft loan, with Islamabad concurrently reaching out to Beijing for a commercial loan to help it offset pressure to repay another $1 billion to Riyadh in January 2021. In May 2019, IMF had predicted that Pakistan's future growth rates will be 2.9 per cent - lowest in South Asia. Pakistan's Debt to GDP ratio currently stands at 107 per cent of GDP. The Gross Public Debt has risen from 72 per cent of GDP at $95 billion (2018) to 87 per cent at $112.8 billion currently. Total external debts and liabilities have risen from 33 per cent of GDP (2018) to 45 per cent of GDP (2020). Pakistan's worsening macroeconomic position has led to Moody's downgrading Pakistan's debt outlook to "negative.
Prime Minister Imran Khan has been saying that he wants to learn from China how to remove poverty. This gives an impression that as Bejing's disciple all these years he has only learned how to generate more terrorism. Imran has been ignoring calls by Pakistan's combined opposition of 11 political parties for him to resign. Imran is being called 'puppet' of the Pakistan Army who is perceived to have blindly signed on extension of tenure of the Army Chief, demanded by the latter himself. Amid rampant corruption in the country, the latest scandal involves Lieutenant General Asim Salem Bajwa, who was appointed by Imran to oversee the CPEC projects. But none can touch him because, he, his namesake Army Chief General Q.J. Bajwa and Imran Khan would have all amassed millions in the process. One report has detailed irregularities to the tune of $1.6 billion. In December 2020, the combined opposition was contemplating mass resignations from Pakistan's Parliament and state assemblies, which would create a constitutional crisis.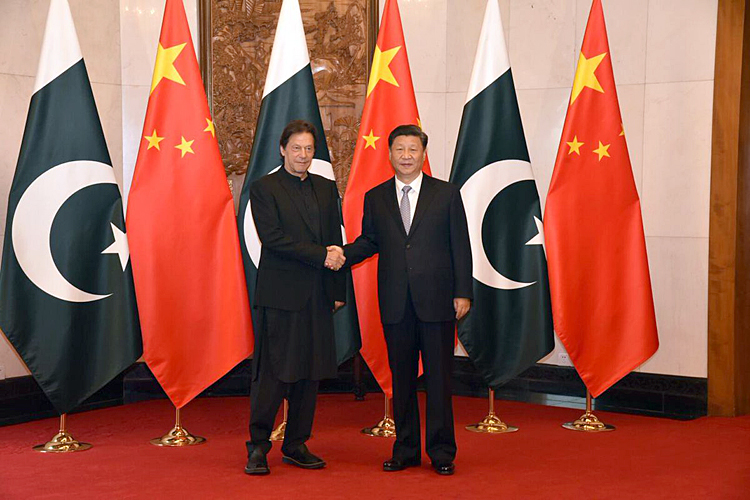 PRIME MINISTER IMRAN KHAN HELD A MEETING WITH PRESIDENT XI JINPING IN BEIJING ON OCTOBER 9, 2019.
But above are not all the headaches that Pakistan has to contend with. According to intelligence reports, there is significant discontent in Pakistan's Mujahid force headquarter in Bhimber, Pakistan occupied Kashmir (PoK). This force is under the administrative control of the National Guards, GHQ, and is headed by an officer from the Punjab region. Pakistan recruits local youth for the Mujahid force, which supposedly is a "reserved force' but the Pakistan army uses them for armed conflicts. Intercepted official correspondence between officers of the Mujahid force reads, "The morale of our men is very low. The commander of the 10 Corps had visited the Bhimber HQ in August and promised that they will be considered as regular troops and we will be treated as equal to the Pakistani regular forces by November 2020, but nothing has happened so far." Media reports that the Mujahid force members are angry over the step-motherly treatment they have been getting from successive Pakistan Army Chiefs despite suffering the maximum loss at the hands of the Indian Army.
About 70 per cent of Pakistani deployment along the Line of Control (LoC) in J&K is from the Mujahid force. They are suffering the maximum casualties on account of Indian retaliation to Pakistan periodically breaching the ceasefire. Yet, Pakistani army passes off Mujahid casualties as "civilians" killed in order to build public opinion against India. In 2015, Afghan National Army sources had revealed that Pakistan had trained three Mujahid battalions to fight in covert mode to support the Afghan Taliban and Haqqanis fighting in Afghanistan – same as Pakistani regular personnel are doing covertly. But notably, personnel of the Mujahid force have no medical insurance or pension and provident fund available to them, which the Pakistan Army regulars get. Besides, the command of Mujahid battalions is always with the Punjab Regiment officers.
Punjabi domination has been the bone of contention across Pakistan especially in the Pakistani army. The example of the Mujahid force is just one example. Same is the case in the Baloch Regiment of the Pakistan army where not only the commanding officers, but bulk officers, in these battalions are either Punjabis or non-Balochis. This is to ensure that troops in these battalions do not get affected by the ongoing China-backed Pakistani genocide against the populace of Balochistan. However, ruthless oppression by government forces has changed the dynamics of the Baloch nationalist movement. Excessive reliance on a coercive state apparatus has increased public alienation and increased popularity of the independence movement. It is a matter of time before discontent within the Pakistani army including against the Punjabi domination comes to a head. A clever enemy can hasten the process through information and psychological operations but that is another issue.