| | |
| --- | --- |
| | The Author is Former Director General of Information Systems and A Special Forces Veteran, Indian Army |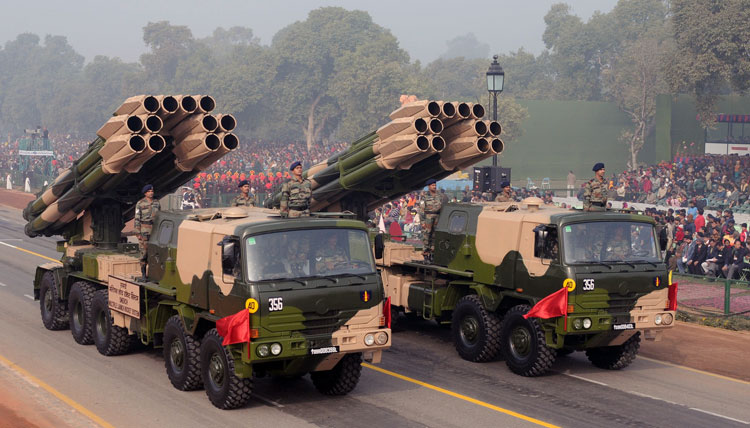 Smerch - Multiple Launch Rocket System
Among the numerous advances in artillery, rockets and missiles in India and abroad, the basic aim is to develop capacity to hit the enemy at the farthest distance. India has developed the 400-km extended range BrahMos supersonic cruise missile, the Shaurya hypersonic missile, low skimming subsonic Nirbhay cruise missile, SMART long range torpedoes, and RUDRAM anti-radiation missile. The Defence Research and Development Organisation (DRDO) have also developed and successfully flight tested the advanced version of the Pinaka rocket and is also developing the 5,000 km version of the submarine-launched ballistic missile (SLBM). In addition, the DRDO has developed and successfully tested the Guided Pinaka system which has a range of 75 km and has integrated navigation, control and guidance system to improve the end accuracy and enhance the range. Eventually the Pinaka multi-barrel rocket system (MRLS) will have both guided and unguided versions of ammunition.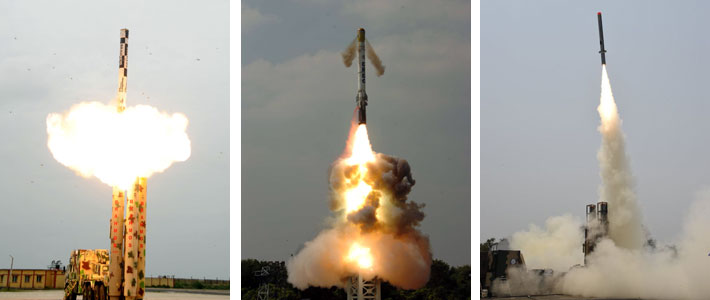 (LEFT TO RIGHT): 'BRAHMOS', SUPERSONIC CRUISE MISSILE SUCCESSFULLY TEST FIRING TO VALIDATE CRITICAL INDIGENOUS COMPONENTS; FILE PICTURE OF 'SHAURYA'; SUCCESSFUL TRIAL OF 'NIRBHAY' SUB-SONIC CRUISE MISSILE
The 90 per cent indigenous Quick Reaction Surface-to-Air Missile (QRSAM) is slated to go for production in 2021 after completing user trials over the next six months. Ironically, it has taken 30 years to complete the development cycle for the QRSAM. Its forerunner was the 'Trishul' which was aborted. Trishul was followed by 'Akash' which is good as a static surface-to-air missile (SAM) but failed in user trials for providing air defence cover to mechanised formations on the move. The QRSAM can be mounted on a truck and is stored in a canister. The solid-fuel-propellant has a range of 30 km. It has the capability to search and track targets while moving and can engage targets at an altitude of up to 10 km. The system gives 360 degree coverage and has been customised on domestic Ashok Leyland 8x8 vehicles. The launcher has six missiles and can target six different targets in 360 degrees, with all components including the radar, launcher and support vehicles being mobile.
The QRSAM provides air defence cover for mechanised formations on the move albeit for employment with Strike Corps, the surveillance radar, launcher and command post should also have been based on tracked armoured vehicles. The missile loading and transportation vehicle and forward repair vehicle should have compatible mobility. Concurrently, the Indian Army is to soon begin testing the indigenous 155mm/52 caliber advanced towed artillery gun system (ATAGS) with user trials scheduled in Sikkim during January-February 2021 followed by mobility trials and then summer trials in May-June. With a 48 km range, the ATAGS has Bharat Forge (Kalyani Group) and Tata Advanced Systems as the production partners.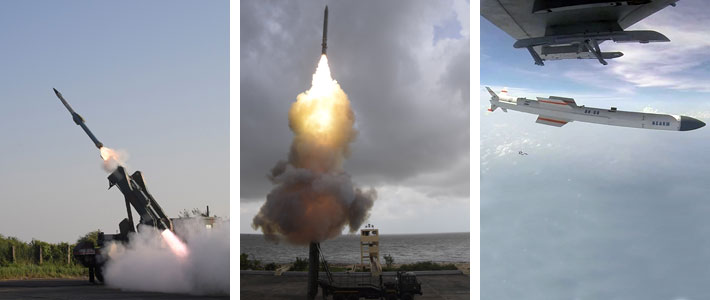 (LEFT TO RIGHT): QUICK REACTION SURFACE TO AIR MISSILE (QRSAM) SYSTEM SUCCESSFULLY LAUNCHED; SUCCESSFUL FLIGHT TEST OF SUPERSONIC MISSILE ASSISTED RELEASE OF TORPEDO; DRDO SUCCESSFULLY FLIGHT TESTS INDIGENOUSLY DEVELOPED ANTI RADIATION MISSILE (RUDRAM)
Indian Army has had the Russian BM-30 'Smerch' heavy multiple rocket launcher system in its inventory past several years. With a maximum firing range of 90 km and operational range of 850 km, the Smerch can be effectively used against personnel, armoured and soft targets in concentration areas - artillery batteries, command posts, ammunition dumps and the like. During 2014, the Syrian military used Smerch against opposing forces during the Syrian civil war. Concurrently, in the same years Smerch was used by Russia-backed forces to deliver cluster munitions and explosives on Ukrainian military positions as also by the Ukrainian Army against populated areas held by opposing forces. In 2015, Russia used the BM-30 Smerch during the Russian intervention in Syria. The most recent use of the BM-30 Smerch was witnessed during the Azerbaijan-Armenia conflict over Nagorno-Karabakh in 2020. Smerch was used by both countries to target each other's territory. Interestingly, Azerbaijan was reportedly able to destroy a number of Smerch rocket launchers of Armenia by using Israeli Harop loitering munitions and Turkish Bayraktar TB2 armed drones.
The 9A52-2T version of BM-30 Smerch with Indian Army is the export version mounted to the chassis of a Czech cross-country truck Tatra 816 10x10. India signed the first contract with Russia in 2005 for 38 units of the Smerch MLRS and associated vehicles. A second contract was signed in 2007 for another batch of 24 units. Deliveries to the Indian Army commenced in 2008. To reduce costs for our Army, Smerch MLRS are to be mounted on indigenous 10×10 high-mobility vehicles manufactured by Ashok Leyland. The vehicle, which is fitted with a hydraulic crane to reload the system, will supplement and eventually replace the 9A52-2 launch vehicles based on the MAZ-543M 8×8 truck chassis.

(LEFT TO RIGHT): RUSSIAN 9A52-4 'TORNADO'; ENHANCED VERSION OF PINAKA ROCKET SYSTEM; 155 MM X 52 CALIBRE ADVANCED TOWED ARTILLERY GUN SYSTEM (ATAGS)
In 2018, Russia launched the 9A52-4 'Tornado' designed as a lightweight and universal version of the BM-30 Smerch. The 9A52-4 'Tornado' was first unveiled by Russia in 2007 as a more strategically and tactically mobile launcher. This model is to replace previous generation of Russian MLRS including the BM-30 Smerch. Significantly, the 9A52-4 'Tornado' also uses satellite-guided HE-fragmentation rocket with a maximum firing range of 120 km. Considering the China-Pakistan designs on India, Pakistan's continuing proxy war and frequent cross border firing by Pakistan, Indian requirements to respond with artillery and rockets will only increase in future. It will be good if we go in for a joint Indo-Russian venture under 'Make in India' to indigenise the Smerch and/or Tornado on lines of the Indo-Russian BrahMos, which has been a stupendous hallmark. This would also ensure supply of spares for our BM-30 Smerch batteries in future after Russia ceases their production because of the Tornado. It is obvious that such an Indo-Russian joint venture will be good for defence exports as well.