| | |
| --- | --- |
| | The Author is Former Director General of Information Systems and A Special Forces Veteran, Indian Army |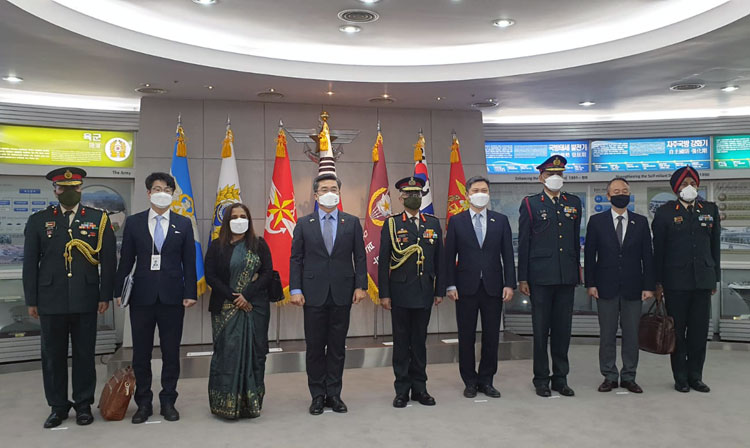 DURING THE FIRST-EVER VISIT OF AN INDIAN ARMY COAS TO REPUBLIC OF KOREA, GENERAL M.M. NARAVANE INTERACTED WITH SOUTH KOREA'S MINISTER OF NATIONAL DEFENCE AND DISCUSSED ISSUES OF MUTUAL INTEREST & DEFENCE COOPERATION.
Army Chief General M.M. Naravane made a four day visit to the Republic of Korea commencing December 28, 2020. He met South Korean Defence Minister Suh Wook and other senior military officials and discussed ways to boost cooperation between the two sides. According to South Korean media, Defence Minister Suh and General Naravane reached an understanding on the need for pushing ahead with defence exchanges and cooperation "normally" next year despite the COVID-19 pandemic. Suh explained South Korea's plan to host a UN ministerial conference on peacekeeping operations next year, and asked General Naravane or the Indian defence minister to attend the event. The two sides also discussed ways to strengthen cooperation against non-traditional security threats, such as viruses, cyber threats and natural disasters. General Naravane laid a wreath at the National Cemetery and War Memorial in Seoul.
During his visit, General Naravane visited South Korea's Army Headquarters in the central city of Gyeryong and held talks with his counterpart - Army Chief General Nam Yeong-shin. He also met the Chairman of Joint Chiefs of Staff General Won In-choul and the Minister of Defence Acquisition Planning Administration (DAPA) Wang Jung-hong to discuss avenues for enhancing India-ROK defence relations. DAPA is an executive branch of the South Korean government which was established on January 1, 2006 under the Ministry of National Defense to administer improvement projects of defence capability, procurement of munitions and fostering of defence industries.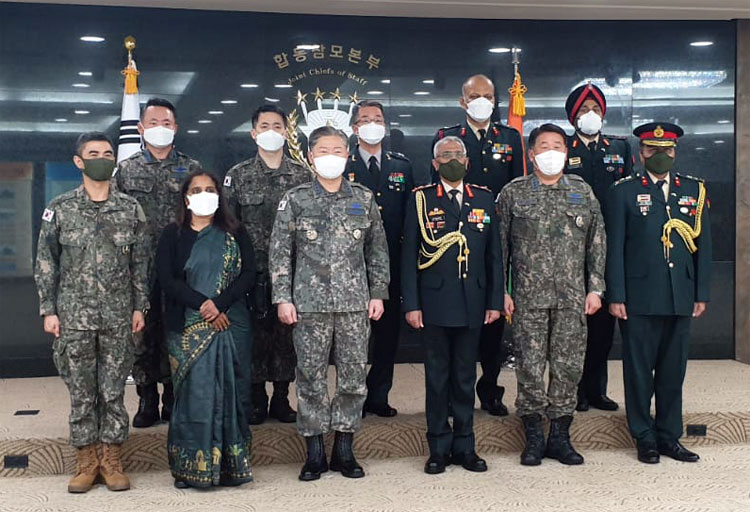 GENERAL M.M. NARAVANE CALLED ON GENERAL WON IN CHOUL, CHAIRMAN OF THE JOINT CHIEFS OF STAFF, REPUBLIC OF KOREA AND DISCUSSED AVENUES FOR ENHANCING INDIA - REPUBLIC OF KOREA DEFENCE RELATIONS.
General Naravane later visited the Korea Combat Training Centre in the north-eastern county of Inje in Gangwon Province and the Agency for Defence Development (ADD) in the central city of Daejeon. ADD is South Korea's national agency for research and development (R&D) which is funded by DAPA. Its purpose is contributing to enforcing national defence by improving national R&D capacity and for fostering the domestic defence industry.
Bilateral relations between India and ROK were raised to the level of 'Strategic Partnership' during the visit to India by the President of ROK Lee Myung-bak in January 2010 and further elevated to 'Special Strategic Partnership' during the visit of Prime Minister Narendra Modi to ROK in 2015. Unveiling of the policy of 'New Southern Policy' (NSP) by ROK President Moon Jae-in in November 2017, advent of the concept of Indo-Pacific and India's 'Act East Policy' (AEP) under Prime Minister Modi has given a fillip to India-ROK relations. Defence Minister Rajnath Singh visited South Korea in August 2019 and called for deepening bilateral partnership in the defence and security sectors. This was followed by a comprehensive review of defence relations between the two countries, which led to the signing of two important agreements: one, to extend logistical support to each other's navies, and; two, to deepen defence educational exchanges.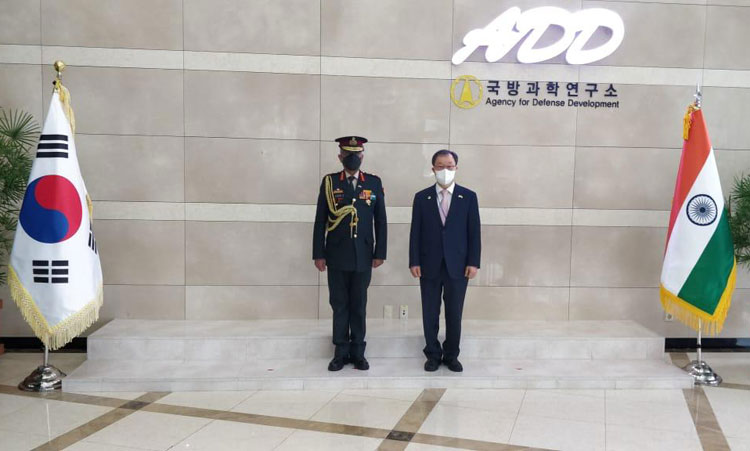 GENERAL MM NARAVANE COAS VISITED AGENCY FOR DEFENSE DEVELOPMENT (ADD) AT DAEJEON.
During the visit of then ROK Defence Minister Jeong Kyeongdoo-Doo to India in February 2020, Defence Minister Rajnath Singh had said, "The defence industry cooperation has been one of the most vibrant aspect of bilateral defence cooperation between India and ROK. Today, we exchanged the Roadmap on Defence Industries cooperation which includes a list of possible areas of cooperation." He also tweeted: "The Defence Corridors present excellent opportunity for ROK industries to establish their manufacturing units, benefiting from the skilled and economical labour force, natural resources and tailored incentives. We recognise the influence of artificial intelligence and digital technology in the defence sector. The theme of DefExpo 2020 in Lucknow is 'Digital Tansformation of Defence'. India and ROK are ready to leverage mutual strengths in digital application and other advanced technologies."
Annual 2+2 Dialogue between India and ROK, Joint Committee Meeting (JCM) for cooperation in defence industries and logistics, and Steering Committee Meeting (SCM) for joint defence R&D between DRDO & DAPA / ADD (ROK) are regular features. In additions are regular exchanges of bilateral visits by delegations from various military training establishments that include the National Defence College (NDC), Higher Command and Management courses and training centre for United Nations peace keeping operations. ROK has officers attending the NDC and the Defence Services Staff College in India while Indian officers are attending courses in Korea National Defence University and Joint Forces Military University.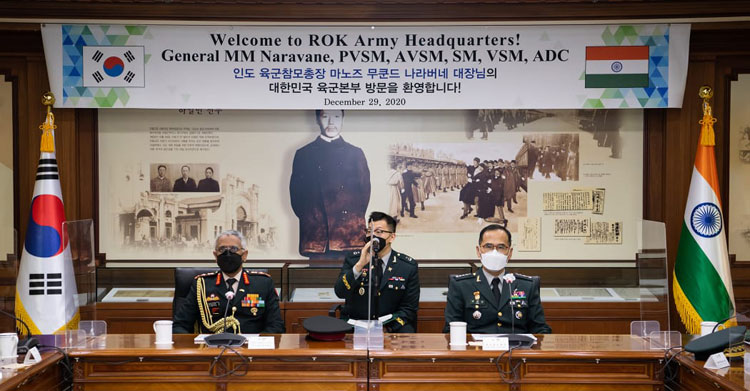 GENERAL M.M. NARAVANE CALLED ON GENERAL NAM YEONG SHIN, CHIEF OF STAFF OF THE REPUBLIC OF KOREA ARMY.
Since 2018, South Korean Army has established a drone combat unit. During joint military exercises with the US, the South Korean military observed US army's deployment of drones and learned how to use them in combat. ROK also received technological support from Israel when it first developed its own weaponised drones. Many South Korean companies in the defence industry develop military drones through technical cooperation with Israel. Currently, the South Korean Army have the indigenous RQ-101 developed in 2000, along with Israeli Searcher-II drones. Israeli Heron drones too are in use. In 2004, ROK indigenously developed the RemoEye-15 drone, followed by the RemoEye-006 drone in 2006 and the KUS-9 drone in 2014. All these are in use with the army. Much can be gained by both sides in joint army exercises.
Bilateral maritime cooperation has been one of the vibrant aspects of the defence and security relations. Navy and Coast Guard ships have been visiting each other's ports on a regular basis and have also been holding joint exercises. In terms of joint military exercises, the accent has been primarily on navy but there is ample scope for similar activity between the armies and air force of the two countries as well. India has been holding joint airborne exercises with multiple countries, as also joint Special Forces exercises. Such exercises also need to be held with airborne and special forces of ROK, Japan, Vietnam, Indonesia etc giving due emphasis to the east under the AEP. In addition, ROK needs to integrate with Indian Navy's Information Fusion Centre (IFC) for the Indian Ocean Region (IOR) that processes radar and sensor data from participating countries and offers the data to partners. This will benefit both countries.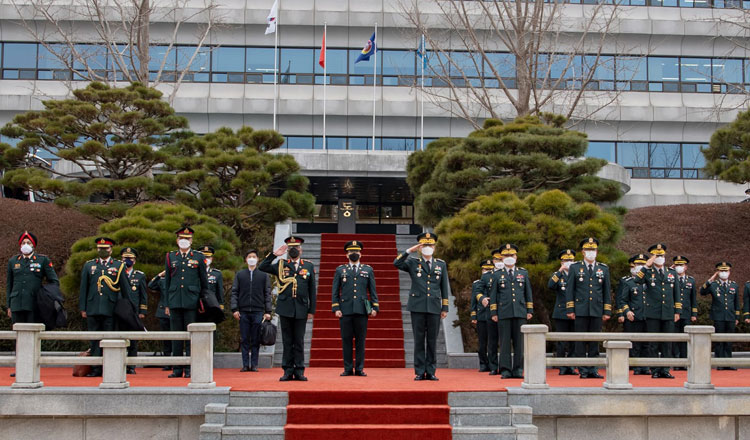 GENERAL M.M. NARAVANE COAS RECEIVED A GUARD OF HONOUR AT ROK ARMY HEADQUARTERS.