| | |
| --- | --- |
| | The Author is Former Director General of Information Systems and A Special Forces Veteran, Indian Army |
Bharat drone
The Chinese aggression in 2020 has spurred the government to equip the Army with tactical drones. News reports of July 22, 2020 had revealed that the Defence Research and Development Organisation (DRDO) was providing indigenously-developed drones called 'Bharat' to the Indian Army amid the ongoing standoff in Eastern Ladakh. According to DRDO sources this agile and light but powerful drone works autonomously at any location with great accuracy and "the unibody biomimetic design with advance release technology is a lethal combination for surveillance missions". Bharat drone is equipped with Artificial Intelligence (AI) to differentiate between friends and foes and then respond accordingly. Capable of surviving in extreme cold, the surveillance equipment has been developed keeping in mind extreme weather conditions along the LAC. Bharat has been developed by DRDO's Chandigarh-based Terminal Ballistics Research Laboratory (TBRL). Bharat provides real-time video transmission during the mission and can detect persons hidden under forest cover. Equipped with advanced night vision, its stealthy design ensures that its signature remains undetected by enemy radars. Importantly, it is also capable of operating in swarms.
The combat swarm drone demonstration on Army Day Parade 2021 saw drones engaging multiple targets that brought home the realities of new age warfare. The complexities of future battlefields will witness more agile and lethal drones in swarms. Since August 2020, 75 indigenous tactical drones have been inducted in phases into the Indian Army to boost Army's surveillance capabilities and undertake targeted strikes to assist troops on the ground. Now the Army has signed a $20-million (140 crore) contract with the Indian startup company ideaForge Technology Private Limited to supply SWITCH tactical drones for high altitude deployment. ideaForge is an IIT Bombay incubated company which has earlier also supplied tactical drones to Indian Armed Forces. According to Ganapathy Subramaniam, Executive Chairman of ideaForge, a combination of world-class technology and a deep understanding of customer requirements has resulted in ideaForge bagging this contract against global competition.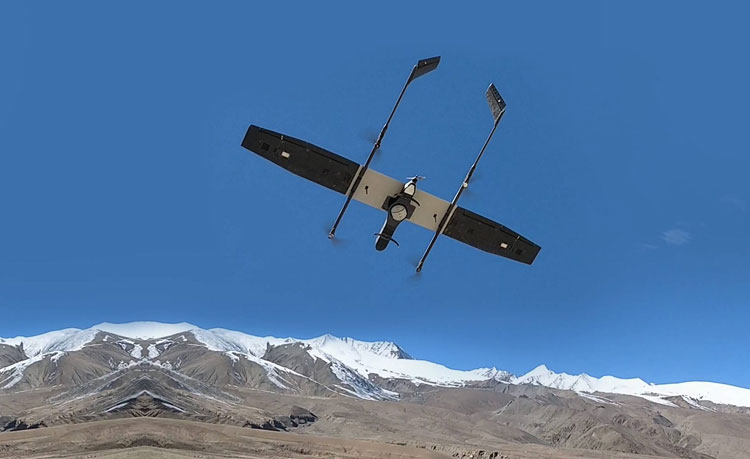 Indian Army SWITCH UAV
Before being selected, SWITCH from ideaForge underwent trials in Ladakh with other indigenous and global firms competing in the trials. These also included Elbit Sysyems, Dynamatic Technologies, Tata Group and VTOL Aviation India Private Limited. However, SWITCH from ideaForge was the only tactical drone that met the stringent operational requirements of the Indian Army. Following the successful trial, Ankit Mehta, Chief Executive Officer of ideaForge said, "SWITCH UAV is the culmination of insights and knowledge we have gained over years of experience in helping the Indian forces operationalise UAVs in their ranks. It is a testimony of the fact that our systems are built like a bird and tested like a tank. Our systems are fully ready to serve nations that seek to protect their territorial sovereignty."
As per the contract, ideaForge is required to supply the SWITCH drones within one year. The number has not been disclosed but is likely to be around 100. The SWITCH drone, weighing 6.5 kg, is capable of 2-hour endurance and surveillance up to 15 km and can be launched from altitudes of 4,000 meters above mean sea level. Of the fixed wing vertical takeoff and landing (VTOL) variety, SWITCH can be deployed at high altitude and harsh environments for day and night surveillance for intelligence, surveillance and reconnaissance (ISR) missions. It is man-portable and has the highest time on target compared to any other drones in its class. The drone can be operated with support from the Ground Control Station consisting of a high-range communication box, a hand-held controller for full camera control, and laptop/tablet for live video streaming and pre-flight checks.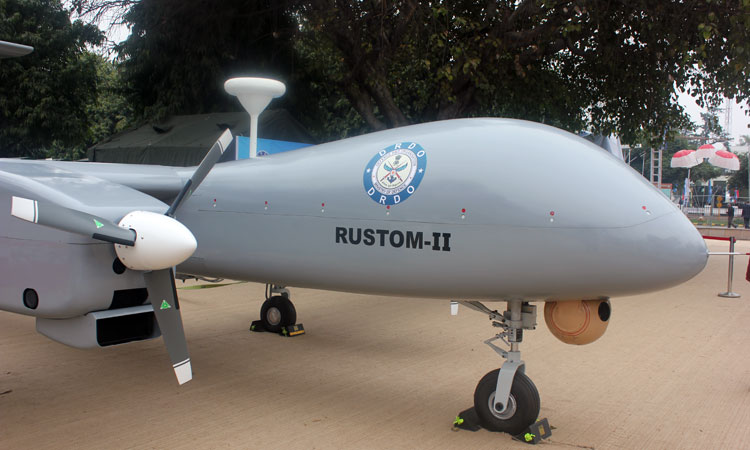 Rustom II
DRDO's Rustom-II finally undertook a successful flight in October 2020 after being delayed for months-years including a crash. Rustom-II MALE drone is based on the Rustom-H unmanned combat air vehicle and features light airframes. It has a length of 9.5 meters and an empty weight of 1,800 kg. It is equipped with mid-set, high aspect ratio wings spanning 20.6 meters. The tail section is configured with a high-mounted horizontal tail plane with a traditional T-type vertical stabilizer. It can fly in autonomous or manual mode. The onboard flight control system allows UAVs to execute missions autonomously using waypoint navigation. The manual mode of operation is performed by an operator of the ground control station. It can fly at a maximum speed of 225 km/h and can bear up to 24 hours. It has the capability to operate on the line of sight range of 250 km. The drone has a maximum flight of 35,000 feet above sea level.
The Chinese aggression in 2020 has indirectly served as blessing in disguise for India waking up to battlefield realities like drones. It is a pity that countries like Iran and Turkey are far ahead in drone technologies despite having been under sanctions. Government must also take the blame for being fixated with DRDO and not giving enough opportunities to the private sector. ideaForge has supplied drones to the military earlier also. There is no reason the contract accorded to the firm now was not given in years preceding the Chinese aggression considering our vast borders and to meet Army's ISR requirements. There is more than enough technical expertise in the private sector compared to the DRDO, in addition to far better work culture and dedication to meet timelines.