India needs to seriously review its policy towards Tibet especially because China's stand will harden more. Much benefit can accrue from understanding Tibetology as it will help understand how China is expanding cross-border influence.
| | |
| --- | --- |
| | The Author is Former Director General of Information Systems and A Special Forces Veteran, Indian Army |
Tibetan Art and Culture
According to recent news reports, during the Army Commanders Conference held in October 2020, one of the issues discussed was to study the Tibetan history, culture and language on both sides of the Line of Actual Control (LAC) and the international border as part of countering propaganda and the spread of influence by China. The proposal is reportedly being examined by the Army Training Command (ARTRAC) on directions of the Chief of Army Staff.
ARTRAC has reportedly identified seven institutes for the study of Tibetology, which namely are: Department of Buddhist Studies (Delhi University); Central Institute for Higher Tibetan Studies (Varanasi); Nava Nalanda Mahavihara (Bihar); Visva Bharati (West Bengal); Dalai Lama Institute for Higher Education (Bengaluru); Namgyal Institute of Tibetology (Gangtok), and; Central Institute of Himalayan Culture Studies at Dahung in Arunachal Pradesh. The proposal is to let officers attend courses in these institutes on study leave, as well as others attending small capsules on Tibetology.
Above is a good step which has apparently come up in wake of the 2020 Chinese aggression in Eastern Ladakh. ARTRAC being the repository of training for the Army, such an initiative should have perhaps been taken few years back but neglected because the attention at the national level was more towards Pakistan while goodwill was the byword when viewing China to the extent that even in 2020, India failed to read the intentions of Beijing.
Speaking at the 13th All India Conference of China studies on January 28, 2021, External Affairs Minister S. Jaishankar said, "They (events in Ladakh) not only signaled disregard for commitments on minimising troops but also showed willingness to breach new peace. We are yet to receive credible explanation for change in China's stance and massing of troops in border areas."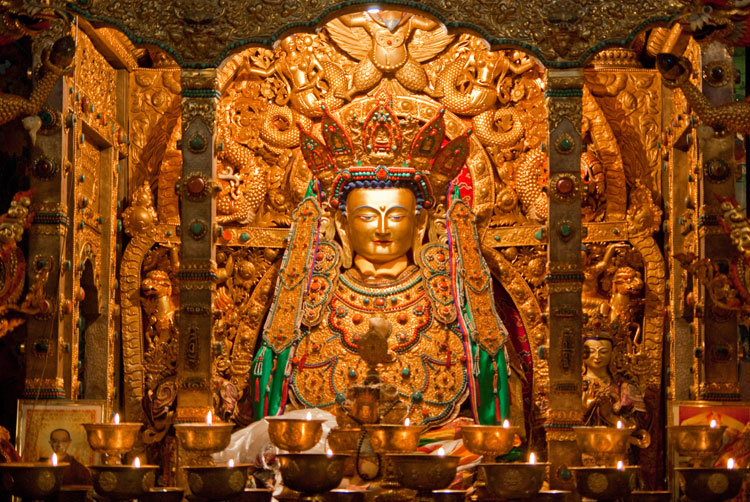 Tibetan art is deeply religious sacred art.
But the fact remains that we failed to read the intentions of Xi Jinping from the very day he became President of China, including: 19km deep intrusion in Depsang during 2013 which stayed on for three weeks; PLA exercises on life-sized land model of Ladkah inside China since 2014; high altitude warfare training of PLA in Canada and Pakistan; ruse of PLA exercise in Aksai Chin last year as prelude to the aggression; new road constructed four km short of Galwan, and; Xi's all round aggression for world domination and his 'China Dream'.
Ironically, India has done little to promote the Tibetan cause despite Sardar Vallabhbhai Patel mentioning in his letter to Pandit Nehru on November 7, 1950, "We have to consider what new situation now faces us as a result of the disappearance of Tibet….Chinese irredentism and communist imperialism are different from the expansionism or imperialism of the western powers… which makes it ten times more dangerous….in my opinion….. a military and intelligence appreciation of the Chinese threat to India both on the frontier and to internal security is needed."
Ironically, Nehru ignored Patel's advice. Former ambassador R.S. Kalha wrote in his book 'The Dynamics of Preventive Diplomacy': During the …… Korean conflict …. Indian diplomats were active on both sides, often travelling to Beijing, Moscow and Washington and New York …. India did not take the Chinese intervention in Tibet seriously and refused to take up the Tibetan cause in the UN…. On November 18, 1950, the US Ambassador at Delhi reported to the US Secretary of State that the then Secretary-General of the External Affairs Ministry Sir Girija Shankar Bajpai told him that India wished to delay "action" on the Tibetan demarches to the UN due to its "efforts" in achieving a ceasefire in Korea. Similarly, the British were informed that the "Timing of the Tibetan appeal needed careful consideration. Korea was obviously first importance".
China has been quoting the visit of Prime Minister AB Vajpayee to China in 1979 as India agreeing to the 'One China' policy. But when did China agree with 'One India' policy? Now that the US has passed the Tibetan Policy and Support Act (TPSA), India needs to seriously review its policy towards Tibet differently especially because China's stand will harden more if we show hesitation notwithstanding the economic interdependence. The simple logic is that if you bow in front of a bully (which China is), the bully mounts on your head.
In 2017, China's Global Times (mouthpiece of China's Communist Part – CCP), intimated that China unilaterally renamed six places in Arunachal Pradesh; Wo'gyainling (likely new name for Ugyen Ling monastery - birthplace of sixth Dalai Lama in Tawang), Mila Ri, Qoidêngarbo Ri (likely new name of Choten Karpo Ri), Mainquka (likely new name for Mechuka), Bümo La (likely for Bum La) and Namkapub Ri. Global Times called this a 'strong signal' to India about China's sovereignty over the region – despicable bully!
Getting back to Army's focus on Tibetology, in addition to the study leave and short capsules at the seven institutes mentioned above, the potential of learning Tibetology at the local level along the LAC, particularly in Ladakh, Sikkim and Arunachal Pradesh must be exploited. This is also important considering how China is expanding cross-border influence, including by constructing new border villages, which has been covered in these columns elsewhere. Much benefit in understanding Tibetology can also accrue from closer interaction between the Indian Army and the Special Frontier Force provided we can get over the barrier of working in silos established by India's 'deep state'.
Finally, India needs to get bold on its Tibet policy shedding the euphuism and fear of "annoying the dragon'. We might as well also develop guts to establish diplomatic relations with Taiwan.