Chinese intentions of setting up border villages are quite obvious. Not only do these villages help substantiate China's illegal territorial claims, these dwellings house PLA personnel and intelligence operatives mixed with local population.
| | |
| --- | --- |
| | The Author is Former Director General of Information Systems and A Special Forces Veteran, Indian Army |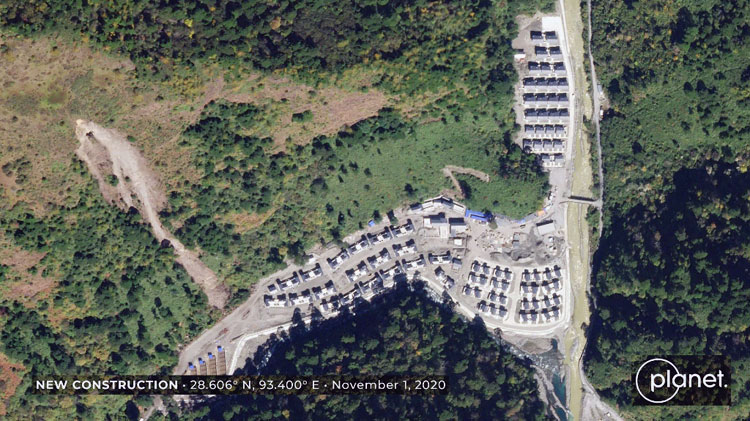 China has resorted to construction in border area in Arunachal Pradesh
After discovery of Chinese village in Bhutan last year, a newly constructed Chinese village has been discovered, or rather reported, in Arunachal Pradesh during January 2021. The village, located on the banks of the River Tsari Chu, lies in the Upper Subansiri district. India had reportedly increased surveillance astride the entire length of the Line of Actual Control (LAC). However, this village only came to light when reported by the media. Within a month after the India-China standoff at Doklam was resolved peacefully in 2017, China occupied the Doklam Plateau less the small area of standoff. Bhutan had little option but to deny existence of Chinese village in Bhutanese territory.
Following the above news, anti-China protests were witnessed in Arunachal Pradesh on January 21 and protesters were seen burning the effigy of Chinese President Xi Jinping. The All Arunachal Pradesh Students' Union (AAPSU) issued a statement saying it has taken serious note of China establishing a village in Upper Subansiri district. It condemned China's expansionist designs, criticising the Centre's lethargic and non-committal approach and demanding that the Centre should initiate appropriate counter-measures to check Beijing's moves. AAPSU said people of Arunachal Pradesh are proud and patriotic Indians and the youth are ready to stand up even with arms to defend the country.
According to one media outlet that sent satellite images of the Chinese village to the Ministry of External Affairs (MEA) and raised questions whether the Chinese village is in Indian Territory, the MEA has responded by saying, "We have seen recent reports on China undertaking construction work along the border areas with India. China has undertaken such infrastructure construction activity in the past several years. Our Government too has stepped up border infrastructure including the construction of roads, bridges etc, which has provided much needed connectivity to the local population along the border.''
By saying the above, government has neither admitted or denied whether the said Chinese village is in Indian Territory or not but according to official records, site of this village had an Assam Rifles post till 1959 when it was run over by the Chinese. However, the area did not have any construction as per satellite images of August 26, 1999. But subsequent satellite imagery of November 1, 2020 showed a full-fledged village with over 110 dwellings that has been constructed in about one year and the construction was on during the India-China standoff in Eastern Ladakh as well. Location of this Chinese village is some 4.5 km inside Indian Territory but as mentioned earlier, it was run over by China in 1959. However, BJP MP from Arunachal Pradesh, Tapir Gao has been stating in Parliament, both in 2019 and 2020 that China has been making deep intrusions in Arunachal Pradesh. In 2020, Tapir Gao, while warning the Lok Sabha in 2020 of Chinese incursions in his state, specifically referred to the Upper Subansiri district. In January 2021, he told media that Chinese activities include construction of a new double-lane road, which is still going on. According to him, China has entered more than 60-70 km inside the upper Subansiri district following the path along the Lensi River. At the same time, the government to-date has not admitted the extent of intrusions made by the People's Liberation Army (PLA) in the areas of Depsang, Gogra-Hot Springs and Pangong Lake in Eastern Ladakh during the Chinese aggression last year.
Chinese intentions of setting up border villages of this type are quite obvious. Not only do these villages help substantiate Chan's illegal territorial claims, these dwellings will house PLA personnel and intelligence operatives mixed with local population. They will also showcase development to the population on the local population on the Indian side. Chinese tactics include developing cross-border civilian links using money and provisioning of rations in order to recruit agents and guides for covert missions and operations. China also encourages cross-border marriages with the same aim, as it has done in Myanmar and Pakistan. In the case of Pakistan, networks also supply Pakistani girls for marriages in China. Most importantly, China wants to change the demography because there are few Monpa villages north of the McMohan Line which India can lay claim to as China does.
China is aggressively pursuing a diverse range of tactics not only through cyber-attacks and recruiting insiders for economic espionage but also through spies along the 3,488 km land borders between India and China Occupied Tibet. Such activities will be more in areas where China intends to intrude or illegally claim especially in Arunachal Pradesh where it illegally claims all 90,000 sq kms. That is why China abducted five youth from Arunachal last year and released them after long time after torturing them for information. It is also significant to note that for the first time in 2020 China laid illegal claim to the Sakteng Wildlife Sanctuary in Bhutan and the land route to that sanctuary can only be developed by China through Arunachal Pradesh. Recently, a PLA soldier was caught by our troops in Pangong Tso area, which may not be a case of straying inadvertently, but deliberate effort to see our defences.