The defence budget for 2021-22 is still less than 2 percent of the Union budget. There were expectations of larger funds to prepare the Armed Forces for a possible conflict with China and a two-front war.
| | |
| --- | --- |
| | The Author is Former Director General of Information Systems and A Special Forces Veteran, Indian Army |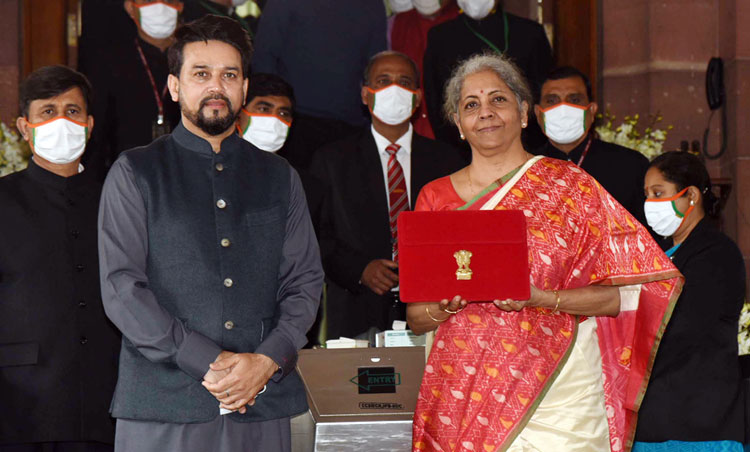 Union Minister for Finance and Corporate Affairs Nirmala Sitharaman along with the Minister of State for Finance and Corporate Affairs Anurag Singh Thakur arrives at Parliament House to present the General Budget 2021-22, in New Delhi on February 1, 2021.
Finance Minister Nirmala Sitharaman presented the Union Budget for FY 2021-2022 in Parliament on February 1. It did not surprise that she did not mention defence at all for the second successive time as part of her budget speech, which had been a custom in the previous years.
With defence neglected through successive negative budgets over the year, the budget document reveals India spent a mammoth amount of 20,776 crore on emergency and unbudgeted defence expenses to plug the gaps in shortages of arms, equipment and ammunition, plus some additional purchases because of the Chinese aggression in May-June 2020. These emergency purchases included missiles and ammunition from Russia, armaments for the Rafale fighter jets and Mirage 2000 fleet from France, assault rifles and winter clothing from the US, plus emergency purchases from Israel.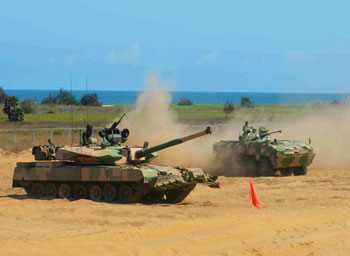 MBT Arjun Mk II
For the fiscal year 2021-2022, the allocation of Defence Budget is 4,78,196 crore ($65.55 billion). Within this, the outlay under the capital expenditure head is 1,35,061 crore ($18.5 billion) for the fiscal 2021-22. The revenue side expenditure has been pegged at 2,32,047 crore ($31.8 billion) for the next fiscal. However, the pension-related expenditure has come down to 1,15,850 crore ($15.9 billion) for the next year from this year's revised estimates (RE) of 1,25,000 crore ($17 billion). India had made a defence budgetary estimates (BE) of 3,23,053 crore ($45.2 billion) for its armed forces till March 2021, during the budget announcement on February 1, 2020.
There has been an increase in the capital acquisition outlay which is required to be to pushed through several critical purchases like drones, artillery guns, missiles and other weapon platforms. But the figures of increase are not much as they will be consumed by inflation and how much of this will go towards paying installments of already committed capital acquisitions remains unknown. In terms of the overall defence budget hike, there has been an increase over last year, excluding pensions. How much of this will get consumed in inflation costs too remains unknown. But importantly, the defence budget is still less than 2 per cent of the union budget for the next fiscal.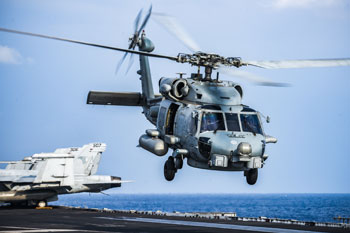 MH-60R - Sea Hawk
This does not bode well given expectations of larger funds to prepare the Armed Forces for a possible conflict with China and more importantly a two-front war and the modernisation required. The fact remains that India's military leadership has time and again acknowledged that the nation faces double threat from China and Pakistan, and the possibility of these two rogues colluding to wage a two-front war. So why is the bureaucracy lackadaisical and why don't they give the correct advice to their political masters. What is the advice of the China Study Group in this regard?
With successive poor defence allocations, we reacted to the Chinese aggression last year in a manner not different from the 1999 Kargil Conflicts – we fight with what we have and hurried emergency procurements. Has the national apex undertaken an appreciation of what will entail a two-front war involving all domains? Or are we happy saying Pakistan can be defeated in 10 days and we can walk into Aksai China and Pakistan Occupied Kashmir whenever we want – government just needs to give the signal. We coped with the Chinese aggression on a wave of media and rhetoric without admitting that substantial amount of strategic territory was intruded into and occupied by China. But the next move by China may be more challenging. As it is, the mobilisation along the Line of Actual Control (LAC) and the beefing up required for the coming summer will entail large expenditure.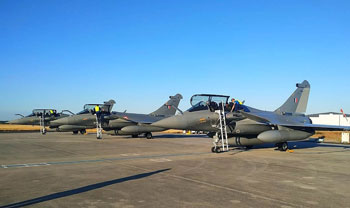 First batch of Rafale aircraft
India should be looking at building sufficient 'hard power' quickly which would be a deterrent by itself for China to do any mischief. But a defence budget of about 1.4 per cent of the GDP can hardly build that type of 'hard power' in the required timeframe while the China threat is looming large on land, sea and air. Moreover, China would in all probability try out its latest artificial intelligence and stealth-based weapon systems against us. The irony is that we still have not defined a national security strategy and have not undertaken a strategic review, leaving it to the Finance Minister to give whatever funds can be 'spared' for defence.
We are likely to continue in this manner unless we streamline our procedures to arrive at what the defence budget should be. What we need is the Army, Navy and Air Forces making their pre-budget projections to the Parliament's Standing Committee for Defence. In doing so, they should bring out what the present operational capabilities of the concerned service is, why the projected funds are required and what would be the hike in operational capabilities if the funds asked are allotted. Based on these projections, it is the Parliament's Standing Committee for Defence that should demand the required defence budget from the government.
In our case, successive reports by the Parliament's Standing Committee for Defence are simply ignored. That is the reason, our defence remains neglected with the IAF short of required number of operational squadrons, the Navy short of warships, minesweepers, amphibious crafts and submarines and the Army holding over 60 per cent obsolete equipment. With the continuing ongoing India-China standoff and the projected GDP growth of over 14 per cent in the next fiscal, the Finance Minister, should have allotted at least a defence budget 3-3.5 per cent of the GDP. The current allotment of less than 2 per cent indicates we continue to take enlarging threats lightly, relying more on goodwill and diplomacy. We need to take a cue from other nations how they have hiked their defence budgets in face of the enlarging China threat.