Government of Maldives has signed a pact with India for enhancing the capability of the MNDF and Maldivian Coast Guard
| | |
| --- | --- |
| | The Author is Former Director General of Information Systems and A Special Forces Veteran, Indian Army |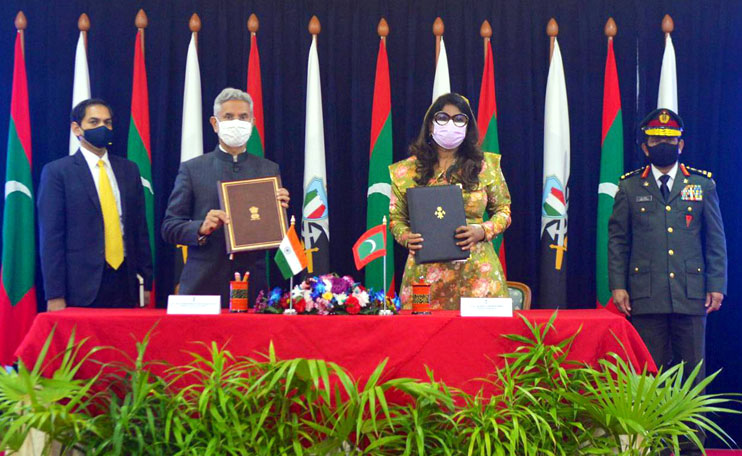 Indian Foreign Minister Dr. S. Jaishankar and Maldives Defence Minister Mariya Didi sign a pact to develop, support and maintain a harbour for the Maldives National Defence Force (MNDF) and Coast Guard for maritime security in the region
On February 21, 2021, India signed a pact with Maldives to develop, support and maintain a harbour for the Maldives National Defence Force (MNDF) and Coast Guard for maritime security in the region during the visit of External Affairs Minister S. Jaishankar. India will also support development of other infrastructure needed for the harbour, support the development of communications resources and radar services, and provide training. During his visit, Jaishankar met Maldives President Ibrahim Mohamed Solih, Speaker of the Peoples' Majlis, former President Mohamed Nasheed, Foreign Minister Abdullah Shahid, Finance Minister Ibrahim Ameer, Minister of Economic Development Fayyaz Ismail, and Minister of National Planning, Housing and Infrastructure Mohamed Aslam.
Announcing the pact, Jaishankar tweeted, "Glad to sign with Defence Minister @MariyaDidi the UTF Harbour Project agreement. Will strengthen Maldivian Coast Guard capability and facilitate regional HADR (Humanitarian Assistance and Disaster Relief) efforts. Partners in development, partners in security." Maldives Defence Minister Mariya Didi tweeted, "From time immemorial Defence Cooperation has been a key element of the sisterly relationship that exists between India and the Maldives. The Coast Guard Harbour & Dockyard at SIFAVARU will mark another significant milestone."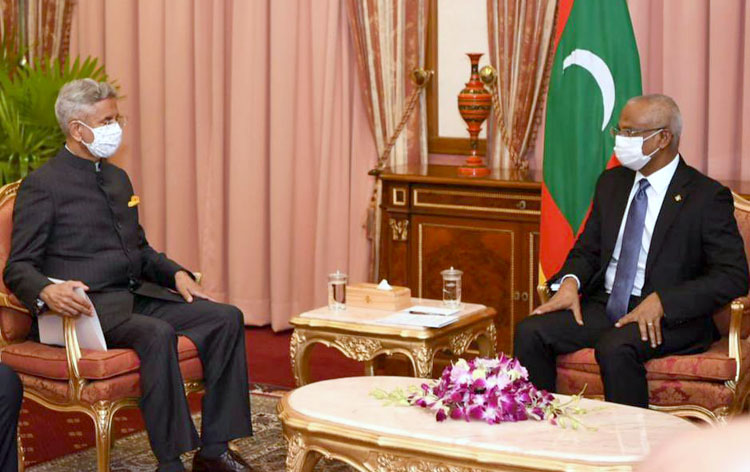 External Affairs Minister Dr. Jaishankar calls on President of the Maldives Ibrahim Mohamed Solih
According to the India-Maldives joint statement, the pact was signed pursuant to the request by the Government of Maldives in April 2013 for India's support and cooperation in enhancing the capability of the MNDF in maritime surveillance, and subsequent requests in October 2015 and March 2016. The joint statement also made a mention of the Action Plan for Defence Cooperation signed in April 2016 between the two countries, Defence Cooperation Dialogues in July 2016 and January 2019, and Joint Staff Talks in June 2018, January 2019, June 2019, and September 2019, which finally led to inking the pact.
The dockyard to be developed at the Uthuru Thila Falhu (UTF) Naval Base, northwest of Male, will strengthen the Maldivian defence capabilities. According to Maldives officials, the Maldives Coast Guard needs a designated harbour and dockyard to repair and dock vessels, especially since it attends to over 700 distress calls and conducts approximately 300 operations on an annual basis, apart from handling transnational crimes and conducting medical evacuations. Making a presentation during a seminar at US Pacific Command at Hawaii in 2011, the officer from MNDF Coast Guard had stated that Maldives would welcome an international presence in face of mounting sea piracy; Maldives during those days was being repeatedly attacked by sea pirates.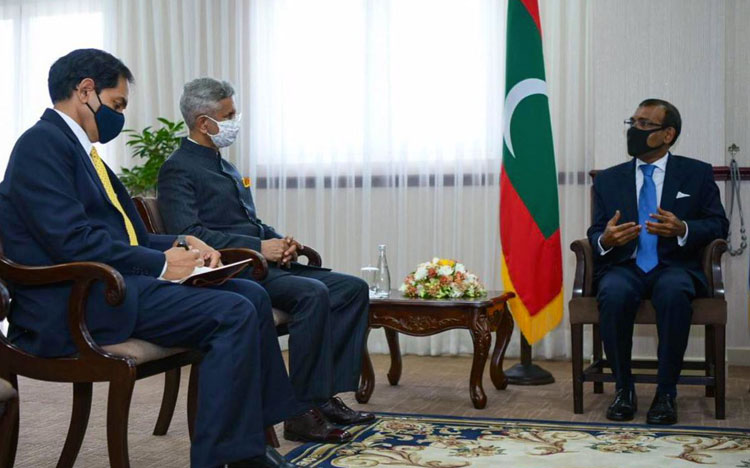 Dr. Jaishankar meeting Mohamed Nasheed, Speaker of the People's Majlis in Maldives
During his visit, Jaishankar also witnessed the signing of a project execution contract for construction of roads in Addu, the second-largest urban area in Maldives in terms of population, after which Jaishankar tweeted, "Underscores the importance of connectivity in our Maldives partnership." After meeting President Solih, Jaishankar reaffirmed India's commitment as a comprehensive development partner of Maldives including during the Covid-19 Pandemic. Jaishankar also handed over 1,00,000 additional Covid-19 vaccine doses to Maldives.
With land area of just 300 sq km and a population of 5,40,544 Maldives is one of the world's most geographically dispersed country with 1,190 islands, 70 of which are uninhabited, straddling a 960-km-long submarine ridge running north to south which forms a wall in the middle of the Indian Ocean. Its strategic location defines the geo-strategic importance of Maldives far beyond its physical size. Located at the southern and northern parts of this island chain are the only two passages through which ships can pass safely. Both these sea lanes of communication (SLOCs) are critical for maritime trade flow between the Gulf of Aden and Gulf of Hormuz in West Asia and the Strait of Malacca in Southeast Asia.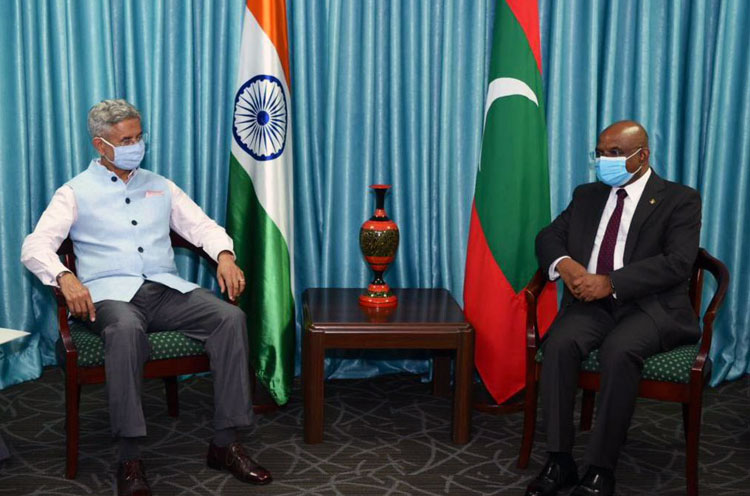 Indian Foreign Minister meeting Maldives Foreign Minister Abdulla Shahid
In July 2015, Maldives amended its constitution to allow foreign ownership of land and President Abdulla Yameen enabled China to debt trap Maldives. After the defeat of Yameen in September 2018, the new government under President Ibrahim Mohamed Solih raised concerns about the level of Chinese debt incurred by Yameen's government. In December 2019, the Speaker of the People's Majlis and former President Mohamed Nasheed about debts incurred to build projects like the Sinamale Bridge part of China's debt trap. In December 2019, Abdullah Shahid, Foreign Minister of Maldives on a visit to India told media that Maldives is working with China "practically" to discuss its approximately $1.4 billion that Maldives owed to China. Shahid also said that Maldives will scrap the free-trade agreement (FTA) with China.
With Maldives Abdulla Yameen regime (2013-2018) having sold out to China, latter was looking at establishing a military base in an island of Maldives. Interestingly, an article in the China Daily Mail on November 22, 2014 quoting Sri Lankan confirmed Chinese plans for: establishing multiple naval bases in the IOR including in Sri Lanka, Pakistan and Myanmar; naval supply base at Walvis Base (Namibia), and; 18-19 overseas strategic supply bases in Djibouti, Yemen, Oman, Kenya, Tanzania, Mozambique, Seychelles, Madagascar and "other parts" of IOR for supply, berthing and maintenance.
India's External Affairs Minister meets Ministers of Finance, Economic Development, and National Planning, Housing and Infrastructure of Maldives on February 21, 2021
It can be seen that China is consolidating in the IOR at incredible pace. To this end, India after deliberating for years finally inking an agreement to provide a line of credit (LOC) of $50 million for a new naval base for the MNDF and Coast guard just a few nautical miles away from the national capital Male is a welcome step. The security relationship India and Maldives is of immense importance to both nations given their proximity to each other, Maldives straddling two vital SLOCS, volume of India's maritime trade and geopolitical dynamics of the region with China aiming to dominate the world. Significantly, the opposition parties in Maldives, the PPM and PNC, have openly opposed the above India-Maldives pact. Reason given by them is that that the clauses of the same were not in the public domain. However, behind their opposition could be Beijing's hand.