For India, the SeaGuardian drones will be vital as they can be fitted with anti-missile and radar components, enabling their readiness for any military operation
| | |
| --- | --- |
| | The Author is Former Director General of Information Systems and A Special Forces Veteran, Indian Army |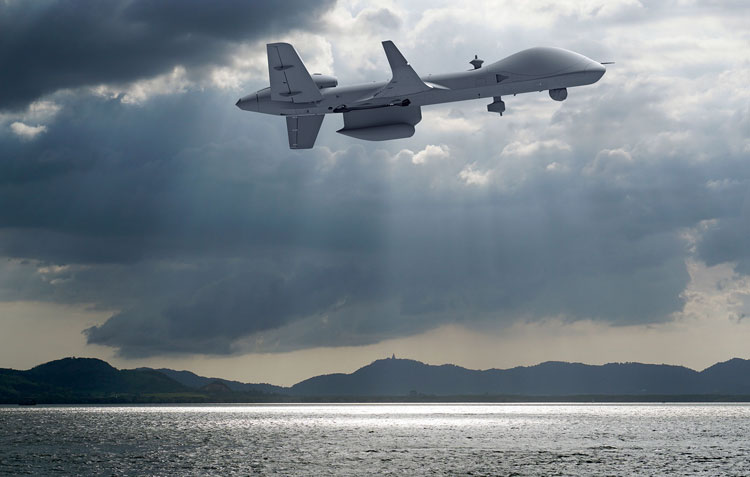 GA-ASI - MQ-9B SeaGuardian
Together with the news of US Defence Secretary Lloyd Austin commencing his visit to India beginning March 19, 2021 after his visit to Japan and South Korea, media reports emerged that India plans to buy 30 armed drones from the US as part of the ongoing 10-year, $250 billion military modernisation plan that is already halfway. The plan is to import 30 x MQ-9B SkyGuardian / SeaGuardian drones, also known as 'Predator', costing $3 billion, which is likely to be approved next month. The Indian Navy already has two SeaGuardian drones on lease since November 2020.
The General Atomics "Predator B-001", a proof-of-concept aircraft, first flew on February 2, 2001. Over the years, design improvements brought in the 'Reaper' and the 'Predator' or Sky / SeaGuardians. On February 25, 2016, General Atomics announced a successful test flight of the new Predator-B/ER version. This new version has had the wingspan extended to 79 feet, increasing its endurance to 40 hours. Other improvements include short-field takeoff and landing performance and spoilers on the wings which enable precision automatic landings. The wings also have provisions for leading-edge de-ice and integrated low- and high-band RF antennas.
General Atomics Aeronautical, manufacturers of SeaGuardians defines these drones as highly modular and easily configurable High Altitude Long Endurance (HALE) Remotely Piloted Vehicles/Aircraft (RPV/RPA). This allows the customer selected combination of payloads to be fitted onboard, thus making it specialised for specific needs. Media reports quoting an unnamed source says, "Indian Navy, which is the lead service for the procurement of HALE, exploited this ability and selected some of the latest most versatile sensors and payloads to make it better than the aircraft being operated by the customer themselves."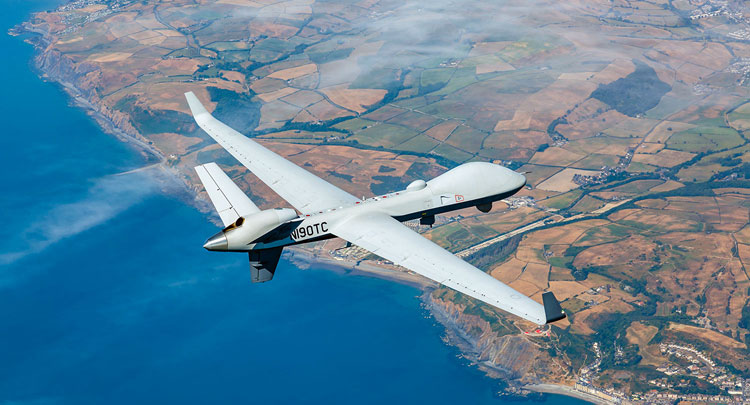 MQ-9B SkyGuardian flies across Atlantic for RAF100 event
These HALE SeaGuardian drones can fly in synch with the P-8I aircraft and since India and the US inked the Communications Compatibility and Security Agreement (COMCASA) in 2018, these US-origin platforms will get encrypted systems which will further improve their capabilities. The Sea Guardians, in combination with the P-8Is, deployed for Anti-Submarine Warfare (ASW) role, will enhance the Navy's combat potential. These will also considerably increase the interoperability between the Indian and US navies.
The MQ-9 SeaGuardian can be remotely-controlled or fly autonomously. With a maximum flying altitude of 40,000 feet, it can fly at a maximum speed of 210 KTAS, has 360-degree maritime surveillance radar, and optional multimode maritime surface-search radar. For India, the Sea Guardian drones will be vital as they can be fitted with anti-missile and radar components, enabling their readiness for any military operation.
The MQ-9B drone comes in both land and sea variants. It is capable of flying for nearly 48 hours and can carry a payload of around 1,700 kg. It can also operate in adverse weather conditions and is designed to survive bird and lightning strikes. The drone is powered by a Honeywell TPE331-10 Turboprop with a payload capacity of 2,177 kg, and it can produce a total power of 45 kVA. In addition, it possesses GA-ASI Lynx multi-mode radar and a de-ice/anti-ice system that helps it sustain extreme flying conditions. This means that the drone can be easily deployed in high-altitude regions.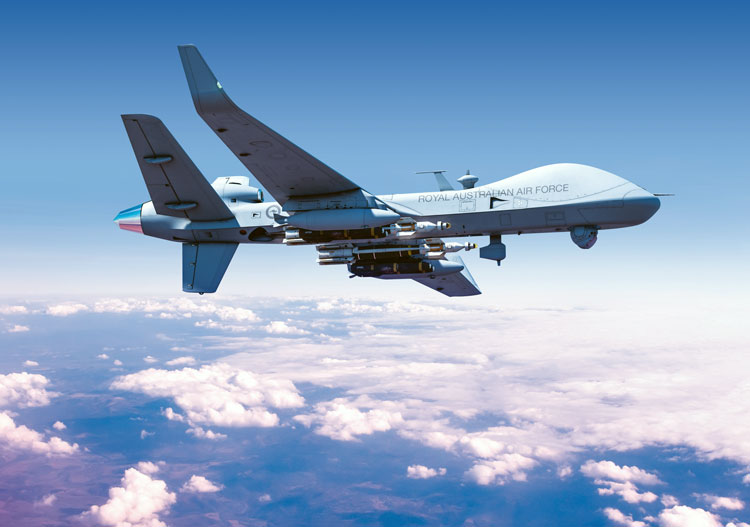 RAAF MQ-9B - Air 7003 Team Reaper Australia Takes Shape
On November 28, 2019, the Australian Government announced the selection of the General Atomics Aeronautical Systems (GA-ASI) MQ-9B SkyGuardian as its preferred version of the Predator B for the RAAF's Project AIR 7003 MALE armed remotely piloted aircraft system (RPAS) requirement. The deployment of Sky Guardians along the borders with China and India will boost the military's surveillance and strike capabilities.
Interestingly, foreign media reports of 2019 revealed that India could be buying both the MQ-9B Predator (Sea Guardians) and the Reapers, given differing service requirements. The MQ-9B Sea Guardian is a variant of the 'Reaper' optimised for maritime missions. The Sea Guardians may also be able to detect mines, according to General Atomics. The original Predator could carry only two Hellfire anti-tank missiles but the Reaper has an external payload limit of over one ton, giving it a massive firepower boost. This gives it the capability to carry up to four Hellfire missiles and two 227 kg bombs on the same mission.
So there is a high probability of India importing both the Predator and Reaper armed drones - Predators to be deployed at sea and Reapers along land borders. Pakistan too is expecting delivery of Chinese-built drones that can carry missiles.