Air Independent Propulsion (AIP) allows a submarine to remain under water for prolonged periods while also making it quieter. This new technology will add to lethality of Indian submarines.
| | |
| --- | --- |
| | The Author is Former Director General of Information Systems and A Special Forces Veteran, Indian Army |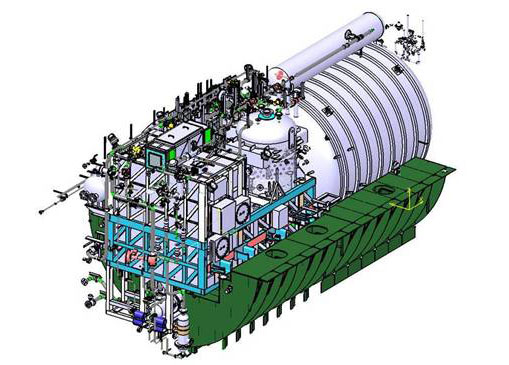 AIP SYSTEM OF SUBMARINES
On the night of March 08-09, 2021, the Defence Research and Development Organisation (DRDO) conducted the final development test of Air Independent Propulsion (AIP) 'on land' in Mumbai. AIP allows a submarine to be submerged for longer periods under water and makes the sub-surface platform more deadly by making it quieter than a nuclear submarine. It is a technology that allows a non-nuclear submarine to operate without surfacing or using a snorkel, augmenting or replacing the diesel-electric propulsion system. Non-nuclear submarines running on battery power or AIP can be virtually silent. AIP can be retrofitted into existing submarine. AIP does not normally provide the endurance or power to replace atmospheric dependent propulsion, but allows longer submergence than a conventionally propelled submarine.
The US, France, China, UK and Russia all have AIP technology. Significantly, China's full-scale technology demonstrator AIP engine had started operating 19 years ago in 2002 using Stirling engine technology after completing 20,000 hours of testing under Project 039A Yuan-class submarine. Chinese research concluded that a small-scale nuclear reactor is too expensive, the fuel cell has safety issues and the higher radiated noise had to be overcome. A Stirling engine is a closed-cycle piston heat engine that operates through the use of an external heat source and an external heat sink, each maintained within a limited temperature range and having a sufficiently large temperature difference between them. The DRDO's AIP technology is based on a Phosphoric Acid Fuel Cell and the last two Kalvari class submarines will be powered by it.
The new technology will add to lethality of Indian submarines, which also take advantage of internal refraction in equatorial waters due to differences in temperatures on the surface and within the ocean. The Indian Navy now plans to retrofit all its Kalvari class non-nuclear attack with AIP during their first upgrade, expected around 2023. The 1615-tonne Kalvari class submarine is being built by Mazagon Dockyards Limited (MDL) in collaboration with French Naval Group and is based on Scorpene design. The AIP is retrofitted into existing submarine hulls by adding an additional hull section. The AIP equipped submarines are identified as SSP while classic diesel attack submarines carry the SSK classification. Interestingly, despite urgent requests, the French have decided not to upgrade the Pakistani Agosta 90B submarines with AIP technology, forcing Islamabad to either go to China or Turkey.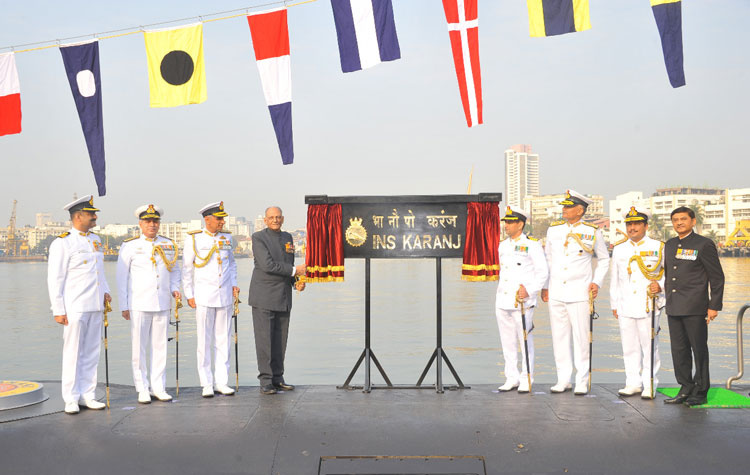 CHIEF GUEST ADMIRAL VS SHEKHAWAT, FORMER CHIEF OF THE NAVAL STAFF, UNVEILING THE COMMISSIONING PLAQUE IN COMPANY OF THE COMMANDING OFFICER CAPTAIN GAURAV MEHTA, ADMIRAL KARAMBIR SINGH, CNS AND OTHER DIGNITARIES
On March 10, 2021, INS 'Karanj', the third Kalavari-class submarine, was commissioned into the Indian Navy. The diesel-electric submarines Kalavari-class submarines are based on the Scorpene design are also referred as Scorpene class submarines. INS Karanj would form part of the Western Naval Command submarine fleet. Navy Chief Admiral Karambir Singh and senior Navy and Ministry of Defence (MoD) officers were among those present at the commissioning ceremony. Former Navy Chief Admiral V. S. Shekhawat (Retd), who was part of the commissioning crew of the old INS Karanj and later the Commanding Officer during the 1971 Indo-Pak war, was the Chief Guest for the commissioning ceremony at the Naval Dockyard.
The crew of the erstwhile INS Karanj, a Russian origin Foxtrot class submarine which was decommissioned in 2003 was also 'special invitees' for the commissioning ceremony. This was because this year is being celebrated as the Swarnim Vijay Varsh (Golden Victory Year) which marks 50 years of the 1971 Indo-Pak war. The old Karanj, commissioned on September 4, 1969 at Riga in the erstwhile USSR, also took active part in that war. It may also be recalled that the US had positioned a nuclear aircraft carrier in the Bay of Bengal to deter India for invading East Pakistan and to liberate Bangladesh. Also when a British naval armada was approaching the Arabian Sea to intimidate India, Russian submarines had surfaced, forcing them to turn around and retreat.
During his address at the commissioning ceremony for INS Karanj, Admiral Karambir Singh said, "This impetus to indigenisation and Aatmanirbhar Bharat is a fundamental tenet of the Indian Navy's growth story and future operational capabilities." A statement released by the Indian Navy said, "Six Scorpene class submarines are being built in India by the Mazagon Dock Shipbuilders Limited (MDL) Mumbai, under collaboration with Naval Group, France. The Scorpene class submarines are among the most advanced conventional submarines in the world. They are equipped with the latest global technologies. More deadly and stealthier than their predecessors, these submarines are equipped with potent weapons and sensors to neutralise any threat above or below the sea surface. The commissioning of INS Karanj is another step towards the Indian Navy consolidating its position as builders Navy, and also is a reflection of MDL's capabilities as a premier ship and submarine building yard in the world."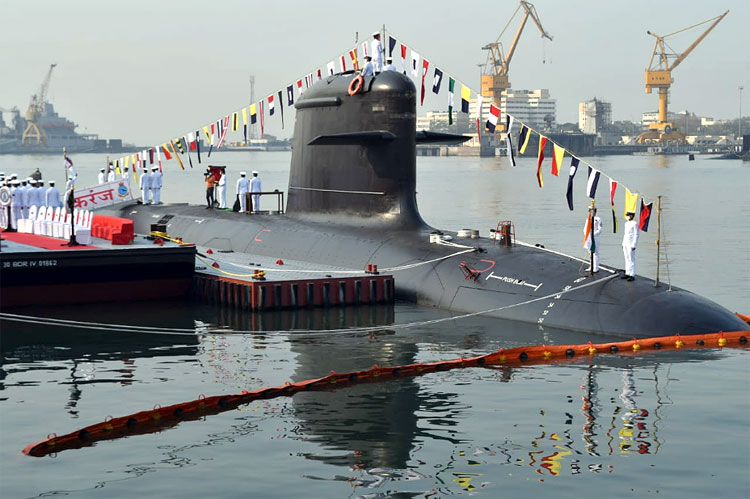 INS KARANJ, THE THIRD KALVARI CLASS (SCORPENE) SUBMARINE, COMMISSIONED AT NAVAL DOCKYARD MUMBAI
Indian Navy's overall capability-building plans include the six nuclear-powered attack submarines or SSNs to be built, to the commissioning of its second aircraft carrier, INS Vikrant in later half of 2021. India currently has only one Akula class SSN on lease from Russia while one more is expected to be acquired on lease before 2025. In terms of numbers of naval vessels, China has larger forces than the US, however, not in terms of tonnage and capacity. The PLA Navy (PLAN) currently operates a fleet of 66 submarines, which include nuclear as well as conventional submarines. But China is apparently scared of the Quad when it issued a statement before the virtual meeting of heads of state of Quad nations (the US, India, Japan and Australia) on March 12, 2021, by saying, "We hope the relevant countries will keep in mind the common interests of the regional countries uphold the principles of openness, inclusiveness and win-win cooperation and do things that are conducive to regional peace stability and prosperity rather than the opposite."