Nationality verification for them is being done and on this basis the procedure for deportation will be initiated. However, India has no extradition treaty with Myanmar. The problem of Rohingyas in Jammu is far more serious as it also endangers security.
| | |
| --- | --- |
| | The Author is Former Director General of Information Systems and A Special Forces Veteran, Indian Army |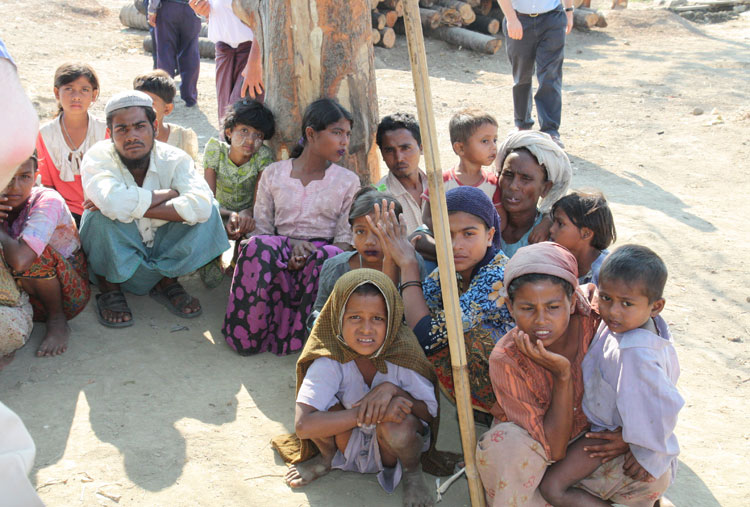 REPRESENTATIVE IMAGE
News reports of March 7, 2021, reveal that holding centres for Rohingya refugees have been set up under the Foreigners Act in the Hiranagar sub-jail in Kathua, Jammu and Kashmir (J&K) after all the prisoners and under-trials lodged there were shifted to other jails. Thereafter, the state administration rounded up 168 Rohingya refugees, including women and children, from Jammu and sent them to these holding centres.
These holding centres with a capacity to hold 250 people were set up by a Home Department notification on March 5, 2021 under Section 3(2)e of Foreigners Act. "These immigrants were not holding valid passports required in terms of Section (3) of the Passports Act," a senior government official said, adding that they were in the process of identifying more such immigrants.
According to a senior police officer, all these refugees were living in J&K without valid documents. At the holding centres, nationality verification will be done for them as per the prescribed process and on this basis the procedure for deportation will be initiated. However, this is only the tip of the iceberg of the Rohingya menace. As far as deportation goes, India has been able to deport just about 12-15 Rohingyas to Myanmar since 2014 although India has built 250 shelters for them in Myanmar. India has no extradition treaty with Myanmar. The extradition treaty between India and Bangladesh came into effect on October 23, 2013. However, this only covers extradition of convicts and under-trials by both countries.
But the problem of Rohingyas in Jammu is far more serious that also endangers security. Under the UPA II regime, some 4,000 Rohingya's were colonised in Jammu despite Article 370 under garb of UNHCR. This was despite the fact that India was neither signatory to the 1951 Refugee Convention nor its 1967 Protocol, even though India continues to host large population of refugees. The fact that Rohingyas were placed in Jammu despite Article 370 in connivance the J&K Government (who did not object) itself stinks. P. Chidambaram as Union Home Minister had a major role to play in this. Ironically, Chidambaram at a later date even headed Parliament's Standing Committee on Internal Security instead of being held responsible.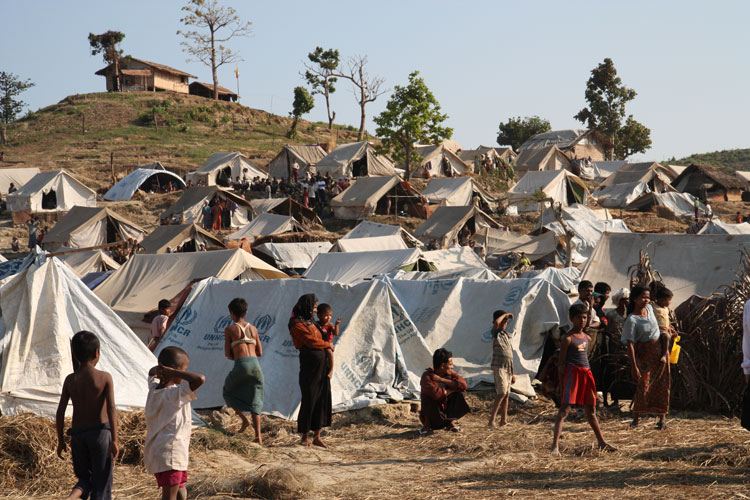 Displaced Rohingyas living in shelters
In October 2015, then J&K Chief Minister Mufti Mohammad Sayeed, had stated that in 2010, Rohingyas living in different parts of Jammu City and around it and other places numbered 5,107. But, Mehbooba Mufti told the State Assembly in June 2016 that 13,400 Rohingyas are living in camps in Jammu. Note the jump in figures from 5,107 to 13,400.
News reports of 2017 quoted central government estimates that, around 40,000 Rohingyas may be living in India illegally. They have arrived in the country through porous India-Myanmar and India-Bangladesh borders in separate batches since 2012-13. Subsequent news of March 2018 revealed that in Jammu region there were 734 Rohingyas settled near police lines in Channi Himmat, 206 near Army station in Sunjwan (which was attacked), 40 near HQ 16 Corps at Nagrota, while graveyards were also being used to settle them.
In 2018, the distribution of Rohingyas in Jammu City was around 5086, Jammu's Samba district - 634 and Ladakh - 7664. Obviously, their number has been allowed to expand surreptitiously. 27 Rohingya families and 198 Rohingyas in Jammu Tehsil had mobile numbers, which cannot be obtained without valid documents like Aadhaar. Obviously such fake documents were being supported and supplied by state authorities and politicians who are providing them mobile SIM cards. Many Rohingyas could acquired Aadhaar Cards since it is only proof of identity, not citizenship.
J&K Governments have been fully complicit in the radicalisation programme, including through education in schools in the Valley. This is what J&K Finance Minister Haseeb Darbu during Mehbooba's rule was hinting at by calling it a "social problem", which led Mehbooba to dismiss him without even meeting him.
It may be recalled that in September 2017, the separatist leaders of Kashmir Valley called a protest march against alleged "persecution" of Rohingya Muslims to show solidarity with them. The protests turned violent at several places. Earlier, Zakir Musa, heading Ansar Gazawat-ul-Hind (offshoot of Al Qaeda) had expressed solidarity with Rohingyas living in Jammu; warning the Union Government through a 10-minute-long audio clip against deporting the Rohingyas from India.
There should be no doubt that terrorist organisations would use Rohingya assistance in terrorist attacks, which may be voluntary or through coercion. Rohingya involvement was suspected in the terrorist attack on the Sunjwan Military Camp, Jammu on February 10-11, 2018, in which six soldiers, one civilian and three terrorists were killed. Encroachment on defence land and high rise buildings on such land even overlooking camp (s) facilitate terrorist accomplices to monitor movement and pass information. An early solution to the Rohingya issue needs urgent attention. This should be the prime focus for the Union Home Minister and the Ministry of Home Affairs.