The 15,000 tonne INS Dhruv is one of the largest warships to be built at an Indian yard and was being built under a confidential programme directly under the Prime Minister's Office (PMO)
| | |
| --- | --- |
| | The Author is Former Director General of Information Systems and A Special Forces Veteran, Indian Army |

Line diagram of VC-11184
India's specialised ocean surveillance research vessel and missile tracking ship built by Hindustan Shipyard Limited (HSL), earlier known by the HSL designated number VC-11184, has been christened INS 'Dhruv'. The ship reportedly will be operated by the joint crew of the National Technical Research Organisation (NTRO), the Defence Research and Development Organisation (DRDO) and the Indian Navy. Costing some Rupees 1,500 crore ($270 million in 2019), INS Dhruv is to support the development of India's strategic weapons and the Indian Ballsitic Missile Defence (BMD) Programme. The vessel can also track strategic missiles and satellites in addition to gathering electronic intelligence. Similar ships have been in operation by China, France, Russia and the United States.
The 15,000 tonne ship is also one of the largest warships to be built at an Indian yard. Designed in India by Vik Sandvik Design India, INS Dhruv has a length of 175 metres, beam of 22 metres, draught of six metres and can attain a speed of 21 knots. It is powered by two imported 9,000 kilowatt combined diesel and diesel (CODAD) configuration engines and three 1200 kilowatt auxiliary generators. The development span of INS Dhruv has remained largely secret with little information in public domain since it was being built under a confidential programme directly under the Prime Minister's Office (PMO), similar to the Advanced Technology Vessel (ATV) programme.
The keel of the ship was laid on June 30, 2014 at HSL. The ship had reportedly started harbor trials in July 2018 and was expected to undergo sea trials by the end of 2018. As of March 2019, sea trials were ongoing. The ship was delivered to the Indian Navy in October 2020 without a public commissioning ceremony. The ship delivery was delayed by a few months due to the Covid-19 crisis but all tests and trails were cleared in 2020 to ensure it is ready to enter service. There is speculation that an official commissioning ceremony will likely be held in the first half of 2021.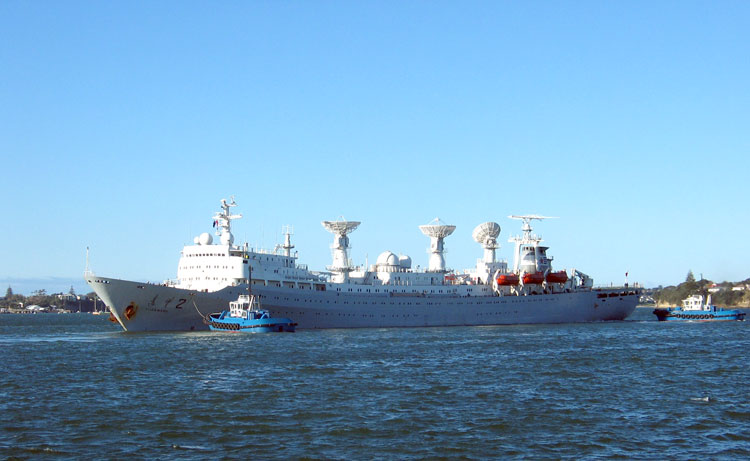 Chinese Yuanwang-class tracking ship
INS Dhruv is reportedly fitted with a primary X band and secondary S band active electronically scanned array (AESA) radar. In addition, it has a long open deck with ample space for installing multiple missile tracking antennas. It will have a crew complement of 300 personnel and will carry a single helicopter. As mentioned above, the ship will also have a special team from NTRO on board. The ship will be able to monitor India's developmental trials of missiles at greater ranges than ever before. Besides, it will have the ability to detect launches by Pakistan and China, giving India an early warning capability with its specialised surveillance systems of three dome-shaped antennas packed with sensors. The vessel will generate over 14 MW of power to power up its tracking radars, which will have multiple roles from tracking enemy missiles to accurately giving data on tests that are routinely carried out of indigenous strategic missiles.
China's missile tracking ships are the Yuan wang-class, first proposed by Zhou en-Lai in 1965 approved by Mao Zhedong in 1968. The first two ships of this class were built at the Jiangnan Shipyard, Shanghai and put to sea on August 31, 1977 and September 1, 1978 respectively. This gave China the ability to track launches and satellites over foreign territory. The first survey mission of the two ships was during May 1980 to track launches of indigenously developed communications satellites. After overhaul in 1986, these were used for supporting international satellite launches by China. The detailed specifications for every ship are not released by China but there is speculation that these two ships have a displacement of about 21,000 tons when fully loaded, a crew of about 470, length of some 190 metres, and propelled by one Sulzer Limited diesel engine with a top speed of 20 knots or 37 km/h.
Two more ships in the same class built by China State Shipbuilding Corporation were delivered to the China Satellite Launch and Tracking Control General on October 20, 1995 and July 18, 1999. Another two Yuanwang-class vessels were launched in Shanghai in early 2007. Why China is maintaining six vessels of the Yuanwang-class including the four overhauled versions of the original two is not difficult to understand. As part of Beijing's dream of global domination, it wants to control the seas of the world where it perceives conflicts that would also entail missile and space warfare. To this end, INS Dhruv is a good beginning for India. But we need to examine if just one ship of this type will suffice to meet our future requirements considering that such vessels will be primary target of the enemy.