In mid-2017, US offered US-India-Israel trilateral production of FICV under the India-US Defence Technology and Trade Initiative (DTTI) but little has happened over past so many years
| | |
| --- | --- |
| | The Author is Former Director General of Information Systems and A Special Forces Veteran, Indian Army |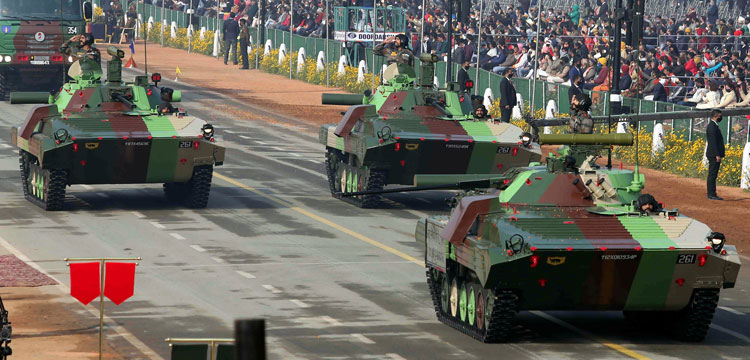 Infantry Combat Vehicle Ballway Machine Pikate (BMP-II), Sarath passes through the Rajpath, at the 72nd Republic Day Celebrations, in New Delhi on January 26, 2021.
News reports of March 20, 2021, indicate that Ordnance Factory (OF) at Medak is developing a new mine-proof Futuristic Infantry Combat Vehicles (FICV) and special high altitude vehicles that would be fielded by the India Army facing the Chinese aggression in Ladakh. The FICV will be equipped with Instant Fire Detection and Suppression system (IFDSS). The news report goes on to say that a prototype is being developed of a wheeled FICV to move on plain surface. The new FICV will be equipped with night vision capability, which gives the tank driver, commander, and gunman a 360-degree view even at night. OF, Medak has till now rolled out some 3,000 Sarath BMP 2 armoured vehicles though these weigh 14.5 tonnes apiece and are without night vision.
Research and development for Mine-Resistant Ambush-Protected (MRAP) all-terrain vehicle has been ongoing since long
The above news apparently on behest of the DRDO / Ordnance Factory Board (OFB) gives no details of development stage of the new FICV, time schedule of when it would be ready for trials, its weight and what has made the FICV mine proof. No details whatsoever have been mentioned of the special high altitude vehicles either – what type of protection would these offer, carriage capacity, weapon mounts and the like albeit they presumably will be of the all terrain vehicle (ATV) variety.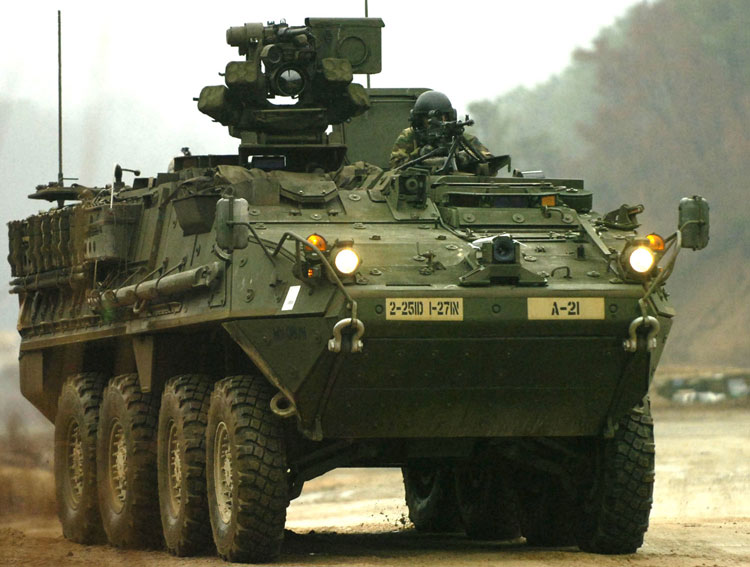 M1126 Stryker Infantry Carrier Vehicle
The Indian Army's quest for an FICV should be a case study on bureaucratic stonewalling; to not let a project through on various pretexts even though multiple private industry players had responded to the expression of interest (EoI) issued in 2009. Project FICV was to be on private-public partnership basis under Defence Procurement Procedure 2008 'Make' procedure for developing "high-tech, complex systems" through Indian industry. Based on the commercial bids in 2009, the FICV project was to be put on fast track looking at production of 3,000 FICVs to replace the upgraded BMPs at a cost of $10 billion.
Also, in mid-2017, US offered US-India-Israel trilateral production of FICV under the India-US Defence Technology and Trade Initiative (DTTI). But little has happened over past so many years, which is not surprising knowing how the 'deep state' functions. For the same reason, corporatisation of OFB will remain in limbo despite periodic political announcements, and if it does happen it will largely be cosmetic; the 'deep state' will not permit it otherwise. Incidentally, an internal report sent by the Army to the Ministry of Defence (MoD) last year among other things had mentioned that funds spent on faulty ammunition between 2014 and 2020 could have been used to buy at least 100 x 15mm medium artillery guns. What can be more shameful?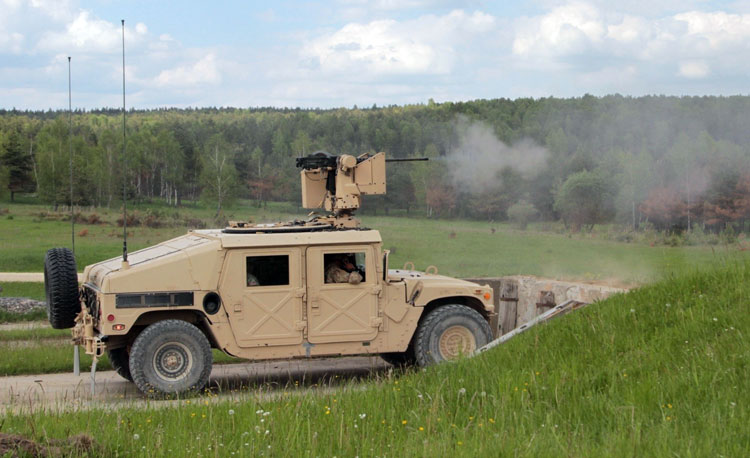 HMMWV
Research and development for Mine-Resistant Ambush-Protected (MRAP) all-terrain vehicle has been ongoing abroad since long. After several experiments and using various MRAPs, the US eventually fielded the 'Stryker' Infantry Carrier Vehicle (ICV) in 2003. Weighing 18 tonnes, it was modeled after the Canadian LAV III, which began service with the Canadian Army in 1999 and in turn is based on the Swiss Piranha III. In addition to the two-man crew, the Stryker can carry nine infantrymen, and in its primary variant is armed with an M2 .50-inch heavy machine gun or a 40-mm automatic grenade launcher housed in a remotely operated turret. More than a half dozen of combat brigades of the US Army are equipped with the Stryker ICVs. These combat brigades have been used in operations in Iraq and Afghanistan.
Terrain compatibility, weight requirements and operational environment for regions like Ladakh and elsewhere along the Line of Actual Control (LAC) will need to be borne in mind
Faced with the vulnerability of lightly armoured vehicle to mines, rocket-propelled grenades and improvised explosive devices (IEDs) in Afghanistan, the US Army added metal caging around the exterior of its Stryker ICVs causing incoming warheads to detonate prematurely when hitting the outer caging, before hitting the body of the ICV. In addition, the High Mobility, Multipurpose Wheeled Vehicles (HMMWVs) or 'Humvees' were introduced. However, these adjustments failed to protect against the most lethal IEDs, especially those buried in roadways that attack the underside of a vehicle.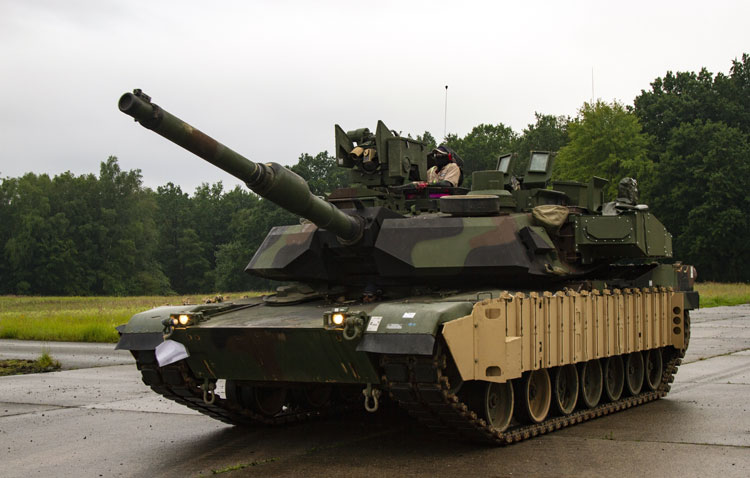 AN M1 ABRAMS MAIN BATTLE TANK IS BROUGHT TO AN INSTALLATION SITE TO BE EQUIPPED WITH ABRAMS REACTIVE ARMOR TILES WEIGHING NEARLY TWO TONS, THAT ARE DESIGNED TO DETONATE UPON IMPACT FROM ROCKET PROPELLED GRENADES FORCING EXPLOSIONS AWAY FROM THE TANK'S TRACKS
To cope with the above problem, the US Army and the Marine Corps fielded thousands of MRAP wheeled armoured vehicles that are designed with a V-shaped hull to deflect explosions upward and away from the troop compartment. These proved to be twice as effective in safeguarding troops as in M1 Abrams tanks and more than three times as effective as the armoured Humvees. To improve cross-country performance in operational areas like in Afghanistan, the US designed and began fielding lighter MRAP all-terrain vehicles or MATVs weighing 12 tonnes in 2009, which carries four soldiers plus a gunner to man and operate a top-mounted machine gun or grenade launcher.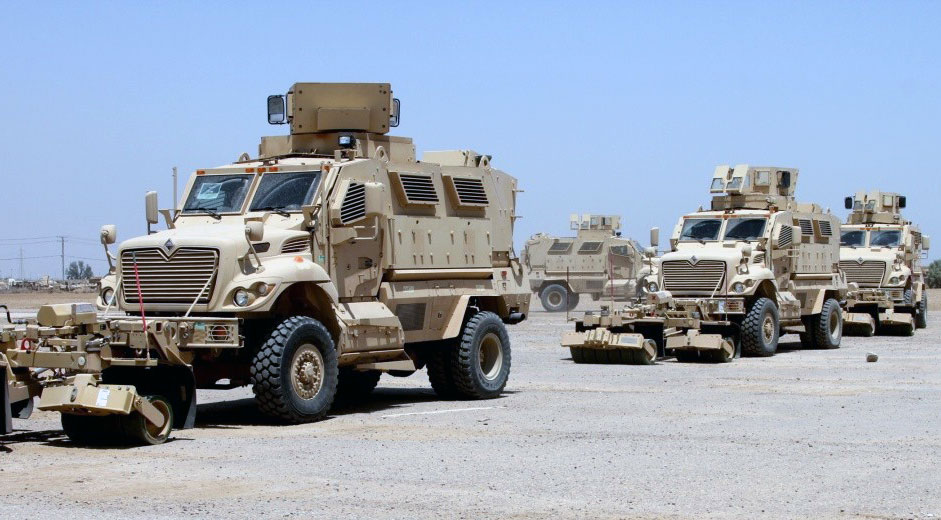 IRAQI SECURITY FORCES RECEIVE A SHIPMENT OF 30 MAXXPRO MINE-RESISTANT, AMBUSH-PROTECTED (MRAP) VEHICLES WITH MINE-ROLLER ATTACHMENTS
MRAPs are generally designed not as combat vehicles but rather as troop carriers. MRAPs of the US Army have multiple variants with models ranging from 9 to 25 tonnes. Variants include an urban operations vehicle that carries seven soldiers, a troop carrier that can transport 11 soldiers, and other models designed to clear mines and explosives. The OFB and OF, Medak need to keep all this in mind, learning from the US experience in Afghanistan, especially the mine-proofing or rather the mine-resistance part. Terrain compatibility, weight requirements and operational environment for regions like Ladakh and elsewhere along the Line of Actual Control (LAC) will need to be borne in mind. Besides, to the threat from mines, IEDs and projectiles, drones have been added.