Austin said elevating the India-US defence relationship is a priority for the Biden administration while describing the partnership as a stronghold of a free and open Indo-Pacific region
| | |
| --- | --- |
| | The Author is Former Director General of Information Systems and A Special Forces Veteran, Indian Army |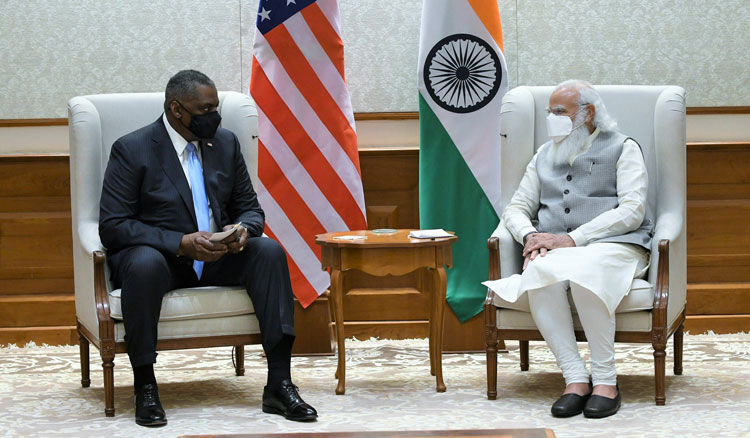 THE UNITED STATES OF AMERICA'S SECRETARY OF DEFENCE LLOYD J. AUSTIN III WITH INDIA'S PRIME MINISTER NARENDRA MODI ON THE FIRST DAY OF THE FORMER'S VISIT TO INDIA
US Secretary of Defence Lloyd J. Austin, who arrived in New Delhi on March 19, 2021 for his maiden visit, called on Prime Minister Narendra Modi and conveyed Washington's strong desire to further enhance the strategic partnership for peace, stability and prosperity in the Indo-Pacific region and beyond. He also conveyed Biden administration's commitment towards strengthening the bilateral defence relations between the two countries. According to a statement from the Prime Minister's Office, Modi "outlined his vision for the strategic partnership between the two countries and emphasised the important role of bilateral defence cooperation in India-US ties". Modi also "welcomed the warm and close relationship between the two countries, which is rooted in shared values of democracy, pluralism and commitment to a rules-based order". Modi asked Austin to convey his best wishes to American President Joe Biden.
On reaching New Delhi, Austin tweeted, "Thrilled to be here in India. The breadth of cooperation between our two nations reflects the significance of our major defence partnership, as we work together to address the most pressing challenges facing the Indo-Pacific region." According to Pentagon spokesman John Kirby, Austin told Prime Minister Modi that he "commended India's leadership role in the Indo-Pacific and growing engagement with like-minded partners across the region to promote shared goals."
Austin said there was no question of discussing the issue of sanctions because India was yet to get delivery of those systems
On March 17, 2021, Senator Bob Menendez, Chairman of the US Senate Foreign Relations Committee, wrote to Austin ahead of his India visit, saying, "If India chooses to go forward with its purchase of the S-400, that act will clearly constitute a significant, and therefore sanctionable, transaction with the Russian defence sector under Section 231 of CAATSA. It will also limit India's ability to work with the US on development and procurement of sensitive military technology. I expect you to make all of these challenges clear in conversations with your Indian counterparts." He urged Austin to "raise democracy and human rights concerns in your discussions with the Indian government" and mentioned that "we must acknowledge that the partnership is strongest when based on shared democratic values and the Indian government has been trending away from those values".

Indian Defence Minister Rajnath Singh and US Secretary of Defence Lloyd Austin at the bilateral meeting in New Delhi on March 20, 2021. Indian Defence Secretary Dr. Ajay Kumar, Secretary (Defence Production) Raj Kumar, Secretary, Department of Defence R&D and Chairman of DRDO Dr. G. Satheesh Reddy are also seen.
Austin was accorded a ceremonial Guard of Honour at New Delhi. He also laid a wreath at the National War Memorial. On March 20, Austin had wide ranging discussions with Defence Minister Rajnath Singh, wherein Austin said elevating the India-US defence relationship is a priority for the Biden administration while describing the partnership as a stronghold of a free and open Indo-Pacific region. But while both countries resolved to further strengthen their robust defence ties in the backdrop of China's aggressive moves and belligerence in the Indo-Pacific region, Austin raised the human rights issues and India's impending import of Russian S-400 missile systems.
Austin later told media during an interaction that he had conversations with Indian officials on the specific issue of human rights, adding, "India is our partner, and whose partnership we value. And I think partners need to be able to have those types of discussions. And certainly we feel comfortable doing that. And you can have those discussions in a very meaningful way and make progress." As for the S-400, Austin said there was no question of discussing the issue of sanctions because India was yet to get delivery of those systems.
It is high time US acknowledges the value India has for America in the fast changing geostrategic dynamics
Referring to the Quad as the key element of cooperation, Austin said, Prime Minister Modi has stated that India stands for freedom of navigation and over-flight, unimpeded commerce and adherence to international law. This is resounding affirmation of our shared vision for regional security in the Indo-Pacific." He also said, "I reaffirmed our commitment to a comprehensive and forward looking defence partnership with India as a central figure of our approach to the region." Rajnath Singh responded by saying India too is keen to work together with the US to realise the full potential of the bilateral comprehensive global strategic partnership with the agenda including furthering intelligence gathering and logistics cooperation.
Among all the semantics and flowery words to enhance the bilateral comprehensive global strategic partnership, the talk of human rights and threat of sanctions for importing S-400 systems was implicit and in poor taste. Why did Bob Menendez decide to overshadow Indo-US relations to raise these issues at this juncture? Also, Austin parroting Menendez was probably to safeguard his own appointment but was he doubly ensuring it by talking to media on these issues? Amid all the glib talk, Austin conveyed that India will be sanctioned once the Russian S-400 systems are acquired.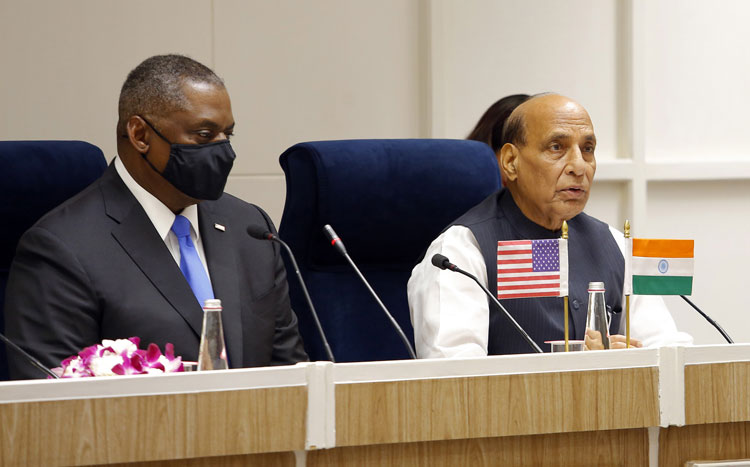 US SECRETARY OF DEFENCE AND INDIAN DEFENCE MINISTER AT JOINT PRESS MEETING
But let us take the human rights issue, for which the US needs to look itself in the mirror. This is not about Guantanamo Bay alone but the bombings of civilians in Iraq, Syria, Afghanistan, Yemen etc. What about the white racism in America – killings of blacks and now Asians? Austin having commanded US Central Command has nothing to say about the China-supported Pakistani genocide in Balochistan? On the contrary, he is set to revive military ties with Pakistan because of the mess the US finds itself in Afghanistan because of knee-jerk policies over the last decade plus.
America's Cold War against China-Russia is making the latter axis stronger. Apparently, the Biden administration feels it can take on the entire world while sanctioning their allies like India and Germany, not realising that their pals like Turkey and Pakistan will stab them in the back when the chips are down. But given the avoidable periodic pressuring of India, Washington apparently wants - India to wean away from Russia; bag the total Indian defence market, and; force India to ink a defence pact with the US. Is the Biden administration blind to geostrategic realities or is this a diversion from problems at home?
Finally, Austin referred to the Quad as the key element of cooperation but can he deny that the Quad is basically focused on waters of the Indo-Pacific. Austin said at the press conference on March 20, "We have never considered India and China were on the verge of a war." But while the US has one of the best intelligence base in the world and intelligence sharing agreement with India, how come the information that two PLA motorised divisions exercising in Aksai Chin were moving towards the Line of Actual Control (LAC) with India and more importantly that China had constructed a new road four kilometres short of Galwan was not shared with India. It is high time US acknowledges the value India has for America in the fast changing geostrategic dynamics and dispense with the rubbish policy of 'Mutt and Jeff' against India.