Both countries revive theirdefence partnership, rekindling technological co-operation and strengthening Indo-Pacific security
GERMAN FEDERAL MINISTER OF DEFENCE, BORIS PISTORIUS ACCORDED A GUARD OF HONOUR ON HIS VISIT TO INDIA, IN NEW DELHI ON JUNE 6, 2023.
Europe's biggest economy, a technological powerhouse and major European power, Germany is eager to revive the kind of defence ties that existed in eighties, when Germany not only supplied two HDW Type-209 diesel submarines to India but helped Indian naval shipyard Mazagon Dock manufacture two more submarines, besides German assistance in supplying and local manufacture of MTU engines for India's indigenous Arjun tank. However, the alleged irregularities and scandal in the HDW deal marred future India Germany defence cooperation. Consequently, India also declined the option of making two more submarines in Mazagon Dock. As a result India German defence ties went dormant and is yet to recover, though Germany tried it's best to bag the order for 120 European fighters to Indian Air Force, which ultimately was won by French Dassault with outright sale of 36 Rafales.
Germany's offer to produce "Made in India" submarines signifies a significant milestone in the revival of defence ties.
To revive the old relationship, which could be termed unparalleled, as in the height of cold war, Germany was the only Western country that helped India to produce Made in India submarines and for this agreed to assist MDL, Mumbai in capacity building to manufacture two more submarines. Then India's standing in the comity of nations was not so high as it is today. Since India wants to manufacture six advanced diesel subs locally, Germany has once again offered to manufacture all the six proposed subs with an Indian partner. Though Indian side remained silent over the German offer.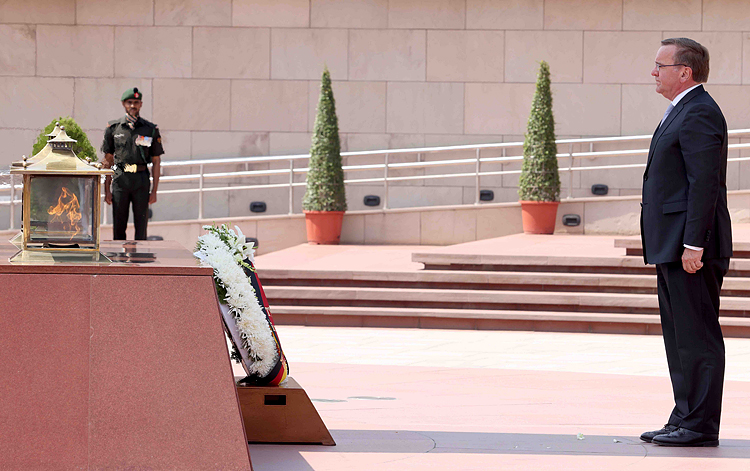 German Federal Minister of Defence, Boris Pistorius paying homage to the fallen heroes at the National War Memorial, in New Delhi on June 6, 2023.
However, the event in Mumbai on June 7, for signing of Memorandum of Understanding between MDL and TKMS during which German defence minister was present gave enough indication that MDL is confident of grabbing the over $5 billion dealfor the possible construction of six submarines. Said Boris Pistorius, "we have thus sent a very important signal today, a milestone, one could say, for a new flagship project in a key technology. The Indian partners were full of praise for the German technology, the reliability and the longevity of the equipment, submarines, and ships of the last decades."
The strategic partnership between Germany and India gains momentum as both sides work towards revitalising their dormant defence cooperation.
To promote this deal under the Project 75-I programme of Indian Navy, estimated to be worth 43,000 crores, the German defence minister visited India from June 5-8, 2023. During his meeting with Indian defence minister the German defence minister made a strong pitch for German offer of producing Made in India German submarines of Thyssenkrupp Marine Systems. Though there are other strong contenders for the submarine deal, German defence minister was hopeful of bagging the deal during his media interaction. The RFP for the deal was first issued almosteight years ago and since then there seems to be no forward movement. Now the Indian Ministry of Defence has extended the time to submit fresh bid till August1, 2023. Earlier there were reports that Indian defence ministry officials along with naval commanders were negotiating government to government deal with their German counterparts. The German defence minister claimed good progress in these negotiations. These submarines are to be made under the Ministry of Defence Strategic Partnership model. The company has chosen MDL as its strategic partner in India. Other contenders are from Spain (Navantia) and South Korea (Daewoo) Naval experts say that after the withdrawal of French Naval Group, Germany has a better chance of grabbing the over $5 billion deal. Sources said that Indian Shipyard Mazagon Dock had gained good experience of manufacturing theGerman submarines, but this time the government is also considering the issue of utilizing theprivate sector shipyards. The Government to Government route adopted for acquiring the French Rafale fighters may also be considered to expedite the process as the Indian navy submarine strength has gone down to precarious low level. Indian Navy's four German submarines are now over three decades old. Six Russian Kilo class submarines are also crossing their service life. They all need urgent replacement.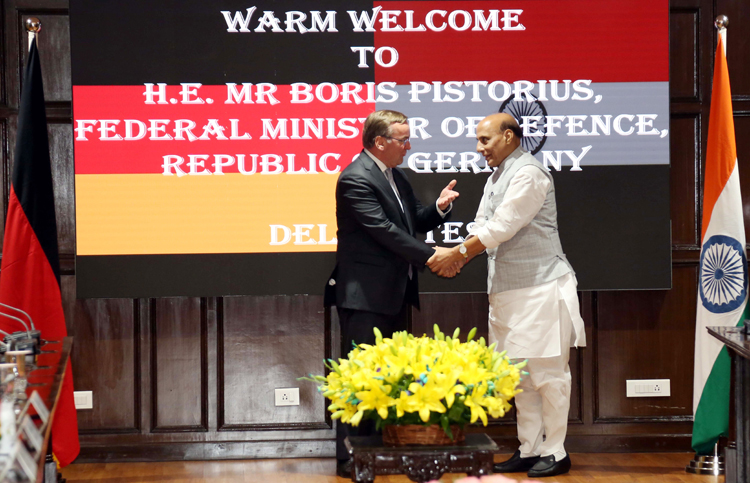 Defence Minister Rajnath Singh with German Federal Minister of Defence, Boris Pistorius ahead of their bilateral meeting, in New Delhi on June 6, 2023.
To revive the dormant defence cooperation both sides had formed a High Defence Committee way back in 2006, though India and Germany have strategic partnership since 2000,which is being strengthened through intergovernmental consultations since 2011 at the level of Heads of Governments. Though economic and diplomatic relations continue to be in excellent health, with Germany becoming India's largest trade partner in European Union worth Euro 30 billion. But defence cooperation at the ground level could not pickup. The last time a German defence minister, Ursula Von de Leyen, visited India was in 2015, when she not only lobbied for European fighters for Indian Air Force, but also pushed for the submarine deal.
Germany demonstrates its keen interest in the Indo-Pacific region through planned joint naval exercises and a commitment to deepen military cooperation with India.
Earlier Germany had put many restrictions in its arms export policy but after the Russia-Ukraine war Germany has lifted many controls. Hence, Germany is ready for transfer of technology in any weapon platform manufacturing programme. Germany wants to play a bigger role in Indo-pacific hence the German forces would like to deepen cooperation with India. For this Germany would be holding joint naval exercise with India next year and send its warships to India on goodwill visits.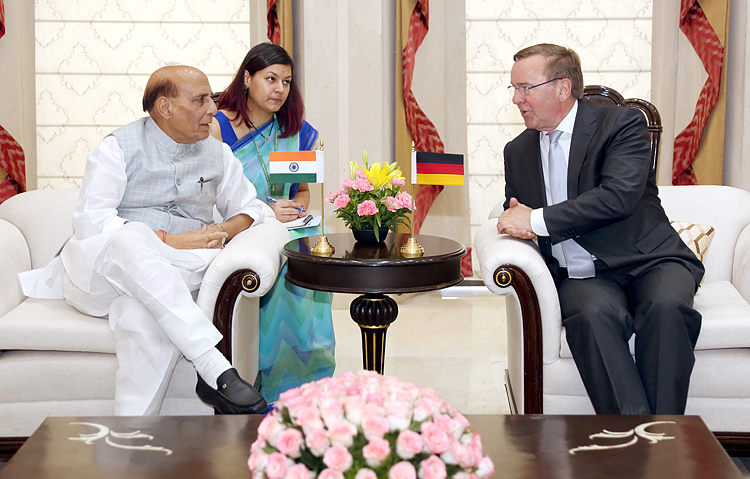 Defence Minister Rajnath Singh in a bilateral meeting with German Federal Minister of Defence, Boris Pistorius, in New Delhi on June 6, 2023.
Pistorius told Indian defence minister that our connection, our strategic partnership should and must gain momentum. Defence is a pillar of this partnership.Germany wants to intensify military cooperation with other branches of navy and the Air Force as whole. To strengthen cooperation between German and Indian defence industries, Indian defence minister apprised his German counterpart of investment opportunities in India's two defence corridors, one in Tamil Nadu and the other in Uttar Pradesh. Indian defence industry could participate in the supply chains of German defence industry and add value to its ecosystem, besides contributing to supply chain resilience. Rajnath Singh also stressed that India and Germany could build a more symbiotic relationship based on shared goals and add complementarity of strength.
German and Indian defence firms explore potential joint ventures to address European security needs, leveraging India's skilled workforce and competitive costs alongside Germany's technological expertise and financial strength.
In the aftermath of Russia Ukraine war, NATO members feel increased threat perception, hence they are strengthening their military capabilities, which is an opportunity for Indian and German defence firms to work in a joint venture mode to meet the needs of European countries,India could be an ideal location for these joint ventures as India offers skilled workforce and competitive costs whereas Germany has high technology and financial strength.

MEMORANDUM OF UNDERSTANDING (MOU) SIGNED BETWEEN MDL AND Thyssenkrupp Marine Systems (TKMS) in the presence of the German Defence Minister Boris Pistorius.
Germany wants to deepen strategic and defence partnership with India in view of shared concerns in security arena regarding current situation in Indo-pacific maritime area specially the Malacca Strait, and the effects of shipping traffic on Indian waters. That is why the two countries have planned naval interactions in Indo-pacific through joint exercises. Shared strategic interests and concerns would lead to deeper defence cooperation and interdependence between the European and Asian power.