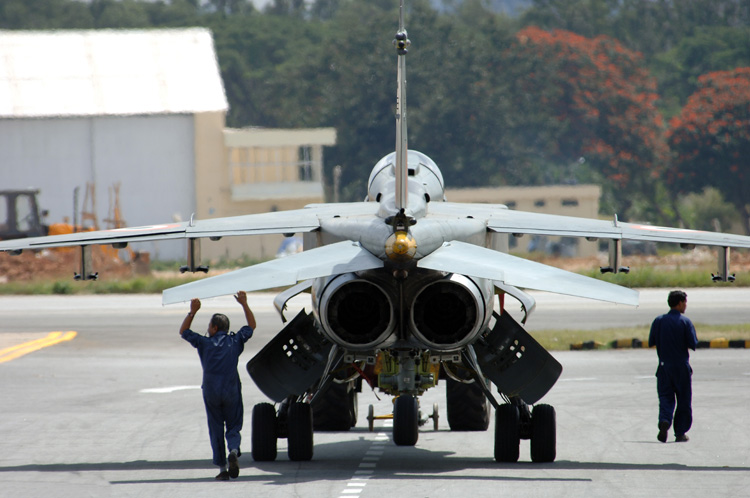 Adour powered Jaguar at HAL
The world is reeling under the effects of a continuing pandemic and economies are slowly rising from this crisis, finding more resilient and innovative ways to survive and succeed. Amidst this, India is pursuing its 'Atmanirbhar Bharat' vision, which is also reflected strongly in its outlook for the future of the defence sector.
The Golden Opportunity:
Not surprisingly, today, India has the third largest Army, the fourth largest Air Force and the seventh largest Navy in the world. India is fifth on the list of the world's biggest military spenders. Riding on these strengths, the Indian government envisages a robust defence industrial base to redefine the future of combat.
When it comes to defence, India is the world's second largest importer of major arms, just behind Saudi Arabia. The country is at the right juncture to build a vibrant local defence industry ecosystem that could support both domestic and export demand. For any country in the world, indigenisation is a time-consuming process. There are two ways to circumvent the limitations of time – (i) facilitate quick modernisation and buy off the shelf, or (ii) partner with supportive nations and companies to accelerate the indigenisation process as far as practicably possible. This still generates the skills, capabilities, technology and Intellectual Property (IP) in India, with benefits to the much wider economy, as well as generating self-reliance and potential exports to third countries.
The time is right for pursuing opportunities in partnership, co-creation and co-production. For a self-reliant India, a robust local manufacturing sector can also act as a catalyst in driving economic growth.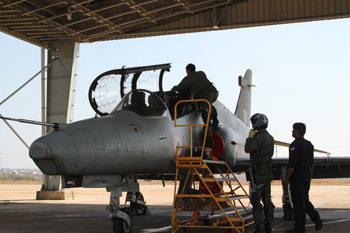 Adour powered Hawk-IAF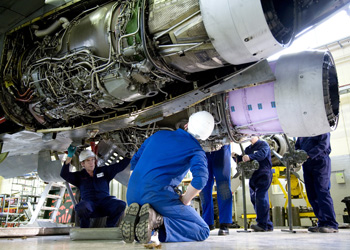 Adour Maintenance
Technology at the core:
At a time when India is keen on building its domestic defence manufacturing capabilities, it is of utmost importance that the country invests in technology which is futuristic. India today has the width and weight to invest in co-creation programmes through collaboration with willing global players to co-develop relevant technologies and intellectual property (IP) in critical areas. This will catapult India's vision to create a strong ecosystem and commercialise production locally, and eventually use this base to boost global supply chain and export capabilities.
Building the broader ecosystem:
Being a global aerospace and engine technology leader, Rolls-Royce has been working consistently with industry partner to build capabilities and create an ecosystem of suppliers that match global quality and delivery standards.The company has been an early proponent of 'Make in India'. For the last 60 years, Rolls-Royce engines have been made in India, under license by Hindustan Aeronautics Ltd. (HAL), India's largest defence manufacturer. We have strong joint ventures for manufacturing and work closely with supply chain partners to deliver global quality standards from India. We have also nurtured engineering talent in Bangalore and Pune to work on global research and development (R&D) programmes.
Strengthening the ecosystem further in the years ahead will be critical to optimising opportunities that arise in the future, while also contributing to economic revival in a post-COVID time.
The Road Ahead:
Rolls-Royce has been India's military partner for over eight decades, with over 750 Rolls-Royce engines of 10 engine types powering aircrafts of the Indian military. Our MTU brand of engines power India's indigenously developed Arjun Main Battle Tanks as well as several Indian Coast Guard and Navy ships.
With a legacy partnership that rests on many years of capability development and co-manufacturing, Rolls-Royce is committed to partnering India's progress. We believe the future will be all about 'Creating in India' in collaboration with willing global players, with India co-owning the Intellectual Property (IP) in areas of strategic importance. This will catapult India's vision to create a strong ecosystem and commercialise production locally, and eventually use this base to boost global supply chain and export capabilities.
We have a strong base of capabilities across technology development to supply chain and manufacturing, built over many years. Add to this our proven commitment to India through successful transfer of whole engine technology. We have also successfully participated in and led international combat engine collaborations in many markets. We believe, therefore, that Rolls-Royce is well positioned as natural partners in India's defence growth and 'Atmanirbhar Bharat' journey.