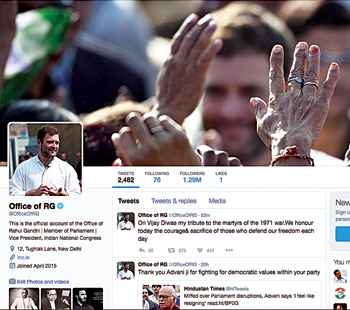 The official Twitter handle of Congress Vice President Rahul Gandhi was hacked with a series of obscene tweets posted on the timeline. The offensive tweets were related to demonetisation and Gandhi's family. So also liquor baron Vijay Mallya and senior journalist Barkha Dutt's account were also hacked reportedly by the same Legion group.
India's Union Minister of Information Technology Ravi Shankar Prasad, has responded to the claims of hacker group Legion by ordering a complete audit of India's IT and banking infrastructure and calling for an overhaul of India's 16-year-old Information Technology Act.
While the Twitter hacks are in themselves disturbing, the group's claims of infiltrating the IT infrastructure of government and banking institutions in our country are more worrying.
The group has claimed that the Indian banking system was already compromised, claiming to have access to data from NPCI (National Payment Corporation of India) and IDRBT (Institute for Development and Research in Banking Technology) servers. The group also claimed that other hacking groups will bring the Indian banking system "down to its knees". They add that they have encryption keys and certificates used by some banks in India, as well as root access to NPCI and IDRBT servers. If true, it means that the group can masquerade as the bank, generate fraudulent transactions, launch sophisticated phishing attacks and more, while leaving no trace of their actions.