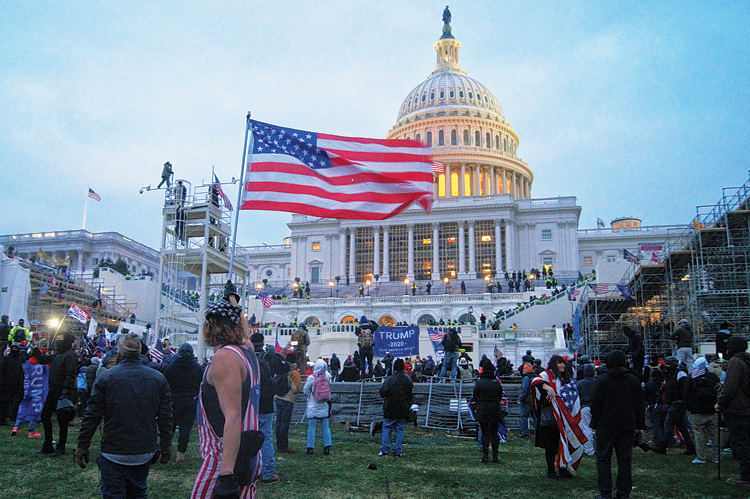 Supporters of President Donald Trump caused chaos in the US capital on January 06 when a pro-Trump mob broke into the US Capitol, some wielding lead pipes, zip ties, explosives and chemical irritants. Law enforcement said they were caught off guard. John Sandweg, a former acting Director of Immigration and Customs Enforcement said, "This was just a stunning failure." Malcolm Nance, a former US intelligence and counterterrorism officer who runs a nonprofit that monitors far-right extremist online networks, said warnings of possible violence at the Capitol were apparent on social media.
Before Congress convened to count and debate Electoral College votes that confirmed President-elect Joe Biden's victory in the November election, Trump supporters flooded social media sites known for far-right conspiracies to make plans to converge on the city. Among those who descended on the Capitol were known white supremacist figures. The Department of Homeland Security issued a report last October dubbing white supremacist extremists "the most persistent and lethal threat in the homeland." Five people died from Wednesday's violent insurrection, including a Capitol Police officer.
Given the level of animosity surrounding this year's joint session of Congress, during which Republicans in both chambers objected to the counting of key battleground states where Trump lost to Biden, Nance and Sandweg said the Department of Homeland Security could have designated it as a "national special security event." That would have allowed the Secret Service to take the lead in coordinating security. With some confusion about what actually happened, the country has been left to speculate as to why Capitol Police may have eschewed offers for assistance from other law enforcement agencies and the National Guard in the days before the attack. For many, including racial justice activists, the police's lax preparation is one example in a long history of disproportionate treatment of white and Black demonstrators.
The siege prompted widespread criticism around the world, the resignations of three top Capitol security staff, including Capitol Police Chief Steven Sund, as well as at least 10 Trump administration officials. Several Capitol police have been suspended and others are under investigation.