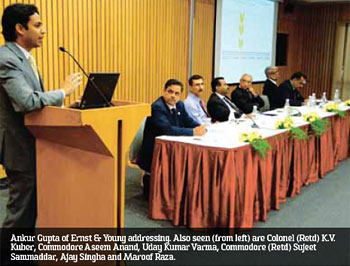 The National Small Industries Corporation (NSIC) is organising the third MSME Defexpo at Bengaluru from December 12-14, 2013, to provide yet again a platform to the defence original equipment manufacturers (OEMs) across the world to meet the Indian industry who could be their potential offset partners. A curtain-raiser ceremony held at New Delhi on October 23, witnessed many industry experts throwing light on the opportunities lying ahead in the defence and homeland security market in India.
The event aims at giving boost to the Indian Government's indigenisation target as the Ministry of Defence (MoD) has set a goal of sourcing 70 per cent of defence equipment from Indian companies, public, private and micro, small and medium enterprises (MSMEs), by 2020. Further, the new public procurement policy requires all Central Government ministries and public sector undertakings to source at least 20 per cent of their total annual purchases from MSMEs.
An international MSME subcontracting and supply exhibition for defence, aerospace and homeland security, the event is being supported by the Union Ministry of MSME and the Government of Karnataka. While the first MSME was held at Hyderabad in 2011, the second was held at Bangalore which attracted 240 exhibitors and 15,000 business visitors and help facilitate more than 300 buyer-seller meetings. This time too there would be delegates from across the globe, including the US, UK and Israel, and the MSMEs will get a chance to showcase their capabilities, find new buyers, finalise deals and exchange ideas for developing new products. Among the US companies, Honeywell has agreed to be a platinum sponsor.
At the opening address during the curtain raiser ceremony, Colonel (Retd) K.V. Kuber, Adviser of NSIC highlighted on the MSMEs role in nation-building. Strategic affairs expert Maroof Raza gave detailed presentation on the security needs of India stating that India should spend more on homeland security as the possibility of conventional wars are bleak. Only 0.95 per cent of Indian GDP is spent on homeland security, he said and pointed at the need to concentrate on how to curtail insurgency in Kashmir, multiple secessionist movement in the Northeast, left-wing extremism, etc. Protection of industrial infrastructure, construction sites, extortion, employees kidnapping for ransom and militant groups like the National Democratic Front of Bodoland (NDFB) are the other areas to be looked at. He said that both technology and training are important and companies should look at the training aspect too while selling a product. Raza said there is immense scope for OEMs in the homeland security market including weapons and equipment, electronic surveillance and monitoring, chemical, biological, rediological, nuclear explosives (CBRNEs) protection, private security, security of critical infrastructure, railways, civil aviation, intra-city transit activity, maritime, integrated security systems for business protection and a lot more.
Ankur Gupta, Manager, Aerospace and Defence, Ernst & Young, made a lucid presentation on Indian offsets and said despite foreign OEMs should have patience as the Indian defence market is a cake big enough for all to have a pie. He said that there is the need to now look beyond Russia, move to other geographies and at the same time be self-reliant. The Indian Government, he said, is very flexible in its offset policy and advised foreign OEMs to partner with Indian industries as within the defence offset guidelines, a multiplier of 1.5 for sourcing from SMEs has been announced with the aim to incentivise global players to discharge offset obligations. It may be mentioned that the 1.5 multiplier is allowed when an offset investment takes place in the form of a purchase, foreign direct investment (FDI) and investment in 'kind' in these enterprises. He concluded by saying that NSIC will act as an aggregator in bringing together 20 MSMEs to help foreign OEMs strike a partnership deal.
Commodore Aseem Anand, Principal Director, Directorate of Indigenisation, said that indigenisation is not possible without the MSMEs active support. Indian Navy, he said, gets large parts from the MSMEs and the focus now is on long-term relationships. Commodore (Retd) Sujeet Sammaddar, CEO, ShinMaywa Industries India, said that offsets should be seen as an opportunity and not an obligation by the foreign OEMs. Challenges in the form of taxation, industrial licensing and certification are though faced by MSMEs, they are the backbone. He said ShinMaywa has listed out 115 MSMEs and already visited 47. Ajay Singha, Executive Director, American Chamber of Commerce, informed that the US industries will have a good presence at the event in December and requested the organisers to ensure that the Department of Defence Production is present. According to him, the presence of key advance suppliers who have the bandwidth with big players is also important.
Uday Kumar Varma, Secretary, Planning and Marketing, NSIC, proposed the vote of thanks and said that India's target to achieve 70 per cent indigenisation and the offset obligations for foreign OEMs will be achieved by the MSMEs.