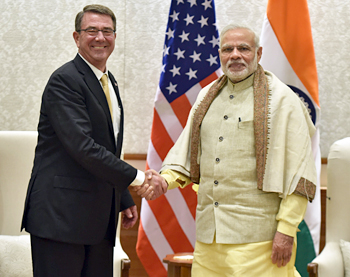 Ashton Carter calling on the Prime Minister Narendra Modi in New Delhi on December 8, 2016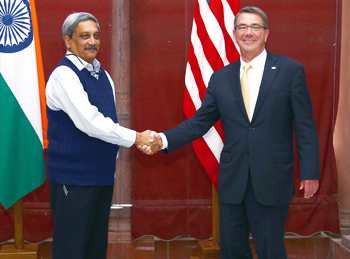 US Secretary of Defense Dr Ashton Carter with Defence Minister Manohar Parrikar in New Delhi on December 8, 2016
After contributing immensely to Indo-US defence relations in his various avatars in the Pentagon, and hence giving a solid content and meaning to the India-US strategic partnership in the 21st century described by President Barack Obama as defining partnership of the present century, the outgoing US Defense Secretary Ashton Carter selected India among Japan, Israel, Jordan and the UK, as one of his farewell visits to countries with whom he had taken exclusive interest in laying an unshakeable foundation and creating strong bonds of relationship which can only be weakened at the cost of US national strategic interest. Carter's farewell visit to India on December 8, 2016, truly reflected the new found warmth and strategic nature of India-US defence relationship which has evolved to such great heights from where it will be difficult to dislodge, even by the most "mad" US Defense Secretary.
Ashton Carter grew from the ranks in Pentagon leadership hence his long and deep experience in dealing with international security issues could genuinely assess the significance of developing strong defence relations with India, which had from the very beginning of the 21st century given hints that India is not only going to be the biggest emerging defence market in the world but also the most important strategic partner of US in the Asia-Pacific region. Carter literally was able to take India out of the lap of Russia and reduce its dependency on them, which made Russia so jealous that it started courting Pakistan just to convey a message to India.
In less than 24 months of assuming the role as chief of the Pentagon, Carter made a record three trips to India and had unprecedented seven meetings with his Indian counterpart Manohar Parrikar. During his various stints in Pentagon, Carter had very rich experience of dealing with India. As Pentagon said in a fact sheet before Carter reached India that he "spearheaded efforts to deepen and broaden" bilateral defence cooperation with India. The fact sheet said that as a result of Carter's efforts US and India have improved mutual understandings of their respective defence institutions, are exchanging perspectives and coordinating policy approaches in new areas, reinvigorating military to military engagements, launching path-breaking cooperative technology projects and pushing bilateral defence trade to unprecedented levels.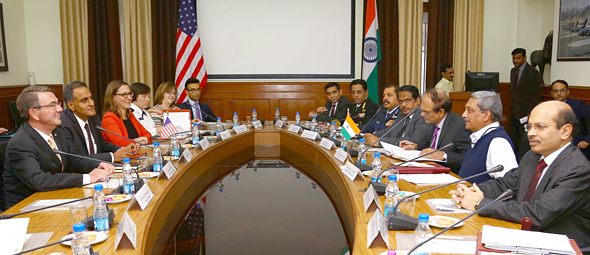 Defence Minister Manohar Parrikar and the US Secretary of Defence, Dr Ashton Carter, at the delegation level talks in New Delhi
Pentagon further elaborated, "Today the United States and India are closer than ever to realising the joint vision for the Asia-Pacific and the Indian Ocean region." Exuberant after Carter's farewell meeting in New Delhi, the two sides issued a joint statement claiming that Indo-US relations have moved along a remarkable upward trajectory. The joint statement said, "Marked progress on agreements, including the signing of a Defence Framework Agreement in 2015, have laid a blueprint for collaboration between our defence establishments and enabled deeper cooperation. Joint exchange opportunities – in both personnel and training exercises – have expanded and strengthened our bilateral cooperation. The recent signing of the Logistics Exchange Memorandum of Agreement (LEMOA) has facilitated additional opportunities for practical engagement and exchange.
From almost zero defence trade relations between India and the US in the beginning of 21st century, the defence trade grew to $1 billion in 2008 and from where it skyrocketed to almost $14 billion in 2016
Hence in this background, Carter gave a new meaning and relevance to developing strong bonds of friendship with India, the US was in need of capturing a big defence market and India needed high technology and latest weapon systems. From almost zero defence trade relations between India and the US in the beginning of 21st century, the defence trade grew to $1 billion in 2008 and from where it skyrocketed to almost $14 billion in 2016.
During his last official tour as Defense Secretary to India, Carter and Parrikar were able to put their final seal on the US decision to grant India as a 'Major Defence Partner', which was first announced during Prime Minister Narendra Modi's last visit to the United States. In his almost thanksgiving speech after meeting Parrikar and his top aides in the Ministry of Defence, Carter said: "Today our defence relationship takes a major step as we designate India as a Major Defence Partner."
Significantly as Ashton Carter was preparing to meet Parrikar, a powerful US congressional committee had asked Carter and the Secretary of State to take steps necessary to recognise India as America's 'Major Defence Partner' in a bid to strengthen bilateral security cooperation. The 'Major Defence Partner' status, that was given a final shape during Carter-Parrikar meeting, is unique to India and institutionalises the progress made to facilitate defence trade and technology sharing with India to a level at par with that of the United States' closest allies and partners, and ensures enduring cooperation into the future, according to the joint statement.
Though his first stint with the Pentagon was in the early 1990s as Assistant Secretary of Defense for International Security Policy from 1993 to 1996 during which he was responsible for policy regarding former Soviet States, strategic affairs and nuclear weapon policy, he again joined the Pentagon as Under Secretary of Defence, acquisition, technology and logistics from April 2009 to October 2011 during which he oversaw procurement of all technology systems, services and supplies, bases and infrastructure and energy and environment and more than $50 billion annually in research and development. He was further elevated to US Deputy Secretary of Defense from October 2011 to December 2013 during which he served as Chief Operating Officer of the Pentagon and managed over $600 billion budget, 2.4 million civilian and military personnel and global operations.
During this stint Carter gave a further push to defence relations with India by launching Defence Trade and Technology Initiative (DTTI) Pentagon described this as first technological handshake in 2012, under which the two countries launched seven joint working groups to explore collaborative projects and programmes and signed science and technology government to government project agreements titled the Next Generation Protective Ensembles and Mobile Hybrid Power sources, worth about $2 million. The Carter-Parrikar meeting took note of this and said, "With regard to technology, both sides welcomed the tremendous progress achieved under the DTTI and committed to explore new proposals and other innovative opportunities for co-production and co-development. The emergence of DTTI as an integral and enduring component of India-US security cooperation is a sign that the relationship has matured to a level of strategic importance. DTTI will strengthen India's 'Make in India' initiative and both sides committed to convening all new DTTI working groups prior to the next DTTI Group meeting anticipated for February 2017."
It is often said that there is a bipartisan support in the US Congress for strong defence and strategic partnership between the US and India, hence it is expected that the solid foundation laid by Ashton Carter and the direction given by him in the changing geopolitical context for the need of a deeper strategic cooperation between the two democratic giants would not be derailed by the next Defense Secretary of the Donald Trump administration. In a way Ashton Carter's visit to India has in fact reaffirmed the road map for the next US Defense Secretary to follow.