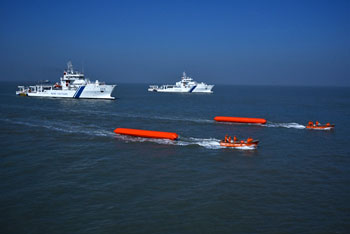 India's energy requirements (approximately 70 per cent) are met by oil resource that is being imported into our country by ships. The transportation of oil through sea route is fraught with inherent risks and requires preventive measures to be taken both by the ship-owners and the oil receiving facilities inside port.
The Indian Coast Guard (ICG) is the central coordinating authority for oil spill response and has put into place a robust pollution response system to check the preparedness levels of oil handling agencies at regular intervals. The Gulf of Kutch houses ecologically sensitive mangroves and coral reefs, which are fraught with danger in case of an oil spill. To address issues relating to an oil spill, the sixth edition of National Level Pollution Response Exercise (NATPOLREX-VI) was conducted by the Indian Coast Guard on December 20-21, 2016, off Mundra in Gulf of Kutch. Representatives of various ministries and departments of central and state governments, ports, oil handling agencies and other stakeholders participated in the exercise. In addition, representatives of Oil Industry Safety Directorate and observers from three foreign nations also witnessed the NATPOLREX-VI exercise. Some 125 personnel from various agencies/stakeholders participated in the exercise.
Nine Coast Guard ships, two Coast Guard helicopters, two Dornier aircraft, one Indian naval ship, one air force aircraft (C-130J Super Herculeus), three tugs from KPT/Mundra Port, one tanker of the Shipping Corporation of India, 2 MSV/OSV from other resource agencies and teams for beach cleaning from state government also participated in the exercise.
The highlight of the exercise was participation of ICG pollution control vessels (PCV) and integration of air force into the Oil Spill Disaster Management System for aerial assessment/delivery of oil spill dispersant (OSD) for mitigation of the spilled oil. The NATPOLREX-VI was precluded by a table-top exercise on December 20, 2016, for simulation of the situation.
The Indian Coast Guard assumed responsibility of protecting marine environment in her maritime zones on March 1, 1986, when these responsibilities were transferred from the Ministry of Shipping. Subsequently, the Coast Guard prepared the National Oil Spill Disaster Contingency Plan (NOSDCP) for combating oil spill disaster at sea, which was approved by the committee of secretaries in 1993. The Indian Coast Guard has also established three Pollution Response Centres at Mumbai, Chennai and Port Blair and has the capability to respond to oil spills up to 10,000 tonnes with assistance of various agencies.
Chief Minister of Gujarat Vijaybhai R. Rupani reviewed the preparedness of all agencies during the exercise on December 21, 2016, from onboard Coast Guard ship Sarathi along with Rajendra Singh, PTM, TM, the Director General of the Indian Coast Guard.