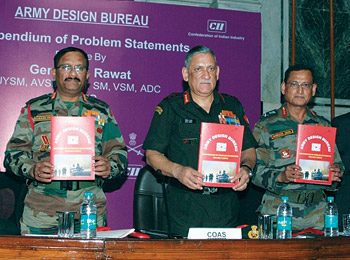 General Bipin Rawat chaired a combined session of 'the user and the provider' attended by renowned industrialists, academicians as well as the decision making hierarchy of the Army and released the 'Compendium of Problem Statements Vol II', which has been prepared by Army Design Bureau (ADB) after detailed interaction with all stakeholders including soldiers deployed in field.
The first volume, with 50 problem statements released on December 5, 2016, was received with tremendous amount of enthusiasm, 28 new problem statements have now been added which will enable industry and academia to understand the 'Felt Needs' and come up with indigenous solutions incorporating the latest technology trends for India's military power.
Giving feedback on the first volume, industrialists and academicians expressed keenness to step up R&D for solutions to Army's problems and deeply appreciated Army's efforts calling the raising of ADB as a path-breaking step.
R.S. Bhatia pointed that India is probably the only great nation where industrial might of the country is not yet reflected in its defence forces.
General Rawat took the opportunity to challenge the industry and academia by asking them to align the solutions to the stated problems. "We want to fight next war with technology on our side and not like the past", he said. He sought efforts towards the most important need to bring in transparency of the battlefield to allow better decision making. Pointing out the drawbacks in trial equipment, he asked the industry and academia to focus on the fact that Indian Army will fight its wars in varied terrain and weather conditions seeking them to come up with robust, rugged, miniaturised yet technologically compatible solutions. He further nudged them to come up with a 'Society for Defence Manufacture' as the next step.