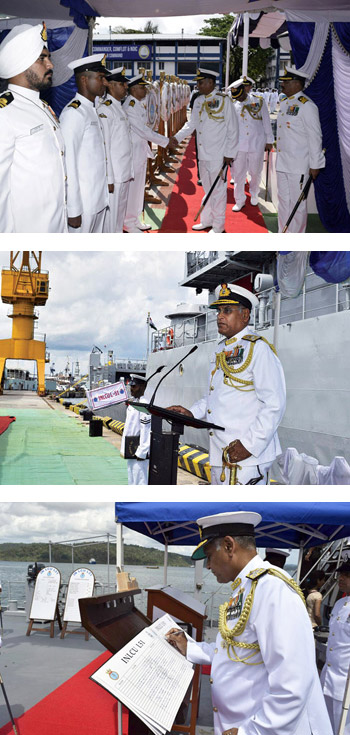 INLCU L51 was commissioned into the Indian Navy on March 28, 2017, by Vice Admiral Bimal Verma, Commander-in-Chief, Andaman and Nicobar Command, at Port Blair. The commissioning ceremony was attended by Vice Admiral Dilip Deshpande, Controller of Warship Production and Acquisition, Rear Admiral V.K. Saxena (Retd), Chairman and Managing Director of the Garden Reach Shipbuilders & Engineers Limited (GRSE) and other senior officers from the Indian Navy.
It is the first of the eight ships of the LCU Mk IV class. It has been built by GRSE, Kolkata. Conceived and designed indigenously, the commissioning of the ship adds a feather to the glorious chapter in the nation's 'Make in India' initiatives and indigenisation efforts in the field of warship design and construction. With a displacement of 900 tonnes the magnificent ship spans 62.8 m in length and 11 m in breadth.
The ship is propelled by 2 MTU diesel engines of 1,840 kW rating and can sustain speeds up to 15 knots. The ship has been built to assist in amphibious operations by carrying out beaching operations and has an endurance of 1,500 nm. The ship will also play a key role in carrying out maritime surveillance of Andaman and Nicobar Islands for preventing anti-poaching, illegal fishing, drug trafficking, human trafficking and other illegal activities. It will also enhance the capabilities of the Andaman and Nicobar Command in humanitarian assistance and disaster relief (HADR) operations.
The armament onboard the ship consists of two 30mm CRN-91 guns manufactured by the Ordnance Factory in Medak. The gun is controlled by an electrical day-night fire control system namely stabilised optronic pedestal (SOP) manufactured by the Bharat Electronic Limited. The ship is also equipped with 12.7mm heavy machine guns and 7.62mm medium machine guns. In addition, the ship is fitted with state-of-the-art electronic warfare suite for early detection of adversaries. The ship is also equipped with Integrated Platform Management System and Integrated Bridge System for automated controls and quick functioning. INLCU L51 is commanded by Cdr Vishwesh S. Nadkarni.