In accordance with India's 'Act East' policy, relations with Indonesia, Malaysia, Thailand, Singapore, Vietnam, and the Philippines have developed and strengthened significantly.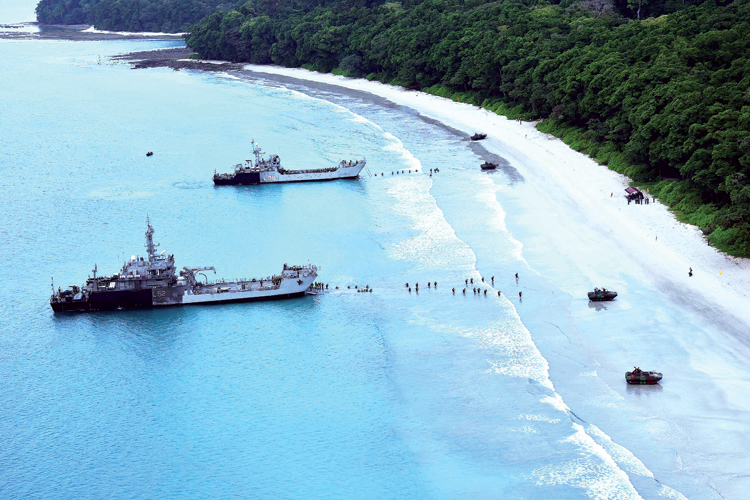 The five-day exercise DANX 2017 in progress
The Andaman & Nicobar Islands perched at the junction of Bay of Bengal and the Andaman Sea has remained strategically important for the times immemorial for the empires, discoverers, occupying forces and the governments who ruled the Islands. From the maritime perspective the first outpost of the Indian Navy was established during mid-1960s. A small naval establishment under the charge of Naval Officer-in-Charge was set up as a reporting station. A few patrol crafts and seaward defence boats built by Garden Reach Shipyard were based. Complete supplies, including the fresh and dry rations, milk, etc. for the local population were transported from the mainland through Ferries doing rounds from Calcutta and Madras and managed by the A&N Administration. Flat bottom Landing Ship Tanks were running naval logistical trips from Visakhapatnam.
Towards the end 1960s Indian Navy began to gradually increase security measures, infrastructure, facilities, etc. Two Naval Garrisons of Company strength were established; one at Port Blair and the other at Kamorta Island in Car Nicobar. Naval personnel manned these Garrisons and wore Army uniform with naval ranks and were deployed to set up Camps on surveillance duties to various Islands. Slowly the Naval Garrisons were disbanded, and Army presence began to build gradually.
The fledgling Eastern Naval Command began to grow and the Eastern Fleet slowly built up its force levels of Amphibious Ships, Patrol Vessels. Under the overall directions of the Chiefs of Staff Committee, Tri-Services Amphibious Exercises (AMPHEX) began to be held at regular intervals and the Indian Navy assigned the task to co-ordinate. For several years since its inception AMPHEX were viewed with strong suspicion by the South East Asian countries like Myanmar, Indonesia, Thailand, even Singapore. These countries saw the exercises as aggressive and expansionist design of their big neighbour, India. Mutual trust and relations started to grow when India instituted numerous confidence building measures under its 'Look East' policy first propounded by former Prime Minister P.V. Narsimha Rao. Since then suspicions have been replaced by regular maritime exchange programmes, visits, structured bi-lateral and multi-lateral exercises to mutual advantage. Bi-lateral exercises between India and Singapore with nomenclature of SIMBEX was instituted. Soon other South East Asian maritime forces came forward to form a multi-lateral exercises construct named MILAN to be held at Port Blair.
Indian Ocean Naval Symposium
Indian Ocean Naval Symposium (IONS) a unique initiative launched by the Indian Navy in 2008 has been a grand success and is continually growing in eminence as a formidable organisation with 23 'Member' nations and nine 'Observer' countries. IONS continue its active engagements within the charter. Bangladesh is its current 'Chair'. It is a matter of great significance that the regular Bilateral Exercise Co-ordinated Patrol (CORPAT) between India and Bangladesh was recently conducted as the first ever operational exercise designated as International Multilateral Maritime Search and Rescue Exercise (IMMSAREX) under IONS Charter. IMMSAREX was inaugurated by the Prime Minister of Bangladesh on November 27, 2017 in Cox Bazar. Indian Naval Ships Ranvir, Sahyadri, Gharial and Sukanya along with one Maritime Patrol Aircraft P-8I participated. In addition, an 'Extraordinary Conclave of Chiefs' (ECoC) meeting was held on November 28, 2017 and was attended by the Chiefs of the Navy. The ECoC deliberated upon the activities undertaken by IONS and reviewed progress made by three IONS Working Groups (IWG) namely 'HADR', 'Maritime Security' and 'Information Exchange and Interoperability'
Security of the Island Territories
While the security of the Islands both on the eastern and southern seaboards has always remained the focus of attention and the Indian Navy has assigned due priority to the infrastructure development, creation of support facilities, force levels and manpower development within its allocated budget and resources, it was the Post Kargil Review of the National Security System by the Group of Ministers which provided due impetus to the security of the India's Islands territories. Consequently, the Tri-Services A&N Command (ANC), which was set up in October 2001 as the country's only Theatre Command, with all manpower and assets of the Army, Navy and IAF placed under one operational commander.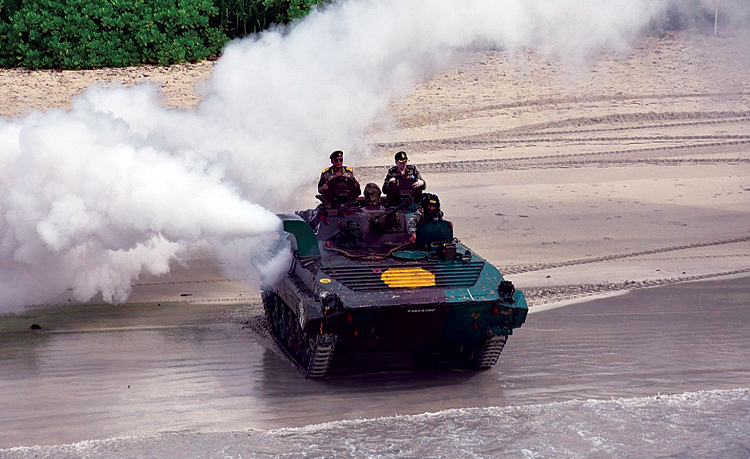 With Chinese nuclear and conventional submarines regularly popping up in the Indian Ocean region (IOR), the Navy has now commenced regular reconnaissance missions by Poseidon-8I Longrange Maritime Reconnaissance and Anti-Submarine Warfare Patrol aircraft as well as unmanned aerial vehicles in the islands. The IAF, too, occasionally deploys its frontline fighters like Su-30MKIs on surveillance missions in the Bay of Bengal. These surveillance measures are in addition to AMPHEX.
DANX 2017
Defence of Andaman and Nicobar Islands Exercise (DANX) 2017 was conducted under the aegis of ANC. The five-day exercise, which began on November 20, 2017, and concluded on November 24, 2017, comprised combat forces of fighters, special forces, naval ships and heavy-lift transport aircraft.
From the planning stage onwards, a crucial and vehemently stressed tri-services approach involving joint planning and integrated operations was adopted for synergistic application of forces. The main objective of DANX was to practice and validate procedures and concepts of all the Command forces to defend the strategically located A&N Islands. Combatant units; fighters, special forces, infantry combat vehicles, regular troops, naval ships and heavy-lift transport aircraft participated in DANX-2017 to fine-tune the operational concepts and doctrines to evolve synergy among the Army, Navy and Air Force.
The highlights of the exercise were fighter operations, night Parajumps at sea, slithering of troops from helicopters and amphibious landings of troops by ships. On conclusion of DANX, Vice Admiral Bimal Verma, Commander-in-Chief ANC complimented all four components for their synergistic planning and precise execution of the Command plans and urged all to focus on the take-away from the exercise for being fully prepared for any eventuality in the future.
Strategic Significance
Recently concluded DANX-2017 is being viewed as a potent counter to the increased Chinese footprints in IOR. China has participated actively in anti-piracy operations in IOR on the premise that the Indian Ocean is not India's Ocean. DANX is emerging as a potent forum to call bluff to the often-repeated rhetoric. With requisite force-levels and infrastructure, it will emerge as a powerful pivot to counter China's moves in IOR to wield greater influence, as well as to ensure security of sea lanes of communications converging towards the Malacca Strait.
The official Chinese media has alleged that Indian military exercises in the Indian Ocean targeting China were irresponsible and a violation of International Law. The exercise could be used to design a response to the regular appearance of 'Chinese nuclear and conventional submarines' in the Indian Ocean, the report said. Li Jie, a Beijing-based naval expert, told Global Times the military drill targeting China's Right of passage in international waters was irresponsible and narrow-minded, as China has never threatened India's security. "Chinese vessels including submarines entering the Indian Ocean are completely reasonable and lawful. China's future actions in the Indian Ocean will not be affected by India," Zhao Gancheng, director of South Asia Studies at the Shanghai Institute for International Studies, told the Global Times on November 26, 2017.
Conclusion
India for the past several years has worked hard to build mutual trust through several confidence building measures to build and strengthen several bilateral and multi-lateral constructs within the ASEAN region for improved defence ties. In accordance with India's 'Act East' policy, relations with Indonesia, Malaysia, Thailand, Singapore, Vietnam, and even the Philippines have developed and strengthened significantly. In addition to exchange programmes, port calls, visits, exercises, India also extends specialised submarine training to Indonesia and Vietnam to whom BrahMos supersonic cruise missiles and Akash area defence missile systems have been offered.
It has been reported that on Wednesday, November 29, 2017, India and Singapore have signed a naval pact to significantly crank up their maritime security co-operation with access to each other's bases, while reiterating the need for all to respect freedom of navigation and trade in international waters in the backdrop of China's aggressive and expansionist behaviour in the Asia Pacific region.
While signing the Pact, Dr Ng Eng Hen, Defence Minister of Singapore said, "We want to see more participation, co-operation and activity in both the Strait of Malacca and the Andaman Sea," adding that it was crucial to join forces against terrorism, chemical, biological and radiological threat. His Indian counterpart, Nirmala Sitharaman said the two countries had decided to expand overall defence ties and were "strongly committed" to boosting co-operation in tackling transnational security threats, especially terrorism.