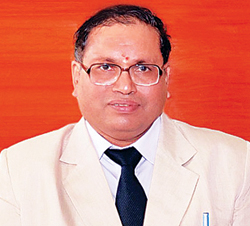 Sunil Kumar Chourasia, IOFS, has been appointed as the new Director General of Ordnance Factories (DGOF) and Chairman of the Ordnance Factory Board (OFB) w.e.f. December 1, 2017. Previously, he was Member, OFB and was in charge of Material & Components division.
Graduating in Mechanical Engineering from Jabalpur and thereafter earning an M.Tech from IIT Kanpur, Chourasia joined Indian Ordnance Factories Service in 1981.
He was deputed by the Government of India to United Kingdom for an MBA. Further, Chourasia was in the Indian Institute of Public Administration, New Delhi during in-service training and was awarded an M.Phil.
During his tenure in the Ordnance Factories' organisation, he gathered rich and varied experience in Production & Operations management, weapon and ammunition manufacturing. He has travelled widely across the globe in his official capacity.
Chourasia urges OFB to be competitive and galvanize every possible resource to stand tall as the complete combat solution provider for the nation.