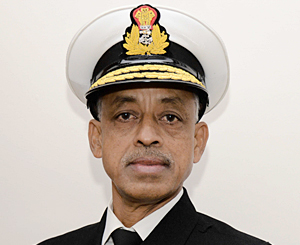 Vice Admiral MS Pawar, AVSM, VSM has assumed charge as Deputy Chief of the Naval Staff on January 30, 2019. An alumnus of Sainik School Korukonda and the 60th course of National Defence Academy, Khadakwasla, Pune, he was commissioned on July 1, 1982. During the ab initio training he was adjudged 'Best all round Cadet' and also stood first overall in the year long Sub Lieutenant Technical Courses. He later specialised in Navigation and Direction topping the coveted and highly competitive course.
The Admiral has held various challenging Staff and Command assignments during his distinguished naval career and has had wide ranging experience of over 25 years in sea going billets onboard diverse platforms ranging from small ships to aircraft carrier. He was the Navigating Officer of INS Magar during Op Pawan in Sri Lanka, the Fleet Navigating Officer of the Western Fleet during Kargil War and the Fleet Operations Officer of Western Fleet when the IN commenced anti piracy patrols in the Gulf of Aden. He has commanded Indian Naval Ships Nashak as the commissioning CO, Kuthar, Talwar and the Mauritius National Coast Guard Ship Vigilant - the senior ship of the No. 1 Patrol Vessel Squadron. He was also the Commandant of the Mauritius National Coast Guard, during 2003. His Joint Service tenures include instructor at the National Defence Academy and Deputy Assistant Chief of Integrated Defence Staff (Maritime) at HQIDS. On promotion to Flag Rank, he has held the key assignments of Flag Officer Sea Training, Chief of Staff of Southern Naval Command and Flag Officer Commanding Maharashtra and Gujarat Area (FOMAG). As Vice Admiral he has been the Director General Project Seabird and Chief of Staff, Eastern Naval Command.
An alumnus of the Royal Naval Staff College, UK; College of Naval Warfare, Mumbai and National Defence College, Delhi, he has won awards at each of these institutions including the prestigious Herbert Lott Prize at Royal Naval Staff college, Greenwich, UK. The Admiral also holds a double MPhil in Defence and Strategic Studies from Universities of Mumbai and Madras. He was awarded commendations by the Chief of Naval Staff and also by the Commissioner of Police, Mauritius in 2003.
An accomplished long distance runner, the Admiral is married to Mrs Meena Pawar and they have two children.