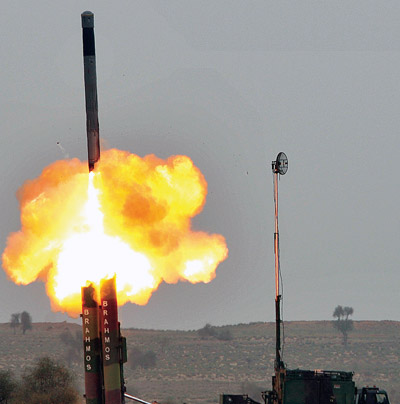 BrahMos, the formidable supersonic cruise missile with indigenous seeker was successfully flight tested at 0842 hrs on March 22 at the Pokhran test range in Rajasthan. The supersonic cruise missile and the seeker have been developed jointly by DRDO and BrahMos Aerospace.
The precision strike weapon with indigenous seeker flew in its designated trajectory and hit the pre-set target. The flight test was conducted by the scientists of DRDO and BrahMos along with the Indian Army. A high level team led by Chairman DRDO & Secretary DDR&D Dr S. Christopher was present during the flight trial, which included DG (Missiles & Strategic Systems) & SA to RM Dr G. Satheesh Reddy and Director General BrahMos Dr Sudhir Mishra.
Programme Director Dr Dashrath Ram and Project Director Mrs V Prameelawho had led the effort for development of the indigenous seeker were also part of the team. Senior IAF officials also witnessed the successful launch of the tactical weapon.