The Indian Navy is all set to receive its six-member crew of INSV Tarini, including two women officers, at the 'Flag in' ceremony on May 23, 2023 at the Indian Naval Watermanship Training Centre (INWTC), INS Mandovi, Goa.
INSV Tarini is returning home after successfully completing a 17000-nm long trans-ocean inter-continental voyage in seven months.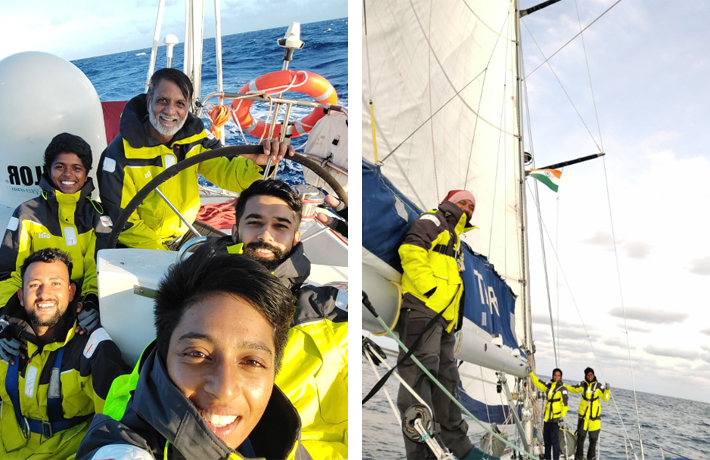 The flag in event will showcase the exemplary valour, courage and perseverance of the crew, especially the two women officers, Lt Cdr Dilna K. and Lt Cdr Roopa A, who participated in the entire expedition. The other participants include the onward leg crew from Goa to Rio-de-Janerio comprising Capt Atool Sinha, Lt Cdr Ashutosh Sharma and Lt Aviral Keshav, and the return leg crew comprising Cdr Nikhil Hegde, Cdr MA Zulfikar, Cdr Divya Purohit and Cdr AC Doke.
Lt Cdr Dilna and Lt Cdr Roopa undertook the voyage from Goa to Rio de Janerio via Cape Town and back, spanning over 188 days of sailing on the vessel. This is a true display of Nari Shakti, a clarion call from the government of India to empower women. To applaud the determination and courage of the vessel and crew, this special occasion will be graced by the Guest of Honour Smt Smriti Irani, Union Minister for Women and Child Development.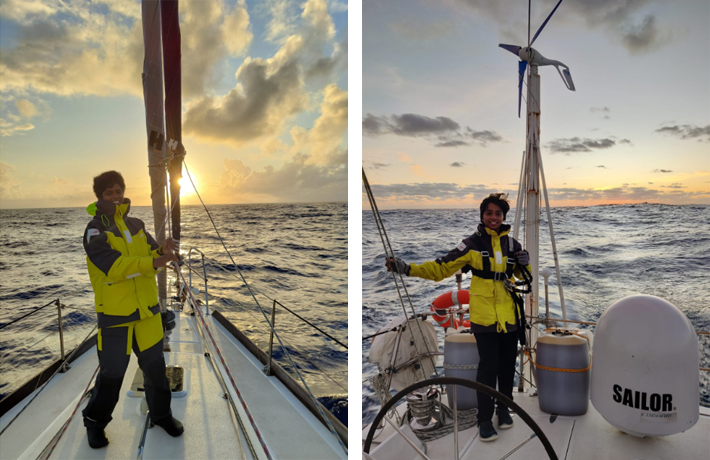 Dr. Pramod Sawant, Chief Minister of Goa, has kindly consented to be Chief Guest for the event. Admiral R. Hari Kumar, Chief of the Naval Staff and Rani Rampal, ex-Captain of the Indian Women Hockey Team, will also be present on the occasion.
The Indian Navy has embarked on a mission to circumnavigate the globe to promote ocean sailing in a big way. Captain Dilip Donde was the first Indian to circumnavigate the globe in 2009-2010. Subsequently, Cdr Abhilash Tomy was the first Asian skipper to participate in two circumnavigations. Recently during Golden Globe Race 2022, GGR, an eastbound non-stop circumnavigation race starting and finishing in Les Sables dí Olonne France and which bars participants from using modern cutting-edge navigational equipment, Cdr Abhilash Tomy (retd) accomplished the rare feat of getting a podium finish completing the gruelling course in second position.
The Navika Sagar Parikrama by six women naval officers increased the popularity of ocean sailing within the navy and the country further.
The current sailing expedition of INSV Tarini is part of the run up towards the Navyís next big project to send a woman to circumnavigate the globe - Solo.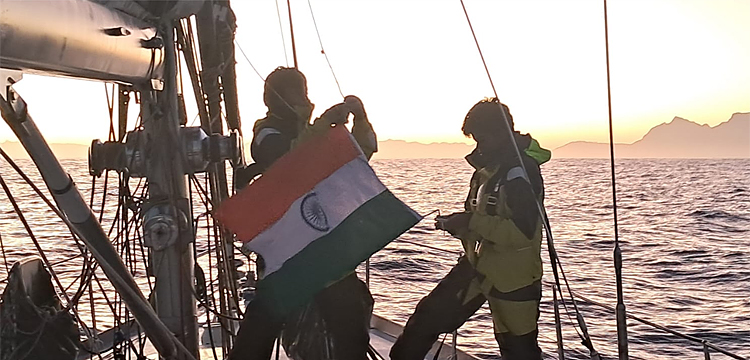 The officers that participated in this expedition were shortlisted from volunteers after rigorous selection at the Ocean Sailing Node (OSN) which was established on August 24, 2016 with the aim of promoting and undertaking ocean sailing activities and is located at INS Mandovi.
This expedition was conducted under the aegis of Indian Naval Sailing Association (INSA) based at New Delhi.