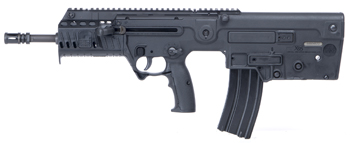 IWI micro tavor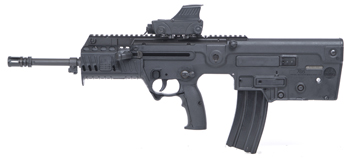 IWI micro tavor 419 mepro M5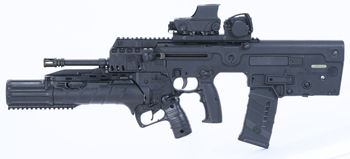 IWI micro tavor mepro M5 GLS UBGL
IWI - Israel Weapon Industries - a member of the SK Group (founded by Samy Katsav), and a global leader in the production of combat-proven small arms for military, police, law enforcement agencies, and governmental entities around the world, will supply additional thousands of Micro-TAVOR (X95) assault rifles for IDF infantry brigades under a new contract.
The contract was signed with the Israel Ministry of Defense's Department of Production and Procurement – Ground Weapons Division.
The Micro-TAVOR rifle has been in IDF active duty and reserves service since 2006. Itsbullpup configuration platform creates an ergonomic and short firearm with a long barrel, giving it superiorballistics compared to other platforms.
The current order is for the 5.56x45mm caliber Micro-TAVOR with a 380mm and 419mm- barrel length. The firearm is equipped with M-1913 picatinny railsenabling the mounting of essential accessories such as sights, lights, and visual and IR illuminators necessary for modern warfare.
This order joins previous IWI contracts for the IDF, such as the Negev LMG (light machine gun) and the 40mm grenade launcher that can be mounted on to the Micro-TAVOR rifle.
Ronen Hamudot, Executive VP Marketing and Sales of the SK Group said: "We are proud of the IDF's decision to, once again, choose the small arms advanced solutions manufactured by IWI. This is a fruitful cooperation between the company and the IDF that has been in place for many years, and which reflects the Ministry of Defense's confidence in SK Group's solutions in the light weapons sector. The Micro- TAVOR advanced design and technology was developed in collaboration with the elite units of Israel Defense Forces (IDF). During its development every technological and ergonomic aspect was taken into consideration. We are proud to say that today it is the standard IDF assault rifle".
About Micro-TAVOR (X95)
The (X95) Micro-TAVOR is an innovative weapon system that can be converted in minutes to 4 calibers 5.56x45mm, 9x19mm 5.45x39mm and 300 BLK. This leap in innovation makes it possible to use the same weapon platform for highly diverse scenarios. Its compatibility with different ammunition calibers also saves training time and spare parts.
Designed to meet extreme demands in urban and open terrain combat environments. The X95 is manufactured exclusively for Military, Police, Special Forces and Law Enforcement agencies to deal with modern warfare challenges. It ismanufactured from high strength impact resistant polymer combined with high grade metal and alloysproviding a robustand reliable yet remarkably light weapon.
Exceptionally reliable even in the harshest conditions, the X95 is combat proven by military and police entities around the world. It complies with stringent NATO standards for small arms, including environmental standards.